Prominent former politicians and speakers from business and industry explored the challenge of restoring civility and ethics to American politics in Reimagining Disruption, a two-day symposium created by the George Washington University Graduate School of Political Management in collaboration with the GW School of Business.
Two annual endowed lectures – the Paul O'Dwyer Lecture Series for Political Ethics and the Richard W. Blackburn Endowed Lecture on Civility and Integrity – bookended the conference, which included GW faculty and alumni among the presenters seeking to reboot political discourse.
"The purpose of Reimagining Disruption was to bring together the best minds and politics and businesses to figure out how we could start talking with each other rather than at each other," GSPM Director Lara Brown said. "We heard some great suggestions from our panelists, and we hope that this event sparks a commitment to civility and the process of politics, rather than any particular policy outcome."
Former Maryland Lt. Gov. Kathleen Kennedy Townsend (D) and former U.S. Rep. Connie Mack IV (R-Fla.) shared how their families' commitment to public service shaped their own careers at the Paul O'Dwyer Lecture, endowed by New York attorney Brian O'Dwyer, B.A. '66, LLM '76, in memory of his late father.
Ms. Townsend, currently managing director at the Rock Creek Group, a global investment and advisory firm, reminisced about conversations with her grandmother Rose Kennedy, whose father, John "Honey Fitz" Fitzgerald, was the first Irish-born mayor of Boston and whose children were successful politicians.
"She was so focused on what it was like to grow up in Boston," Ms. Townsend said. "How when her father was mayor there were still signs that said, 'Help wanted. No Irish need apply.' She was still so angry about it.
"That helped shape our family's commitment to politics and to the underdog," she said. "My uncle [President John Kennedy] understood what it meant to be left out, left behind and discriminated against."
Panelists in this year's Blackburn Lecture, moderated by Dr. Brown, emphasized how civic discourse and integrity are crucial in building success in business and politics. GW Trustee Emeritus Richard Blackburn, J.D. '67, established the lecture with an endowed gift, made in 2012. The lecture is a capstone event for the GWSB First Year Development Program (FYDP), and features FYDP students pledging to uphold the GWSB Honor Oath, which is selected through a student competition each year.
The panelists included Charlotte Blank, the chief behavioral officer at Maritz, Mark Penn, the president and managing partner of The Stagwell Group, and Mitch Semel, founder of Semel Media, who told the audience that sometimes discussions over differences need to be embraced rather than avoided.
"If we only focus on the aspects that feel right and diplomatic and polite, particularly on the civility side, we're actually not doing ourselves any favors if the outcome is that we avoid tough conversations that need to be had," Mr. Semel said
Ending congressional gridlock, rethinking presidential debates
The two-day Reimagining Disruption conference also featured a series of panels on various political issues and innovations to reboot political discourse. The "Rethinking Presidential Debates" panel focused on social media's influence on debates before the primary and general presidential elections.
The Frank J. Fahrenkopf and Charles T. Manatt Endowed Lecture, the centerpiece event of the conference, took place in GW's Marvin Center Grand Ballroom with a panel of former senators who traded ideas on how to make the Senate work. National syndicated radio talk show host Bill Press moderated the discussion with former U.S. senators Tom Daschle (D-S.D.), Mary Landrieu (D-La.), Trent Lott (R-Miss.) and Olympia Snowe (R-Maine).
---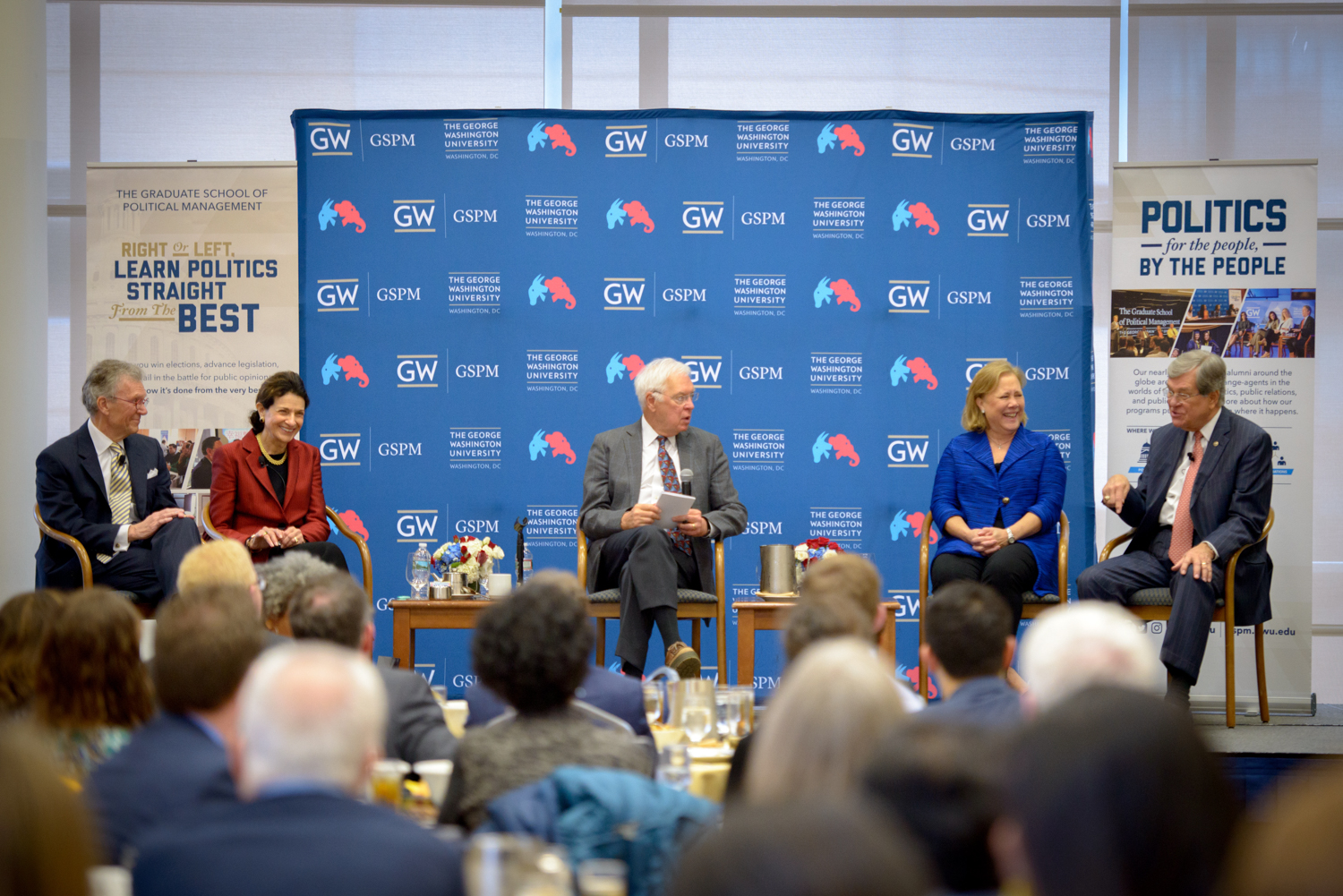 From left former senators Tom Daschle, Olympia Snowe, panel moderator Bill Press, and former senators Mary Landrieu and Trent Lott discuss Congressional gridlock at the Frank J. Fahrenkopf and Charles T. Manatt Lecture. (GW Today)
---
Mr. Lott, now a lobbyist and consultant with Squire Patton and Boggs, said the environment on Capitol Hill changed years after the 9/11 terrorist attacks. During a pitched battle over immigration reform in 2007 and under siege from a campaign by right wing radio host Rush Limbaugh, the immigration legislation failed to pass the Senate over a simple procedural vote. "I was ashamed to be a senator," Mr. Lott said. "I was embarrassed by the cowardice I had seen."
The "Rethinking Presidential Debates" panel focused on social media's influence on debates before the primary and general presidential elections. The panel, which was moderated by Michael Cornfield, a research director with GSPM, featured two officials from the Commission on Presidential Debates, Executive Director Janet Brown and Co-Chair Frank Fahrenkopf. It also featured Crystal Patterson, the government and politics manager of Facebook, and W. Taylor Reveley IV, the president of Longwood University, who has moderated a vice-presidential debate.
Ms. Patterson argued that the social media interactions are beneficial to the debates and give the public a voice in the discussion on stage. She added that because these discussions are happening on social media in real time, the candidates should have the opportunity to respond in real time.
"These things are happening," Ms. Patterson said. "I understand wanting the integrity of the process, but I do think it isn't realistic to think that social media and the way the internet works isn't influencing how these debates play out one way or another."