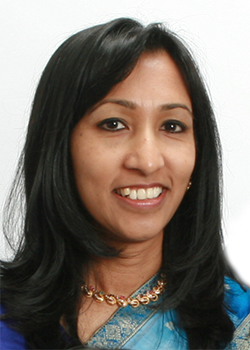 George Washington University Provost Forrest Maltzman announced Wednesday that Rumana Riffat will be the interim dean for the School of Engineering and Applied Science. She will assume the role beginning in the fall 2018 semester.
"Dr. Riffat is an accomplished member of the SEAS faculty who has established herself as a leader in the school," Dr. Maltzman said. "I am confident that, under her leadership, SEAS will continue excelling in its research and educational missions."
Dr. Riffat currently serves as associate dean for academic affairs for SEAS, a role she has held since 2012. She is a professor of civil engineering in the Civil and Environmental Engineering Department, where she joined as assistant professor in 1994. Dr. Riffat is also the 2011 recipient of the Distinguished Teacher Award from SEAS.
SEAS Dean David Dolling announced that he would be stepping down from the position at the end of the summer after 10 years in the role. Dr. Dolling will continue teaching as a faculty member in SEAS.
"It will be my honor to serve as interim dean. I look forward to working with the SEAS faculty and building on the strong foundation created by Dean Dolling," said Dr. Riffat. 
Dr. Riffat's research focuses on wastewater treatment. She and her research group at GW, the Riffat Lab, have been working on numerous sponsored research projects on sustainable wastewater treatment technologies and other wastewater reuse innovations. Her work has been extensively published in research journals, and she is the author of "Fundamentals of Wastewater Treatment and Engineering," which is used as a textbook at various universities in the US and abroad.
She has received two GW Service Excellence Awards for her work in environmental sciences, as well as the Excellence in Environmental Engineering and Science Award from the American Academy of Environmental Engineers and Scientists (AAEES) and the George Bradley Gascoigne Wastewater Treatment Plant Operational Improvement Medal from the Water Environment Federation.
Dr. Riffat earned her bachelor's degree in civil engineering from Bangladesh University of Engineering and Technology in Dhaka, Bangladesh, and obtained her M.S. and Ph.D. degrees in civil and environmental engineering from Iowa State University in Ames, Iowa.
Dr. Maltzman said information about a search for a dean of SEAS will be forthcoming.