Sustainability efforts at the George Washington University encompass academics, student engagement and daily operations but the breadth of activities can be difficult to grasp.
To help the GW community understand the variety of "green" efforts at play, George Washington Today writer and editor Brittney Dunkins spoke with Executive Director of Sustainability Kathleen Merrigan (KM) and Director of the Office of Sustainability Meghan Chapple (MC) about GW's top green initiatives and upcoming events.
Check out the Q & A below for what you should know about sustainability at GW this fall.
Q:  In May 2010, GW released the Climate Action Plan to address climate and energy issues. How is the university continuing to support the goals outlined in the plan?
MC: Since joining the American College and University Presidents' Climate Commitment in 2008, GW has embarked on numerous campus initiatives that have GW on track to meet its 40 percent carbon reduction target by 2025—ahead of schedule. For example, the university will reduce targeted building energy use by 15 percent through the Eco-Building Program. There are also four solar thermal installations on campus buildings and the Solar Walk, an 18-panel solar installation, on the Virginia Science and Technology Campus. Perhaps our most innovative project is the Capital Partners Solar Project, a renewable energy collaboration that GW,  George Washington University Hospital and American University contracted with Duke Energy Renewables to produce 52 megawatts of solar energy for our regional electrical grid. GW is going to be getting 50 percent of its electricity from renewable energy starting in January 2016.
Q: Can you tell me about the emerging research collaboration with Duke Energy Renewables?
KM:  The company is providing $500,000 in seed money to establish the Duke Energy Renewables Innovation Fund, a multi-year competitive grant program to support GW faculty research in the energy field. Faculty will compete for three types of grants: research grants, planning grants and "Living Lab" grants to support research on Capital Partners Solar Project. Interested faculty can learn more online. Applications will be accepted until Nov. 6 and $150,000 in grant funds will be awarded before the end of the year.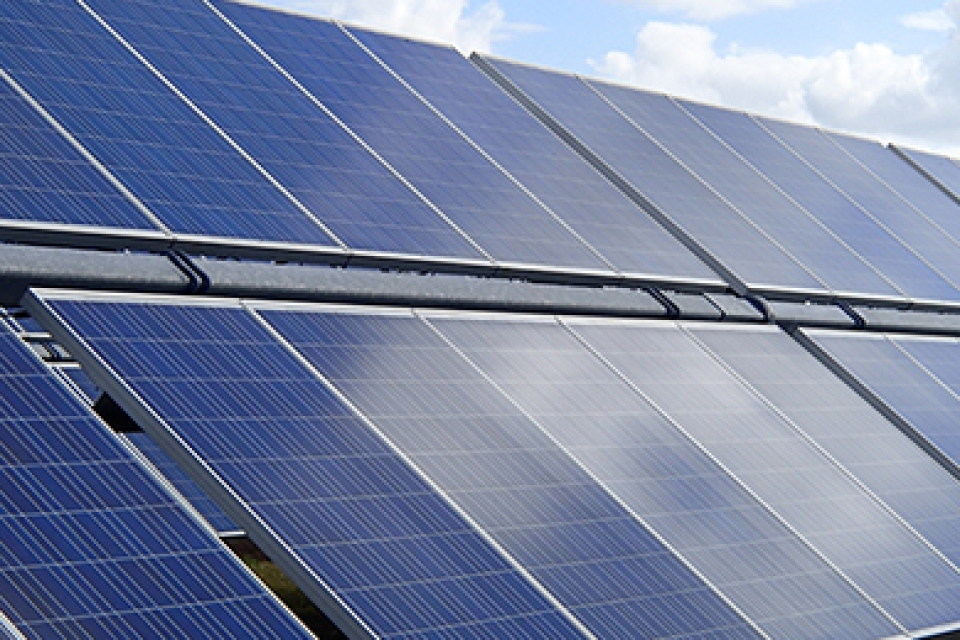 The Capital Partners Solar Project support GW's Climate Action Plan by offsetting energy use. 
---
Q: GW students are active in many environmental and sustainability issues on campus. What student-run activities are supporting GW's commitment to sustainability?
KM: GW will be hosting the Conference of Parties Inter-University Climate Change Negotiation (COP 21-ICCN) Oct. 9-10. The ICCN is a simulation designed for college students that replicates the experience of participating as negotiators in the upcoming United Nations Framework Convention on Climate Change in Paris. The ICCN began in 2010 with Yale and Duke. This is the first time GW will host and that is largely due to the superb leadership of GW senior Ellie Davis.
MC: Student participants are invited to an opening reception at the French Embassy in Washington, D.C., where they will hear from guest speakers from the White House Council on Environmental Quality and Center for Climate and Energy Solutions. The event is an excellent opportunity for students to learn about the process of international statecraft and climate change negotiations while developing their skills as speakers and negotiators.
Q: How does sustainability at GW extend beyond the boundaries of campus and into the community?
MC: Four teams of GW students are putting their environmental and social justice ideas into action for the Eco-Equity Challenge. They are initiating community mapping, a floating wetland, a peace garden and a rooftop food garden. GW also hosted the D.C. Climathon as part of a 24-hour global hackathon to address climate issues in 19 cities. GW students, alumni and community members create public-private partnerships to address food waste, a significant local contributor to greenhouse gas emissions. Teams will receive ongoing support for their solutions and one winning team will present in Paris at the COP-21 with Climate-KIC.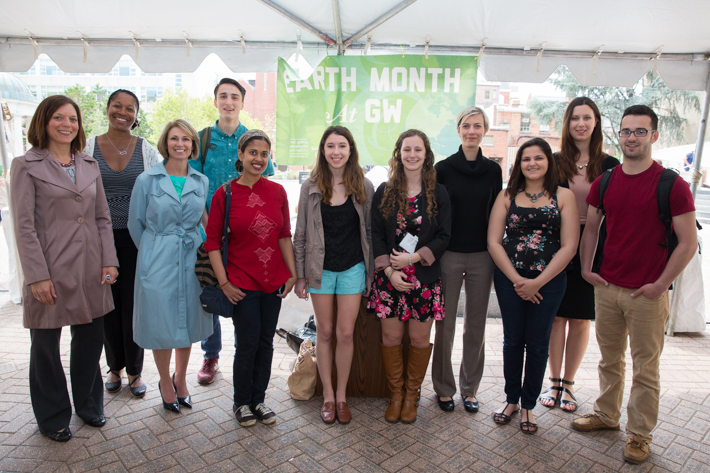 (l-r) Ms. Chapple with Sustainability Project Facilitator Ronda Chapman, Siemens Account Executive Alison Shea and the inaugural Eco-Equity Challenge winners. 
---
Q: What about students who can't commit to joining a club or attending an event? Are there ways that they can support GW's sustainability goals?MC: The easiest way for students to get involved in sustainability at GW is to sign the Sustainability Pledge. The pledge includes six sustainable behaviors that students can commit to maintaining during the school year such as participating in Meatless Mondays, committing to recycling or using a refillable water bottle. Students who sign up receive periodic suggestions on ways to fulfill their pledge such as meatless recipes or details on recycling electronics at GW. It's a low-pressure way to get involved that—with enough support—has the potential to make a big difference.
Q: Are there any new developments with "green-leaf" courses, or the sustainability minor, which now is in its third year?
KM: We continue to embed a "green-focus" in our courses so that students can become effective advocates. Undergraduate students have the opportunity to take two new three-credit sustainability courses in the spring: The Sustainable Plate and The Sustainable City. The Sustainable Plate will focus on producing food sustainably to meet the needs of the growing population, and The Sustainable City takes a critical look at the sustainability challenges of the urbanizing world. A cross-disciplinary team of faculty will teach both courses.
Q: The Green Office Certification recently celebrated its one-year anniversary. How is the program expanding to help staff and faculty get involved in sustainability on campus?
MC: We are happy to have 42 certified green offices on campus and are beginning the re-certification process for offices that would like to increase their engagement for the second year of the program. Certified green offices make simple changes, such as encouraging staff to print double-sided, utilize public transportation, flexible work arrangements and turn off lights and other electronics at the end of the day. Staff and faculty members who are interested in becoming "green leaders" in their offices are encouraged to sign up online.
Q: Last June, GW hosted the GreenGov Symposium and brought together top minds to discuss sustainable strategies for the federal government. How is that work continuing during the academic year?
KM: We are partnering with the White House Council on Environmental Quality to help determine best strategies to achieve the goals set forth by President Obama in his executive order, "Planning for Federal Sustainability in the Next Decade." We also hosted a dialogue Sept. 11 at GW Law on renewable energy with private and public leaders and we are in the midst of developing a series of sustainability case studies to serve as learning tools for federal managers and others. GW faculty will help develop theses case studies which will include guided learning scenarios, interviews with federal managers and other multimedia content that outline the challenges, opportunities and critical decision points facing the federal government. We plan to present the first case study later this fall at the White House GreenGov awards ceremony.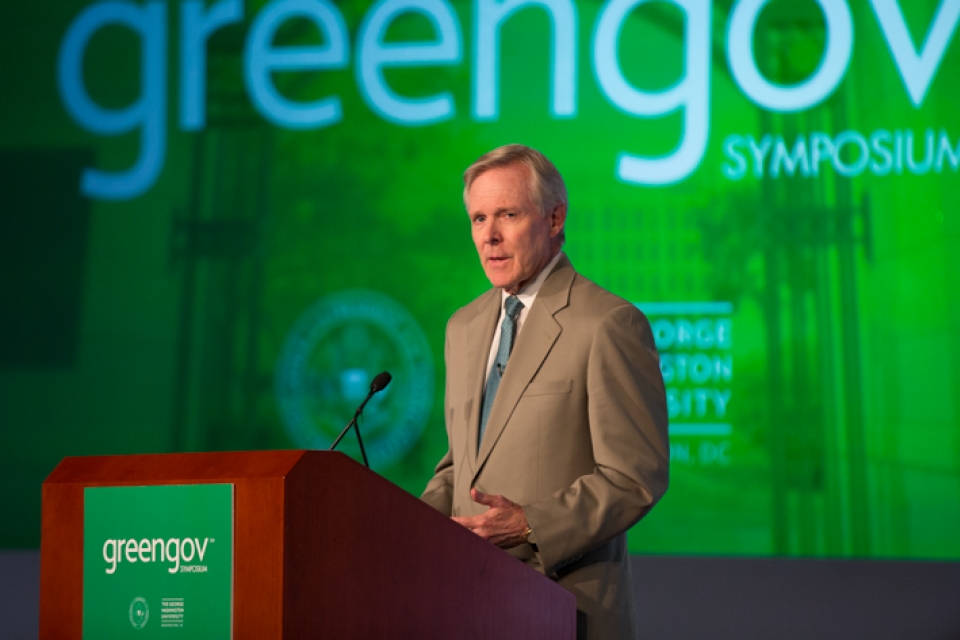 Navy Secretary Ray Mabus announced the U.S. Navy's new sustainability measures at the 2015 GreenGov Symposium.
---
Q: How would you describe GW's commitment to sustainability in three words?
MC: Inspired, innovative and impactful. Student demand inspires the university to address the most pressing issues such as climate change, sustainable food and social justice; the university's urban setting presents the opportunity for innovative sustainable strategies; and the leadership of President [Steven] Knapp ensures that GW is delivering meaningful solutions.
KM: I would agree with Meghan that because President Knapp made sustainability a hallmark of his administration, it is one of nine core university values. This truly underscores the university's commitment to promote sustainability.