By Tatyana Hopkins 
Months of hard work paid off when Edith Alejandra Leiva made a perfect pitch at this year's New Venture Competition (NVC). It landed her company, Dulceology, into one of the competition's top three spots and raked in $35,000 worth of cash prizes and tens of thousands more in in-kind prizes. The company is an online bakery specializing in handcrafted sandwich cookies made with the traditional Latin sweet dulce de leche for personal and corporate gifts.
When the competition was over, Ms. Leiva had to get back to business as usual—being a first-year graduate student in the Corcoran School of Arts and Designs Interaction Design Program. 
"I had finals the next week," Ms. Leiva said. 
It wasn't until the summer that she was able to turn her attention full time to growing her business.
Luckily for her, the university's Office of Innovation and Entrepreneurship (OIE) launched the GW Summer Startup Accelerator (GWSSA), a new program aimed at helping students launch their startup ideas. 
Lex McCusker, OIE's director of student entrepreneurship programs, said while NVC is getting bigger, giving away $200,000 cash and about $600,000 of in-kind prizes this past year, a majority of participants do not get to realize their ideas because after the competition they often have to focus on coursework and pursue jobs or internships. 
He hopes GWSSA will change that. 
This year, the intensive nine-week program offered its first 20 participants, who represent 10 ventures, on-campus housing, a stipend, weekly workshops, mentors and additional specialized advisers to go all in to launch their companies.
"What the program requires is that students not take any courses, not take a job—just do this full time," he said. "We ask them to dedicate two months to pushing hard on their ideas to make profitable, scalable companies out of them." 
Open to teams of up to four members, half of whom must be current GW students or alumni who have graduated within the past two years, GWSSA offers weekly lessons on topics to help students fill gaps in their business plans, such as financial projections, product development and go-to-market strategies. Then the teams are sent to research or test the details of their developing business pitches. 
Mr. McCusker said the program's goal is to make these early-stage startups "fundable," having credible and sound enough business models to attract investors. For revenue-generating teams, the program aims to prepare them to scale, to be able to handle a growing amount of work or sales in a cost-effective manner.
In the end, each team pitched its final business plan to a group of two dozen local investors and venture capitalists with three specific financial or service requests.
Just days after the program's investor showcase, Ms. Leiva had meetings with investors interested in assisting her business with $325,000 as well as legal, marketing and accounting services.  
In the months leading up to NVC, she juggled four graduate classes while developing the competition pitch that would show that Dulceology, which she began as a hobby with her sister Nicole, was a burgeoning business worthy of jumpstart funding. But during GWSSA she was able to focus on her business full time. 
"It really did accelerate our business," she said. "I would say we did a year's worth of work." 
She said one of the most important aspects of the GWSSA program was the customer feedback and analysis she conducted to figure out who her current clients were and why they shopped with Dulceology. She used the information to make vetted predictions on how to scale her business to accommodate larger corporations.
In January 2020, Dulceology will find its physical home in La Cosecha, a Latin American food hall near Union Market in Northeast D.C.
Participant Winona Francis, M.B.A. '18, said GWSSA also helped mold her concept for District Connect, which aims to eradicate food deserts through mobile, full-service grocery stores, into a feasible business model ready for launch.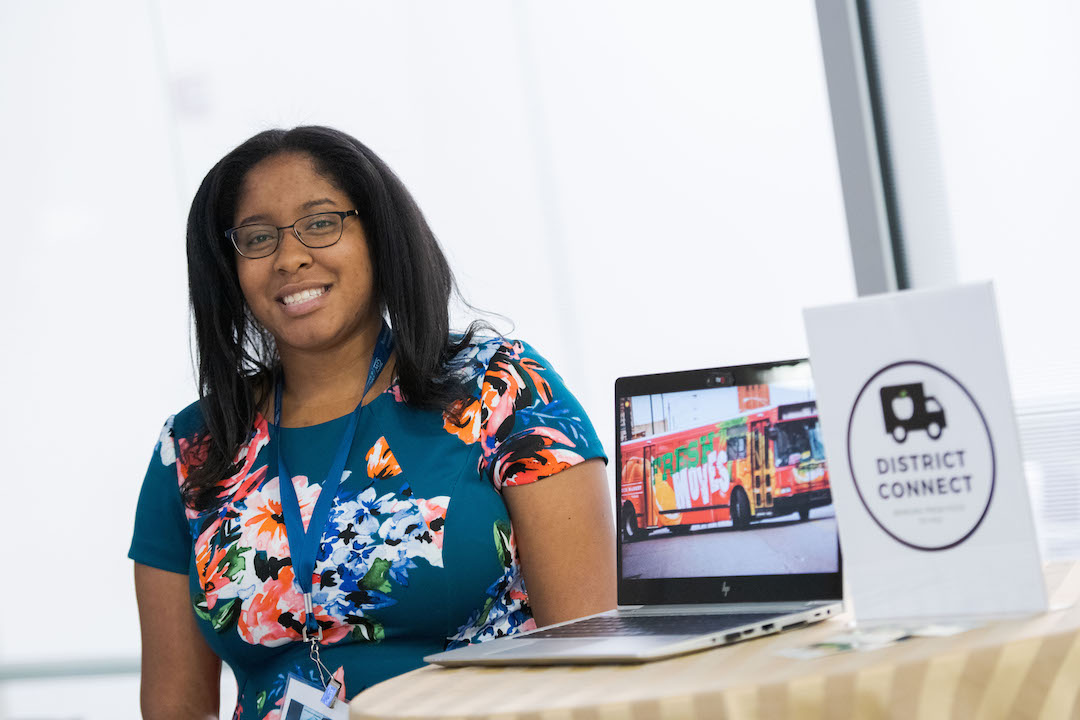 "It really pushed us to go out there and test our ideas," said Ms. Francis, District Connect's co-founder and CEO. 
During GWSSA, District Connect ran four soft launches to test pricing and inventory strategy, including taking orders via Google forms and delivering groceries to students in their residence halls.
Ms. Francis recalled her GWSSA mentors handing her and her partner, Gabby Levet, $150 to test a strategy they discussed months before. 
"They said, 'Here is some money. Go get some groceries. Go test your idea,'" Ms. Francis said. "I don't know was not an appropriate answer in this program. But it wasn't an attack. They were just preparing us for investors."
She said the group will soon meet with investors that may help propel them toward their planned April 2020 launch date. 
"This was not a class," Ms. Francis said. "There was no test. This was the real world, you had to go out and talk to people and get information about your business, and every day you learned something new."
---
Applications for the 2020 GWSSA will open in January. Updates will be included in the OIE newsletter, on social media and in GW Info Mail. One-member teams may apply but will be required to recruit more members during GWSSA.
Anyone who wants further information should contact Mr. McCusker directly at [email protected] or by phone at 202-994-5383.