Actress Mae West shimmied her way into Hollywood during the 1930s, oozing a come-hither sense of humor and risqué penchant for flirting with provocation. The titillating star turned heads while delivering saucy double-entendres in long, slinky dresses. But although she looked statuesque in her sparkling gowns, many people did not realize that the actress was actually short, standing barely 5 feet tall. 
Her secret? Concealed underneath her floor-length garments, she would wear wooden platform shoes that gave her an 8-inch boost—the better to pair her with towering leading men, like her 6-foot-2-inch co-star Cary Grant. 
She did not just elevate herself for the silver screen. Ms. West donned sky-high footwear whenever she went out in public, appearing to fans every inch of 5 feet 9 inches tall. The shoes were a secret idiosyncrasy that helped shape her salacious nature. Even the slow, seductive trot that became her signature gait might have had more to do with her platforms than her personality, experts believe.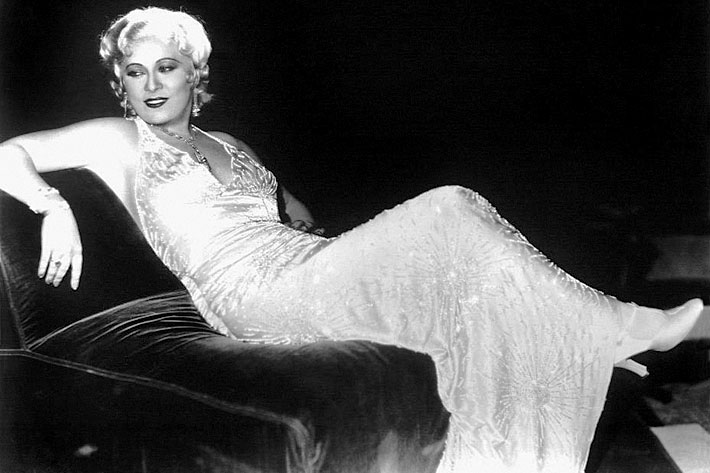 Now, a pair of her trademark 8-inch pumps are featured in "Unraveling Identity: Our Textiles, Our Stories," one of the inaugural exhibitions that premiered at the
George Washington University Museum and The Textile Museum last week
. More than 100 objects in the show illustrate how textiles and clothing can communicate status and self-expression—particularly when it comes to aggrandizing one's identity. 
"Across cultures, people have tried to enhance their public image through embellishment or through physically altering their silhouette. It's something that seems to be universal," said Lee Talbot, the museum's curator of Eastern Hemisphere collections.
Ms. West had her shoes customized into literal pedestals to heighten her racy Hollywood persona. Born as Mary Jane West in Brooklyn's Bushwick neighborhood, she began performing in vaudeville acts before transitioning into a movie star. She wore the golden heels on display at the new museum some time in the 1950s, about two decades after writing, producing and editing a play called "Sex" that got her arrested for "corrupting the morals of youth." 
Not even jail time was enough to tone down Ms. West's bawdry disposition. When asked how she felt about her oft-censored films, she famously quipped, "I believe in censorship. I made a fortune out of it." 
 

Mr. Talbot wanted to include Ms. West's shoes in the exhibition not only because of the actress's bold cheekiness. Her habit of using accessories to aggrandize her identity follows centuries of traditions from other world cultures. In "Unraveling Identity," Ms. West's heels are placed directly beside a pair of 19th-century Manchu shoes made of wood and coated in embroidered silk. They also boast an impressive platform, which Manchu women would wear to give the impression that their feet had been delicately bound. 
Mr. Talbot explained that the Manchu ethnic group conquered China back in 1644 and established the Qing Dynasty. Manchu leaders remained conscious about preserving their identity and forbade their people from wearing Chinese clothing. But bound feet were popular, so Manchu women found ways to replicate the style and create a visual allusion to the aristocratic Chinese custom. 
Both Ms. West's shoes and the Manchu footwear drew attention at last week's museum opening with their unusual, oblique shapes. The shoes, Mr. Talbot explained, are both beautiful and unfamiliar, and their peculiar construction tells unique stories of how people have long used textiles to distinguish themselves.
"That double take when you see the shoes together is what we wanted to achieve both visually and thematically in this part of the exhibition," he said. "Together, the shoes make connections across cultures, and between the past and the present."