By Ruth Steinhardt
The George Washington University welcomed 2,917 new full- and part-time students to campus this fall, including 2,609 members of the class of 2021 and 308 transfer students. As they settle into campus and the next chapter of their lives, some new students sat down with GW Today to discuss their stories, their passions and how they plan to spend their time in Washington, D.C.
---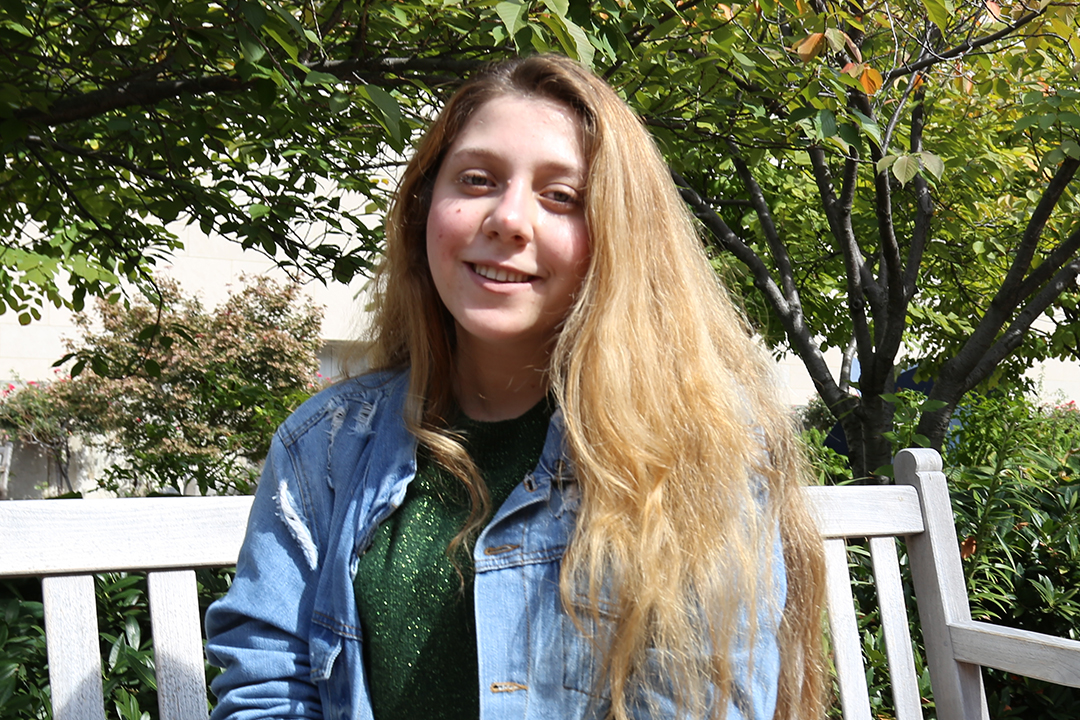 (Ruth Steinhardt/GW Today)
Yara Al Tawil
Damascus, Syria
Columbian College of Arts and Sciences
Ms. Al Tawil has spent the past three years splitting her time between school in Lebanon and her home in Damascus. But some of her loved ones, including her grandfather, still live in Syria, a country that remains in crisis.
"People ask me, 'how are things [in Syria]?' And I don't always know how to answer," she said. "I would say that opportunities are limited there. But in a lot of ways, I think it's like anywhere else. People everywhere want normal lives."
Getting to the United States after her acceptance to GW in April proved a challenge. "There were a lot of difficulties, especially getting a visa," she said.
Her family helped her move to the United States in August, but then returned to Lebanon. Ms. Al Tawil says she misses them as she settles into a new culture. "It's not that easy to adjust," she said.
She is using the opportunity to "get new perspectives." At GW, Ms. Al Tawil plans to major in economics and computer science. She is a member of GW UNICEF, works with the United Nations Association of the National Capital Area and has tutored with GW SMARTDC.
"I'm trying to do new things, things I've never tried," she said.
---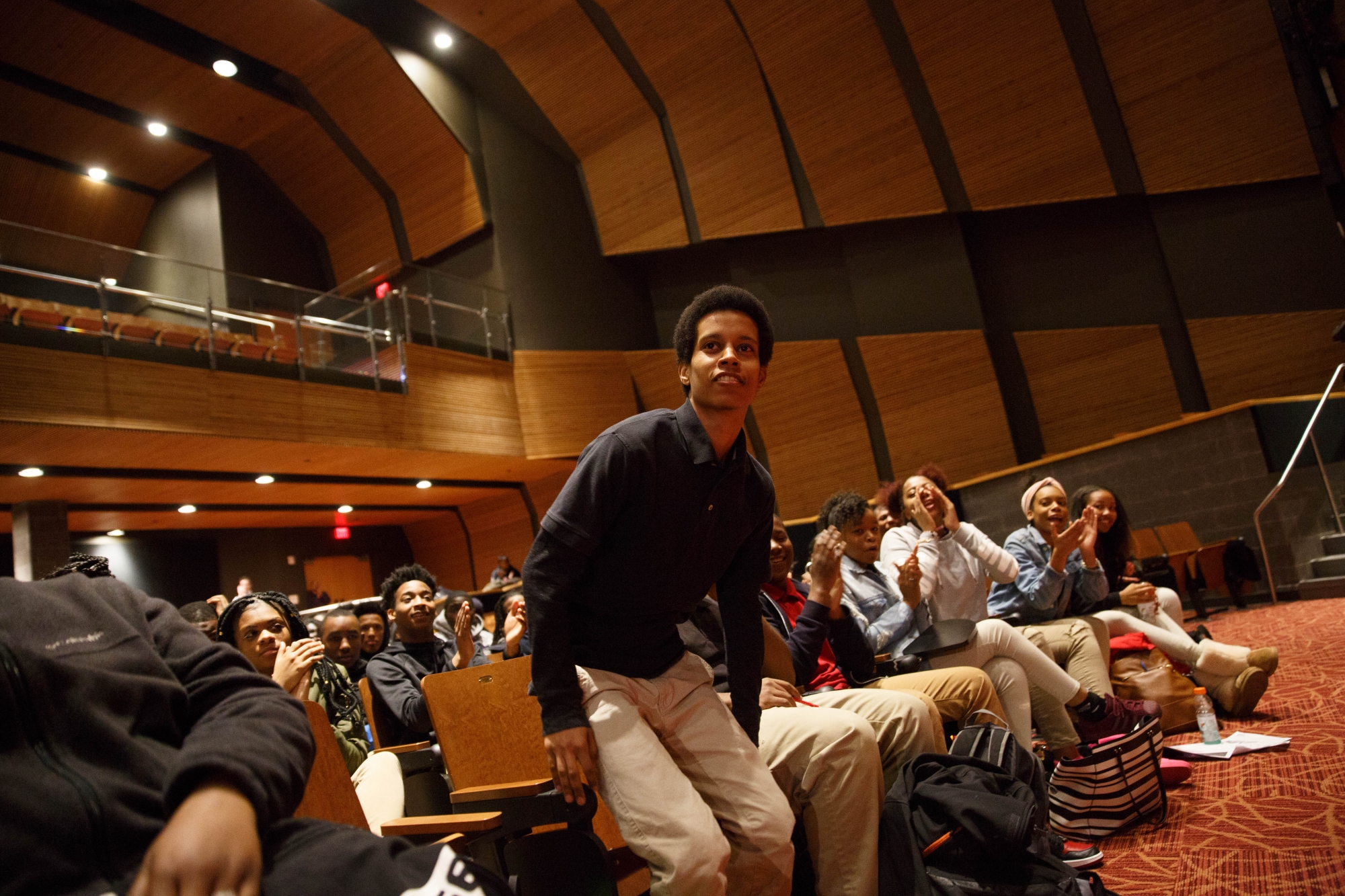 Michael Degaga receives his Stephen Joel Trachtenberg scholarship at Paul Laurence Dunbar High School in March. (Logan Werlinger/GW Today)
Michael Degaga
Washington, D.C.
School of Engineering and Applied Science
In March, Mr. Degaga was one of 10 high school seniors in Washington, D.C., to receive a 2017 Stephen Joel Trachtenberg scholarship and a full ride to GW. Now a freshman in SEAS, he is pursuing a bioengineering degree with hopes of one day working in cellular and molecular engineering.
"I'm really enjoying being an engineering student at GW because there's a great community within the department," he said, citing a recent departmental "getaway" to West Virginia.
Mr. Degaga also is part of the Ethio-Eritrean Students Association. In September, the organization celebrated Enkutatash, the first day of the Ethiopian New Year, with traditional food and clothing. "We just talk and eat and touch base," he said. "It's really nice."
The student affinity group is not Mr. Degaga's only cultural touchstone. He said he is still able to see his family weekly. But that doesn't mean he's passing off chores to them.
"I still do my own laundry," he said. "But I did my own laundry when I lived at home, too."
---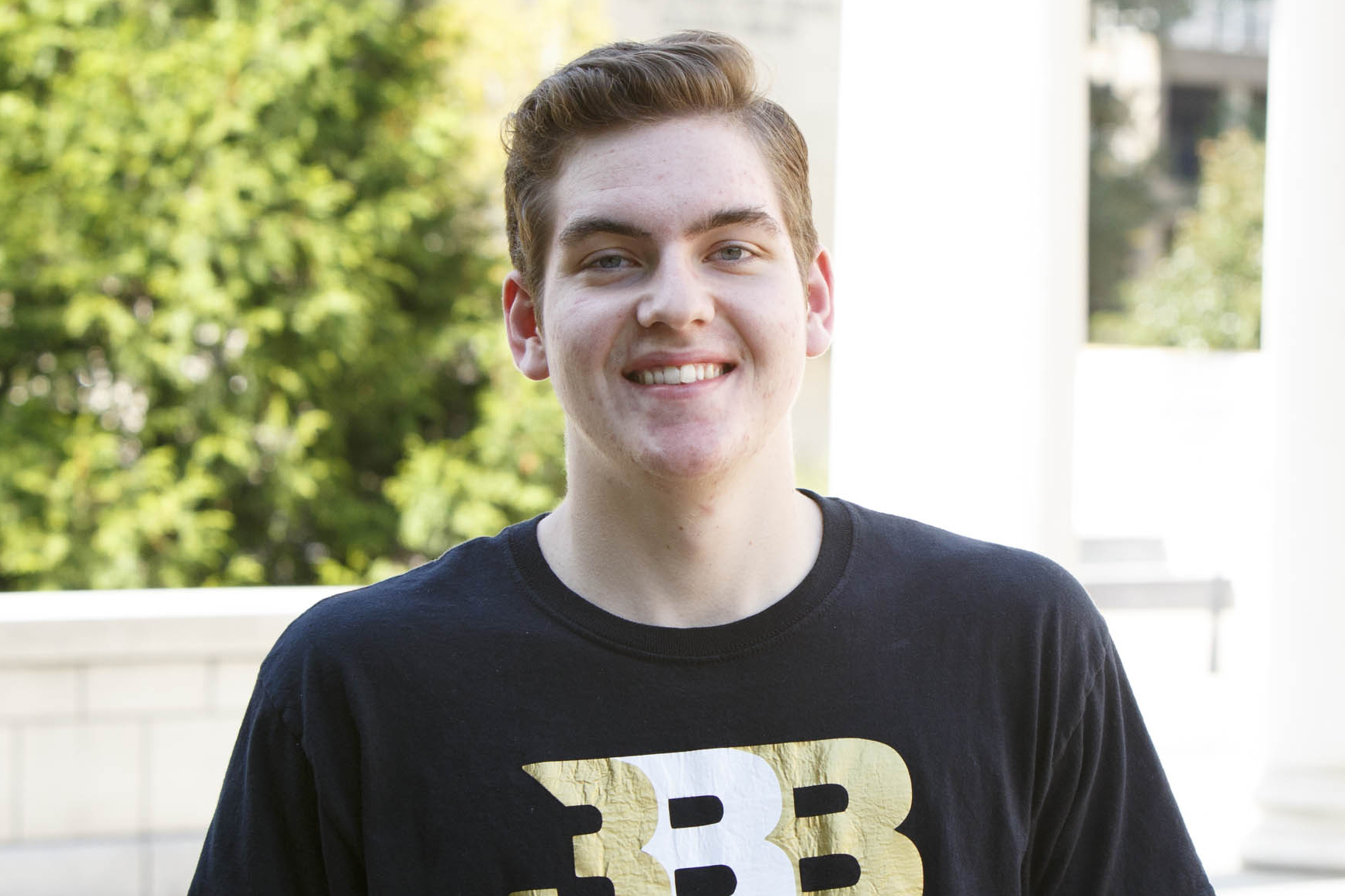 (Logan Werlinger/GW Today)
George Glass
Yorktown, Va.
Columbian College of Arts and Sciences
From an early age, Mr. Glass has been interested in running for office. "I like to help people," he said. He was heavily involved in student government as a high school student and within a month of his arrival at GW was elected president of Thurston Hall.
With other members of the GW Residential Hall Association, Mr. Glass works on activities that range from cleaning Thurston's communal kitchen to an upcoming pumpkin decorating contest.
Mr. Glass also is a regular volunteer with GW service association Circle K. Most recently, he and his fellow volunteers woke up at 5:30 a.m. to serve at D.C. homeless services center Charlie's Place.
"It's not always something big, but there are always ways to improve the lives of people around you," he said.
---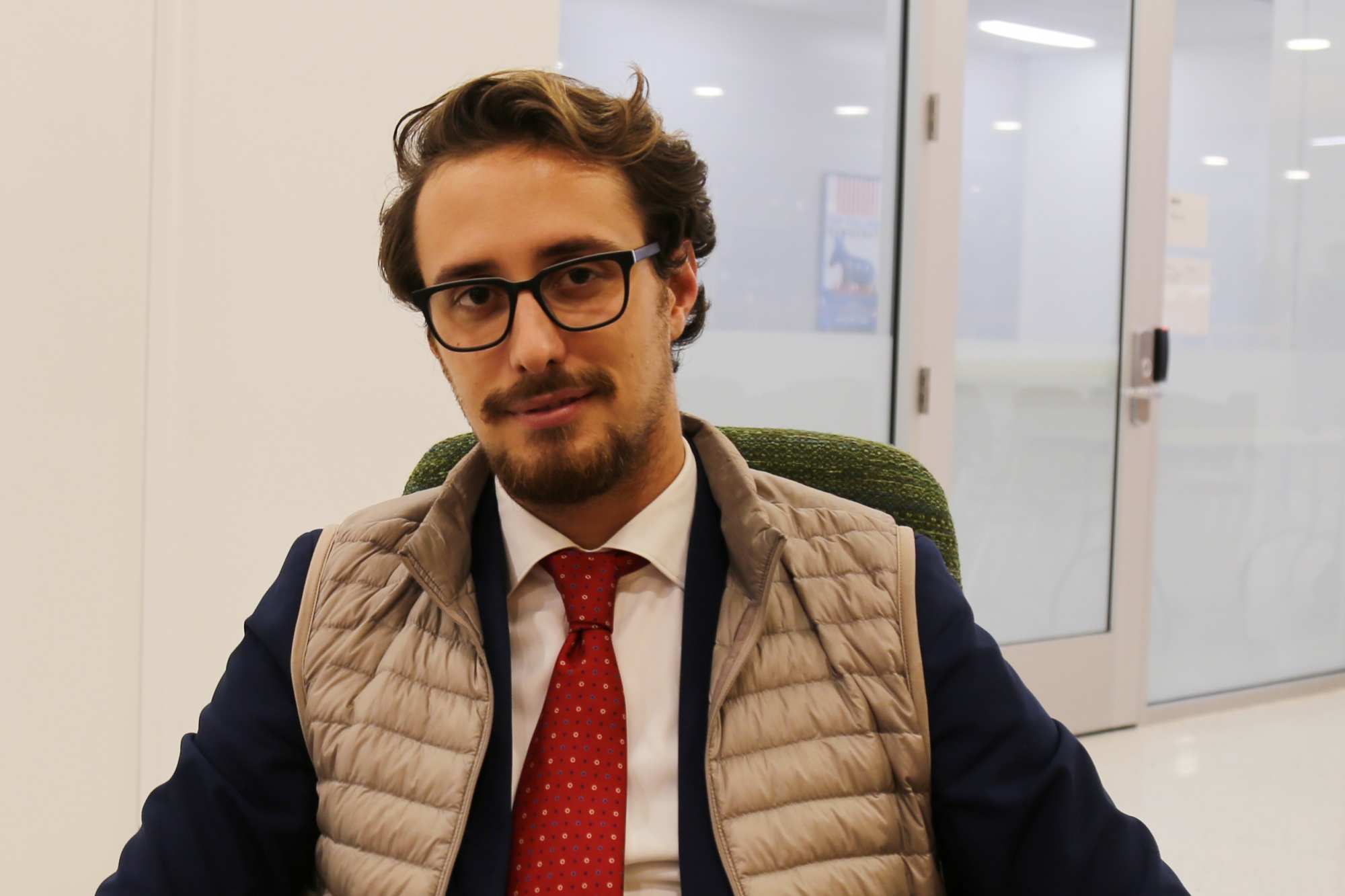 (Ruth Steinhardt/GW Today)
Lorenzo Marchetti
Imola, Italy
Elliott School of International Affairs
Mr. Marchetti transferred this year from the Santa Barbara City College, and while he enjoyed California, he said there was a temperamental mismatch between himself and the "chill" West Coast. "I'm not too chill, as a person," he said.
As founder and president of the Italian chapter of nonprofit organization 2020: A Year Without War, Mr. Marchetti stays busy, though he said he still takes time out for concerts, theater and nightlife. He has spoken at the United Nations and the World Summit of Nobel Peace Laureates on behalf of the organization, the goal of which is to secure a U.N. General Assembly Resolution for a one-year global truce among all U.N. member nations in 2020. And in January, he will host the organization's international conference in his hometown of Imola.
"Peace is not as difficult as some people think, though it's also not as easy as others think," Mr. Marchetti said. In fact, he said, the 2020 AYWW mission is completed in miniature every two years, when the U.N. signs month-long truces in commemoration of the Olympic Games.
The devastating impact of war, Mr. Marchetti said, overshadows the fact that it is a human-made—and therefore solvable—problem.
"Conflict may be inevitable, but war is not," he said.
---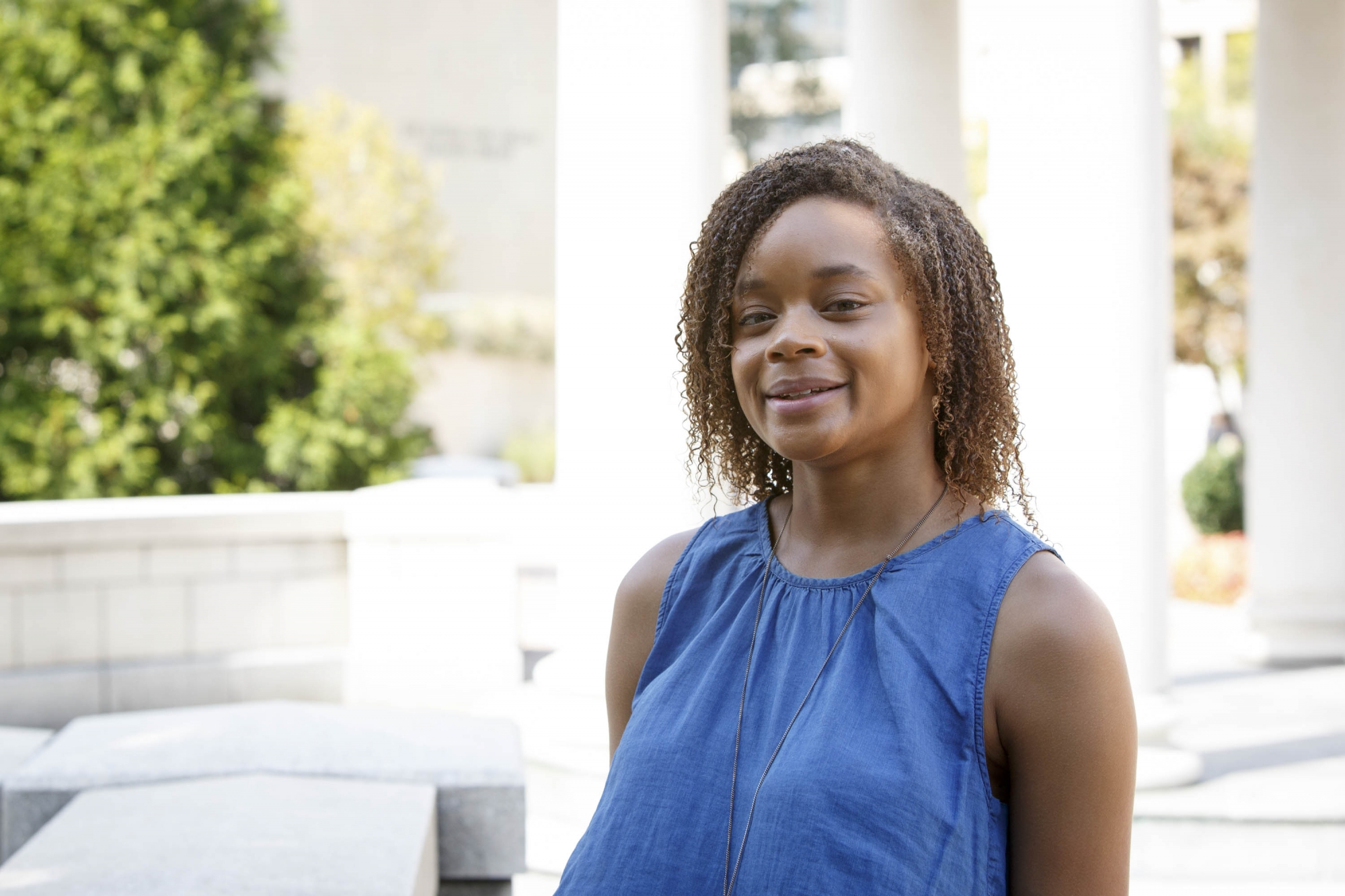 (Logan Werlinger/GW Today)
Jasmine Southerland
Campton, Del.
Elliott School of International Affairs
The child of a military family, Ms. Southerland moved frequently growing up, from North Carolina to Germany to Arkansas to England. She spent her teenage years at boarding school, but her multinational childhood spurred an interest in international affairs that eventually brought her to GW.
"The fact that I can go to the Embassy of Denmark for extra class credit is pretty cool," she said.
Ms. Southerland now is a member of the GW Bipartisan Women's Supper Club and the GW Flute Choir. She said she might eventually like to use her international affairs degree to work for a multinational corporation like Chanel.
---
(Courtesy Shira Strongin)
Shira Strongin
Orange County, Calif.
School of Media and Public Affairs
A mysterious series of ailments have caused Ms. Strongin to be periodically hospitalized since she was 10 years old, but no doctor has ever been able to say why.
She has chronicled what she calls the "roller coaster ride of searching for answers" on her blog, The Sick Chick. Ms. Strongin originally wrote under a pseudonym, but as the site's profile rose, she eventually revealed her identity.
"At one of the first conferences I spoke at, when I was 14 or 15, I remember looking at all these young women who had been reading the site for so long," Ms. Strongin said. "I had been anonymous for so long, but hearing all their stories I remember thinking, 'this needs to be more.'"
The Sick Chick now includes multiple contributors, writing on subjects that range from national health care policy to dating while disabled. And Ms. Strongin recently was the recipient of a Diller Tikkun Olam Award, given to Jewish teens for leadership and service.
She said she hopes she has created, in Sick Chick, a space for empowerment of young women with chronic illnesses—not just for learning to cope.
"Coping is learning how to accept the challenges of being sick, but empowerment is accepting challenges with the added element of letting it make you stronger," Ms. Strongin said.
That's the attitude she's bringing to the college chapter of her life. "I've had to re-learn to walk a few times," she said. "I think I can handle college."