By Briahnna Brown
For as long as he can remember, hunger and nutrition programs have been at the top of Steven V. Roberts' list for philanthropic endeavors.
Mr. Roberts has had a long philanthropic journey in his personal life and with George Washington University. He serves on the board of directors for Bread for the City, and the J.B. and M.C. Shapiro Professor of Media and Public Affairs, and his late wife, Cokie Roberts, dedicated their Christmas gift money toward hunger and feeding programs in the Washington, D.C., area.
"We always felt that hunger and nutrition was one of the best ways that you could tangibly intervene and make people's lives better," Mr. Roberts said. "I've been very blessed and fortunate in my life, and I have resources that I want to use to help student life at GW."
He created the Dorothy and Will Roberts Prize for SMPA students, named in honor of his late parents, and endowing this prize, along with his longstanding passion for creating solutions to hunger issues, inspired Mr. Roberts to establish an endowment for the Store, a student-run food pantry located in District House room B121 that helps bridge gaps in food security for the GW community.
"Steve Roberts and his late wife Cokie Roberts are true examples of what it means to care for your community and to give back," said Frank Sesno, the director of SMPA. "Their efforts along with Ted and Meredith Segal will impact the GW students not only today but for years to come in helping them grow and succeed in their future."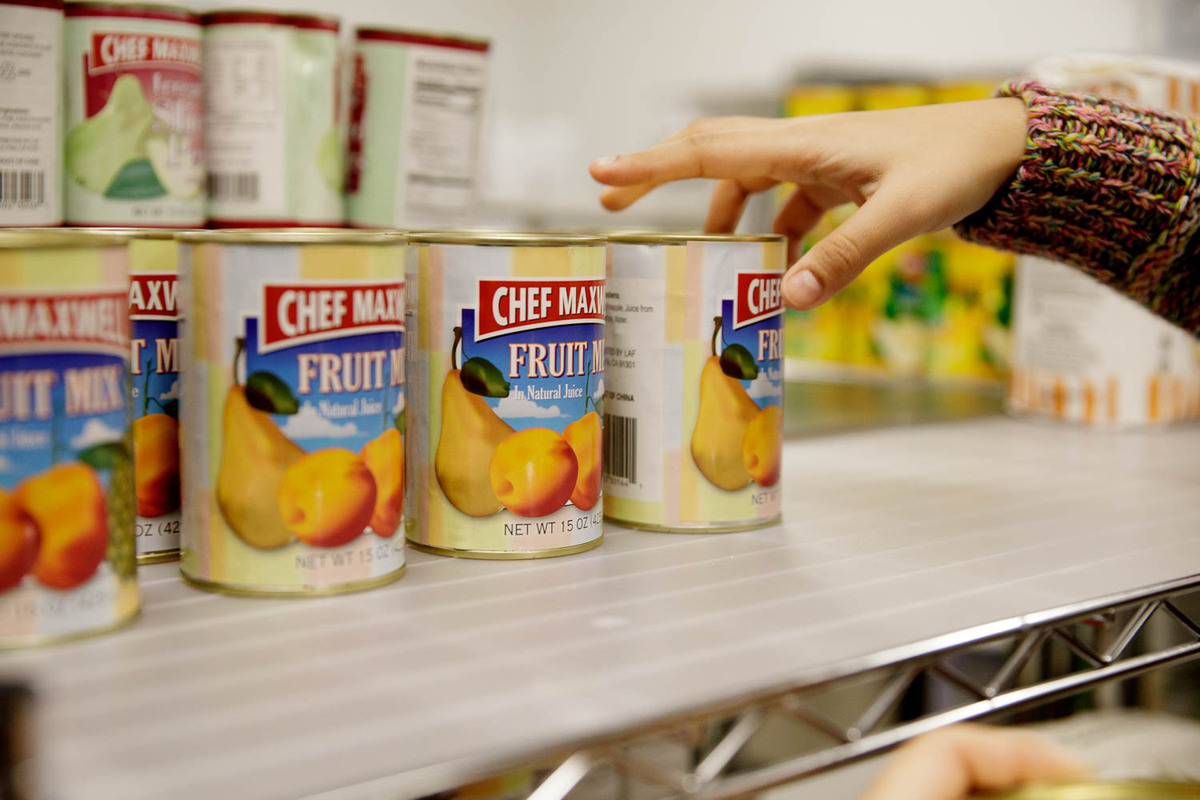 Mr. Roberts and his former student Ted Segal, B.A. '03, and his wife, Meredith Segal, B.Accy. '05, worked together to establish the Roberts & Segal Fund for Food Security endowment, with an initial commitment totaling $200,000. This funding will allow the Store's volunteers to acquire a more diverse food selection to continue meeting the needs of GW students for years to come.
"This opportunity stood out to me as one that is so vitally important to students," Mr. Segal said. "There's no more fundamental element than food security."
The Store opened four years ago as a partnership between the Division for Student Affairs and students to provide resources and support for GW students living with food insecurity. It provides produce and other perishable food items through local grocery partners and has served hundreds of students each year.
On a recent food resupply run to Capital Area Food Bank, Mr. Roberts went with the Store volunteers to load up boxes and cases of food items, such as macaroni and cheese, granola bars, canned vegetables and fresh produce. He noted during the trip that volunteers play a vitally important role to the Store's broader mission.
Kathryn Howell, a first-year graduate student in the Trachtenberg School of Public Policy and Public Administration who serves as president of the Store, and Grant Nilson, a junior studying computer science in the School of Engineering and Applied Sciences who serves as vice president, said that the Store has grown substantially over the years, now with more than 850 shoppers each semester.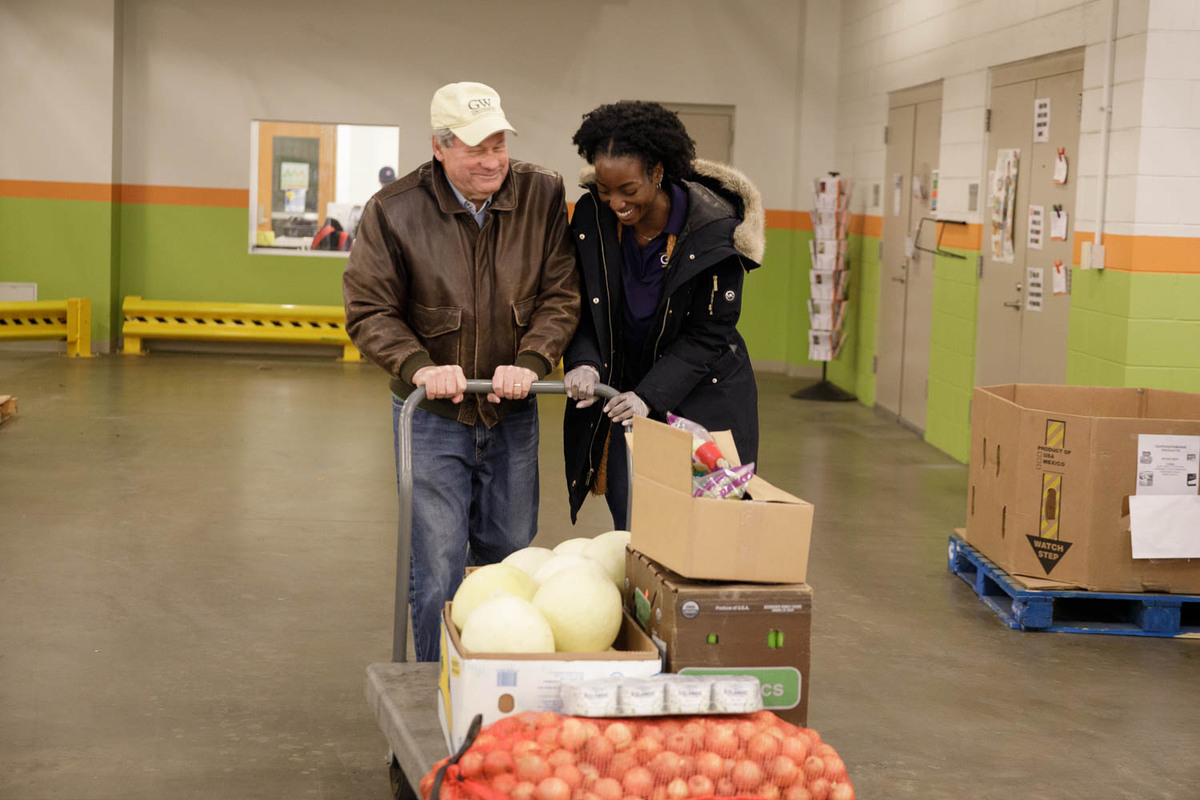 At its inception, Mr. Nilson said, the Store could only provide dry goods, but now, with philanthropic gifts, such as this endowment, the Store has been able to provide produce, meat and dairy regularly. Ms. Howell said that all of the perishable food in the Store gets picked up in just hours after it arrives, so this endowment will give them more opportunity to serve the GW community with consistent food pick-ups and deliveries.
"The more money we have, the better we can serve the people that are using the store," Ms. Howell said. "I think that this is going to be an amazing thing for us."
Chinwendu Ngwadom, a first-year graduate student in the Milken Institute School of Public Health, graduate assistant with DSA serves as project coordinator for the Store, said that one of the team goals has been to expand the Store's reach beyond just undergraduate students to graduate students and the broader GW community. She said that donor funding has allowed them to bring more international food options in response to shopper feedback and making a difference in those shoppers' lives has made her work more rewarding.
"It's different when you're just providing food," Ms. Ngwadom said, "but when you're actually seeing the shoppers and talking to them and seeing how it actually helps and seeing the different types of students, seeing what your work is actually doing for students, it just makes the work more meaningful."
For Mr. Roberts, this endowment is part of a larger vision to bridge various gaps in the needs of students, particularly those students who need resources like the Store during times of unexpected hardships in their lives.
"These kids have no elasticity," Mr. Roberts said. "If one thing goes wrong, they're plunged into crisis. We have to do a better job of not only identifying those kids when they're in crisis, but also then having a mechanism that can quickly help them."
---
More information about the Store may be found on the food pantry's website. Individuals interested in donating to the Store may visit the food pantry's gift page. Those interested in volunteering with the Store can sign up on the GivePulse page.