Lace making, llamas and sheep shearing—oh my! The George Washington University Museum and The Textile Museum pulled out all the stops Sunday to give visitors a sample of every kind of textile technique imaginable during its annual Celebration of Textiles event.
Sunday marked the first time the festival took place on the Foggy Bottom Campus. Since The Textile Museum reopened at the university in March, its new 53,000-square-foot building offered nearly double the amount of space it previously had to orchestrate activities for kids and families. 
The event is supported by the  D.C. Commission on the Arts and Humanities, and it celebrated the museum's expansive international textile collection and its current exhibition, "Unraveling Identity: Our Textiles, Our Stories," which features more than 100 objects that communicate self and status.
"Our goal was to choose activities relating to the exhibitions on hand, which cover cultures from all around the world and all kinds of textile techniques," explained Lori Kartchner, assistant curator of education at the museum.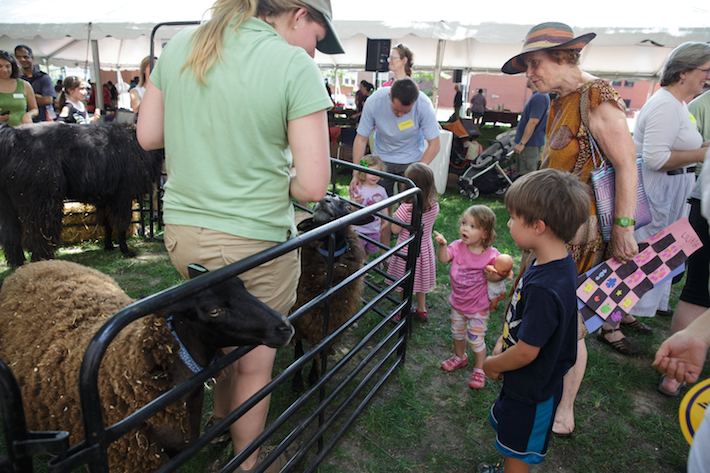 Guests gathered in a giant outdoor tent on University Yard, where local artists informed guests about their trades. There were tables that showcased lace making from the Chesapeake Region Lace Guild, Venetian mask making from the Anacostia Community Museum, basket weaving from Nantucket Basket D.C. studio, and more. A stage in the middle drew crowds for shearing demonstrations. Audiences watched farm animals, including a pair of sheep, lose their woolen fleece. But the star of the show was a towering black llama named Cusco. Demonstrators brought him out to buzz off wool he had been growing for approximately one year. After he was given a proper cut, he was guided along to small crowds of children, many of whom nervously extended a hand to pet the animal before running away. 
Unlike his more reluctant peers, 2-year-old Ezra Wade approached Cusco bravely. "Hi, llama!" he shouted, reaching excitedly toward Cusco's face. 
The stage also offered several performances from the central Asian group Silk Road Dance Company and the Indonesian House of Angklung. The members of Silk Road Dance Company paraded into the tent under a fabric dragon, while House of Angklung played rich melodies with bamboo instruments.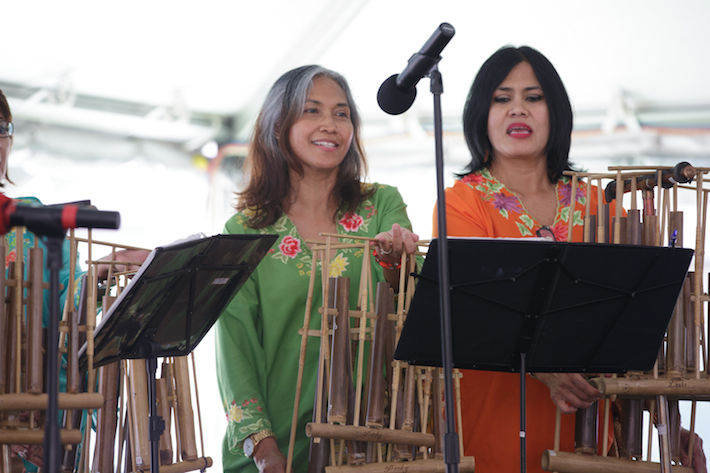 Tricia Sumarijanto, House of Angklung's conductor and musical arranger, said she was thrilled that the museum offered a chance for the musical group to show off their skills and their kebayas, traditional Indonesian tunics. 
"This is our second time doing this event, and it's so nice for families because you can introduce different kinds of textiles and world cultures to the kids," she said. 
Inside, the museum also had arranged a dress-up station where guests could try on clothing from every continent. Ten-year-old Ana Estrada bounced around excitedly from station to station, eyeing beaded gowns from Turkey, embroidered tunics from Meso-America and colorful blouses from Africa. 
Her favorite textile? 
"Definitely the robe," she said, pointing to a baby blue kimono made out of delicate Japanese silk.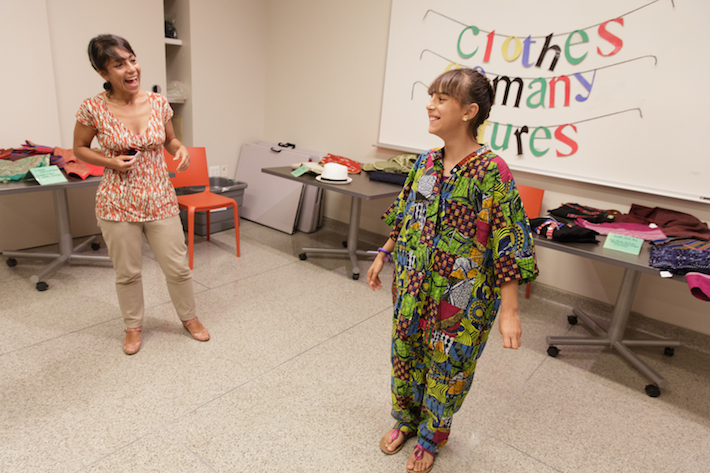 Ana and her mother, who made the trip to the museum from Arlington, Va., eventually ventured to the ground floor of the building. They walked past Leslie Woodward and her colleagues from the Japanese Embroidery Group sitting over a row tables showing visitors how to embroider silk into intricate tapestries. Ms. Woodward has been practicing Japanese embroidery for years and patiently passed along the techniques she knew to museumgoers. 
She was just one of many demonstrators who took pride in teaching others about the art of textile making. 
"The whole event has a really great spirit about it—we're celebrating things that mean a lot to people," Ms. Kartchner said.