When Hurricane Maria made landfall in Puerto Rico last Sept. 20, the category four storm knocked out the power grid, damaged infrastructure and injured many people. The official death count in 2017 put the number of hurricane-related deaths at 64.
Unofficial counts and a recent survey have estimated that the number of deaths is likely much higher.
George Washington University Milken Institute School of Public Health researchers have been on the ground in Puerto Rico to determine a more precise count of the number of people who died as a result of the hurricane. One goal of the excess mortality study, announced earlier this year, is to develop a model that accounts for these deaths that researchers can apply to future natural disasters.
"We have the opportunity to learn from doing this mortality study about the causes of mortality that perhaps for future events could be prevented, just by planning ahead and putting in place measures that help to mitigate against them," said Lynn Goldman, the Michael and Lori Milken Dean of Milken Institute SPH. "Then, the next time this happens, you can save more lives."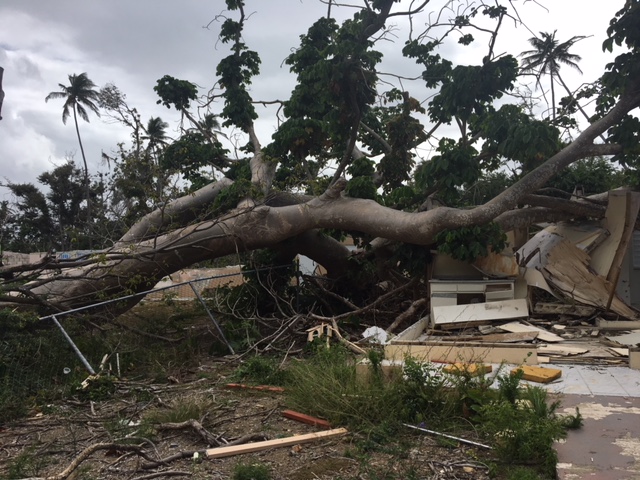 A Ceiba tree crushes a house in Puerto Rico. (Photo provided by SPH)
---
Since February, the team, led by Carlos Santos-Burgoa, principal investigator and a professor of global health at GW, has been collecting actual records of all reported deaths from last Sept. 20 through the end of February 2018. In addition, they have conducted interviews in funeral homes, hospitals and other local agencies. Researchers are analyzing the data now and will publish an independent report that estimates the number of deaths tied to Hurricane Maria this summer.
"We need this understanding of what really happened," he said.
The study will also assess the effectiveness of official communication from the Puerto Rican government before, during and after the storm and provide recommendations for the future. The researchers are also evaluating how well the Puerto Rican government followed current U.S. Centers for Disease Control and Prevention (CDC) guidelines for identifying mortality during a disaster.
Dr. Goldman said it is important to determine how many people died as a result of the hurricane so that these types of deaths can be prevented in the future. The researchers are working diligently to find answers, she said.
"We're moving into another hurricane season...so this is an area where not just Puerto Rico but all those islands, all of our coastal regions, are at risk," Dr. Goldman said.