For any recent high school graduate, the stress of leaving home, choosing a career path and starting life on one's own can feel daunting.
But for a teenager with autism spectrum disorder (ASD), life after high school is often a dead end.
More than 50 percent of young adults on the autism spectrum were not employed or enrolled in college within two years after graduation, according to a 2012 national study published in the journal Pediatrics. And although a majority of students with autism receive special education, studies show that many schools do not adequately prepare them for employment.
The George Washington University's Milken Institute School of Public Health hosted a conference on Friday that brought together parents, school leaders, employers, advocates and researchers to address the gaps in transition services for young adults with autism. The Autism and Neurodevelopmental Disorders (AND) Initiative co-sponsored the event.
"For us at a university, I think it's important to realize that we're about getting the best out of people. What's your highest and best use?" said Board of Trustees Chair Nelson Carbonell, B.S. '85, whose 20-year-old son, Dylan, has autism. "For people with autism, they have as much to contribute as everybody else. So we need to find a way to help them do that."
GW has been at the forefront of that mission since establishing the AND Initiative in 2012. The initiative now includes 100 affiliated faculty from six schools and colleges within the university. Its primary focus is to find solutions for those with autism, which affects 1 in 68 children in the United States as they transition into adulthood. Mr. Carbonell announced Friday that a search for the AND Initiative's director, funded by his family's $2.5 million gift, is underway.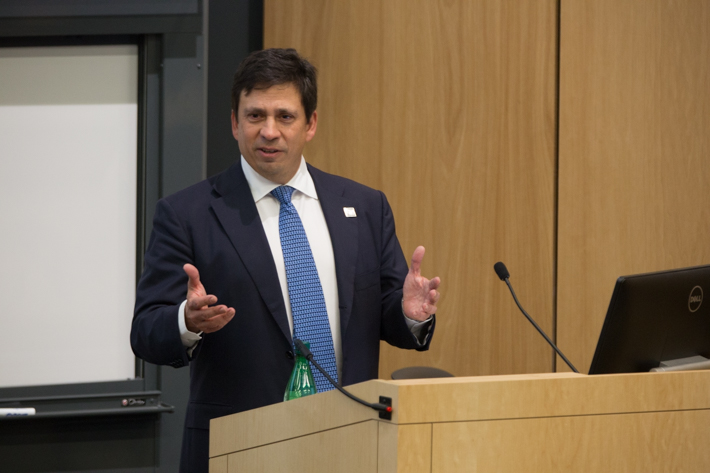 Board of Trustees Chair Nelson Carbonell, B.S. '85, addresses audience members during a conference on youth with autism and their transition from high school.
---
Mr. Carbonell has been candid about his son's challenges growing up, noting that Dylan struggled in private and public schools (he hated both), and by the time he was a senior, his parents realized he was "too smart to work in retail" but "not smart enough to go to college."
"We stood there with Dylan at high school graduation, and we didn't really know what we were supposed to do next," Mr. Carbonell said.
In 2013, Mr. Carbonell and his wife, Michele, decided to fund a research study at GW that would investigate transition services in schools for students with autism.
The Autism Transition Project is led by Milken Institute SPH Professors Olga Price and Donna Behrens at the Center for Health and Health Care in Schools. The two-year project's goal is to understand how public schools are or are not meeting the transition services of students with autism who have an Individualized Education Plan (IEP), a document that outlines education goals for a child with a disability. In addition to evaluating state policies surrounding this issue, the researchers also conducted interviews with the parents of children with autism from K-12 schools in Washington, D.C., Maryland and Virginia.
"We're finding out more about what questions still need to be asked and what we still need to know." Ms. Behrens said in an interview last spring.
Four mothers who participated in the Transition Project spoke at GW on Friday about their own experiences preparing their teens for post-grad life. They said that building good relationships as well as being assertive with teachers and school officials is key to giving students on the spectrum the tools they need to succeed after high school.
But the parents also emphasized that families cannot rely too much on schools as a safety net, since teens with autism will eventually have to graduate. Instead, they said, it is important for parents to begin thinking about the future beyond school at an early age. Parents should also pinpoint their child's passions and align those interests with a career path.
"A lot of times we're out there shopping, and we can't even market our own child. Sometimes we need to back away from the system so we don't lose who our child is," said Melonee Clark. Ms. Clark is the parent of a 22-year-old daughter with autism in the Prince George's County Public Schools system. "It's important that when you enter school, you're thinking about leaving school."
For Ms. Clark, that meant turning her daughter's obsession with popcorn into a local business. In addition to pairing her daughter with a career counselor, Ms. Clark also bought her a professional popcorn maker, which she now uses to sell salty treats at churches and community events.
"Having a skill is critical," Ms. Clark said.
Similarly, Dylan enrolled in a workshop in California run by an organization called Exceptional Minds, which provides young adults on the autism spectrum with training in animation and multimedia. When the program ended, Dylan spoke with the director about potentially enrolling in the program full time. Animation is where the Carbonells hope their son, a longtime lover of computers, will find his niche.
The Carbonells are hopeful that studies like the Transition Program will lead to a better understanding of what tools and services will ease the transition of young adults like Dylan.
But ultimately, "it's all on you," Ms. Carbonell told other parents on Friday. "Never let your vision of your child be set by anyone on the outside."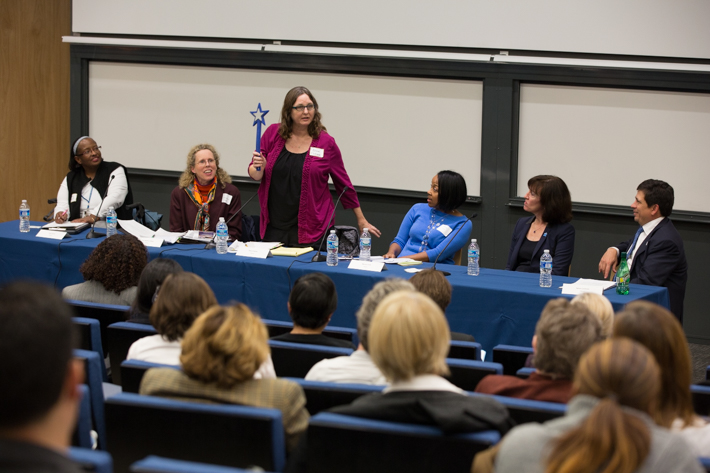 Parents from Washington, D.C., Maryland and Virginia talk about their children on the autism spectrum. They were asked what services schools could provide to their children if they had a "magic wand."
---