By Nick Erickson
As he prepares to exit his fifth-floor office at the George Washington University's Elliott School of International Affairs for the final time, former Ambassador Edward "Skip" Gnehm Jr., B.A. '66, M.A. '68, will box up noteworthy items such as distinguished awards and photographs with presidents and world leaders that have hung on his walls the past 18 years. He is retiring from teaching Middle East policy at his alma mater, a post he's held since 2004 after spending the previous 36 years in the Foreign Service.
The one-time Elliott School vice dean will also store away a handheld wooden door that on the surface looks like a regular bookshelf knick-knack. But perhaps no object, gifted to him by a young Kuwaiti boy more than 30 years ago, better represents his diplomatic approach that made him respected around the world, and the Middle East in particular, for decades.
Gnehm met the then 8-year-old in 1990, shortly after Saddam Hussein's Iraq invaded Kuwait. Living in exile at the time in the United Arab Emirates, the boy made it clear he wanted to return home and gifted Gnehm—who would be U.S. ambassador to Kuwait months later—the  small craft because it looked like the door at his grandmother's house, one he hoped to walk through soon.
Gnehm, who says one of the first rules of diplomacy is to never lie, promised that not only would the little boy see his grandmother's house again, but that he'd visit him at school the next year in Kuwait. Oh, and he'd bring cake to celebrate. With all the work, negotiating and sacrificing it took to liberate the country, Gnehm never forgot about his promise to the boy. The next fall, he paid him a visit at his school in Kuwait—cake and all.
"People saw me as someone with a heart and someone who cared about people, not just politics," Gnehm said.
The small wooden door symbolically shows why Gnehm has been so widely respected in both the international affairs and academic communities.
"Skip is a genuine person," said Ambassador Salem Abdullah Al-Jaber Al-Sabah, who has been the ambassador of Kuwait to the United States since 2001. "When Skip makes friends, those friends are forever."
The Elliott School also announced in January it would start the Ambassador Gnehm Fellowship for Middle East Studies in his honor. He's pleased to give back because the university, he says, played a significant role in shaping the perspectives he practiced in diplomacy.
The making of a leader
Gnehm grew up in Jim Crow South—a segregated part of Georgia—and is upfront about accepting the life around him. But as the son of a history teacher, he found interest in other cultures. Determined to come to GW after an eighth-grade civics teacher told him about the university's international affairs program, he made his way to Foggy Bottom by way of a full-ride Scottish Rite scholarship beginning in 1962.
In an introductory political science course, he was assigned text from Martin Luther King Jr. and was admittingly put off that he, a white man, had to read it. But he knew if he didn't his grade would suffer, so he gave it a chance. Lo and behold, he found a connection with what the civil rights icon said in those pages.
As he became more involved at the university, including a membership with Sigma Chi fraternity and eventually student body president, he saw that the power of human spirit had no boundaries.
"I met people from all over America and all over the world," Gnehm said. "I met people with different views."
Connecting with people of all backgrounds gave him a confidence to speak on behalf of others, a vital component to diplomacy. And long before he cut deals at negotiating tables in the Middle East and beyond, Gnehm was a vital student voice at GW, one he'd never relinquish after graduation. In his later years, Gnehm would serve on the Board of Trustees and be a member of the Board's Executive Committee and chairman of the Student Affairs Committee. He also would become vice president of the General Alumni Association and served as a faculty representative to its Board of Directors.
---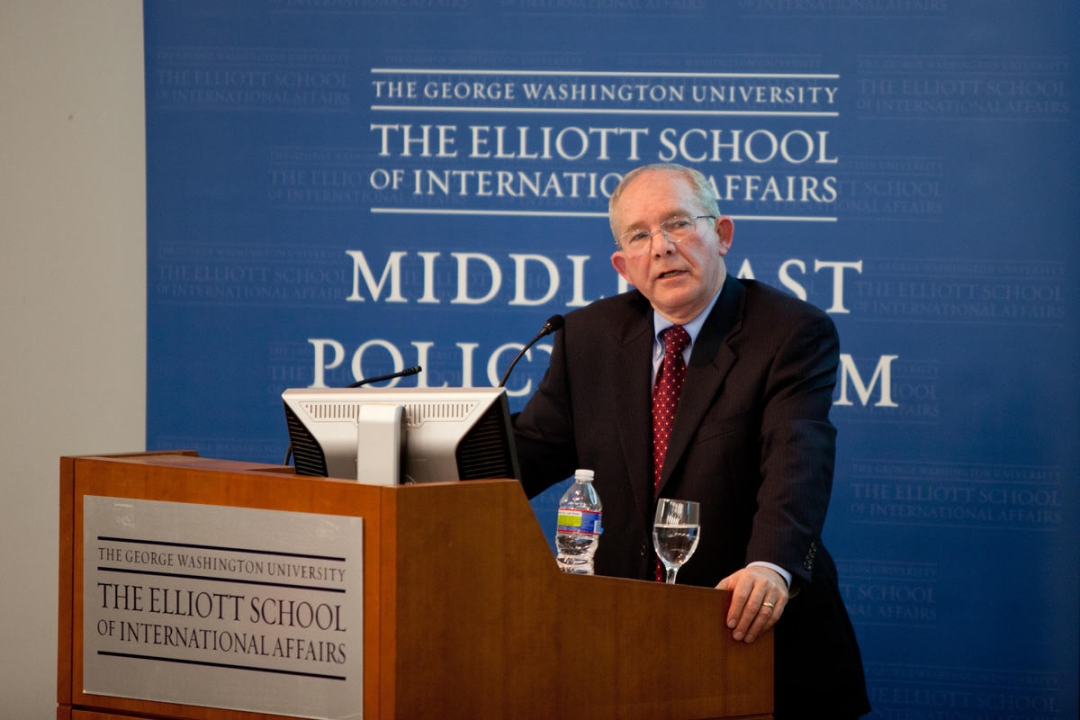 Gnehm has frequently shared his expertise for the public and GW community through lectures. (Photo by Jessica McConnell Burt)
---
As an undergrad, Gnehm foreshadowed his own diplomatic career when the late Lloyd Elliott, just hired as GW president, summoned the then-third-year student Gnehm from Georgia in the summer of 1965. Within the confines of a downtown D.C. hotel, Elliott wanted to know if he was going to have student support. Gnehm flipped the questioning and instead asked Elliott what he would stand for as president, especially hoping to hear his plans regarding student representation.
He was satisfied with what he heard. As Gnehm was exiting, Elliott repeated his original question and mentioned that it was never answered.
"Sir, if you do what you just said, you'll have our back," Gnehm said as he left the room. That also was the start of a long friendship between now GW icons. And the past 18 years, Gnehm's office has been housed in the building bearing Elliott's name.
When he left with a master's degree in 1968, Gnehm was no longer the same individual who arrived from Georgia. He was a man culturally aware of many backgrounds who had gained a confidence to seize the moment when it came to him.
And when what the Los Angeles Times called the toughest diplomacy assignment of the early 1990s came calling, Gnehm was ready.
Diplomacy calls
When Iraq invaded Kuwait in August 1990, Gnehm was already well-versed in the U.S./Kuwait relationship as he was at the Pentagon during the reflagging of Kuwaiti tankers —crediting a GW international law class years earlier for preparing him for the nuances of that operation. 
On the night of the invasion, Gnehm received a call at roughly midnight and quickly went to the State Department, where he took charge of the Kuwait Crisis Task Force present in the Operations Center. Again, he seized the moment.
Shortly after, Gnehm was named the director of that same Kuwait Crisis Task Force, a post that required nearly 20 hours of work per day. He also became President George H.W. Bush's intermediary in the Persian Gulf, making numerous trips to the region to meet with people in exile.
In January 1991, Gnehm was sworn in as ambassador to Kuwait.
"If there was ever a man who was made for this pivotal juncture in United States-Kuwaiti relations, the President (Bush) and I believe it's Skip Gnehm," Secretary of State James A. Baker III said at the swearing in ceremony.  
Gnehm entered his ambassador role during tumultuous times. A month before on Dec. 13, the U.S. embassy compound in Kuwait temporarily closed. Therefore, Gnehm had to work out of Saudi Arabia for his first few months as ambassador, which he spent tirelessly working to liberate Kuwait and bring back its freedom.
The U.S. embassy re-opened less than two months after Gnehm's swearing in, signaling Kuwait was finally free from the Iraqi invasion. On March 1, 1991, Gnehm flew in by helicopter to the embassy. With U.S. soldiers standing at attention and Kuwait citizens looking on with relief, Gnehm raised the stars and stripes of the U.S. flag back over the embassy.
"That vision of him raising the flag at the U.S. embassy, I mean, that is a snapshot in history that told everybody Kuwait is free," Al-Sabah said.
While his personable approach to diplomacy connected him with the citizens and leaders who needed the most support, Gnehm also knew when to draw a line in the sand. That combination further strengthened trust in him both in the U.S. and abroad, and he leaned on his principles throughout his career in the Foreign Service.
"As a diplomat, you have to be aware that you are representing the country," Gnehm said. "With that being said, one needs to speak up in the appropriate channels when you feel like policies should be a certain way, which I did."
Gnehm would stay ambassador to Kuwait until 1994. He would later be ambassador to Australia from 2000 to 2001, and then ambassador to Jordan from 2001 to 2004. In his career in the Foreign Service, he also served in Vietnam, Lebanon, Saudi Arabia, Yemen, Tunisia and Nepal.
Giving back to GW
When Gnehm felt it was time to leave the Foreign Service, he wanted to come back to where it all started: GW.
"This is where my heart is," said Gnehm, a recipient of the university's President's Medal. "I wanted to be able to share all the experiences and some of the stories with students. I wanted to hopefully provide them some inspiration or some motivation in a positive way."
---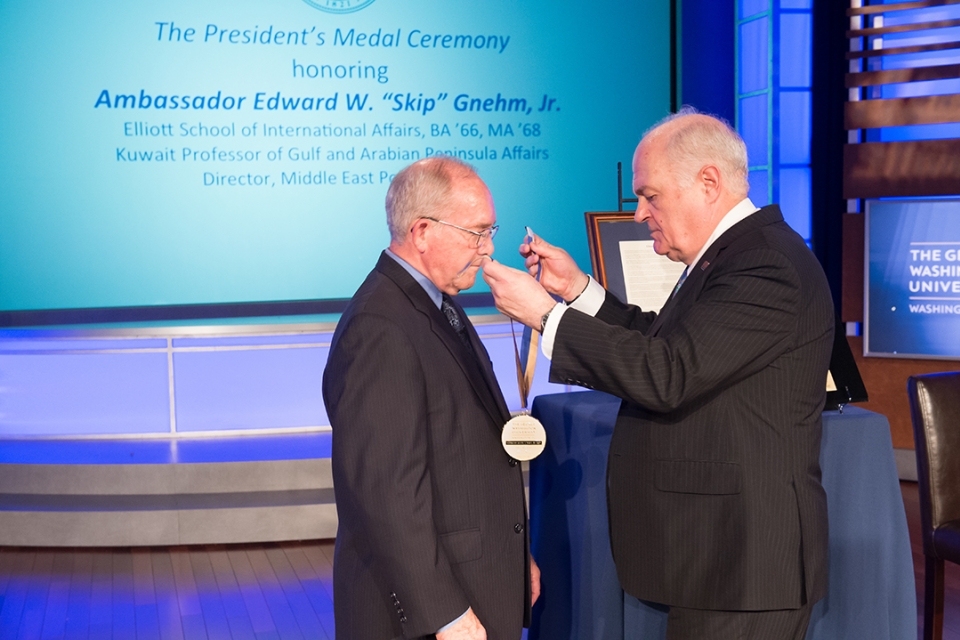 Then George Washington University President Steven Knapp, right, awards the GW President's Medal to former Ambassador Edward 'Skip' Gnehm Jr. in March 2017. (Photo by Dave Scavone).
---
Since returning to his alma mater as a faculty member in 2004, Gnehm has brought his unique perspective from wartime Kuwait and other Middle East ventures to classrooms full of future international affairs leaders. As one student wrote on a Rate My Professor review: "I came to GW to take classes like this."
It's been especially important to have someone of Gnehm's resume and approach teaching Middle East policy in a post 9/11 world. Gnehm finds it critical to explain the human element he thinks is missing in too many stories involving the Middle East. 
He's quick to describe the scene in Jordan on Sept. 12, 2001, when 3,500 Jordanians lined up "15 deep, like ducklings" at the U.S. embassy to express their condolences after the devastating terrorist attacks a day earlier. Gnehm argues that one of the causes of unsuccessful policies in the region is a failure to understand the culture.
"My goal is that you have enough basic knowledge to question what you read here to make your own judgment as to whether it's true and valid," Gnehm said. "It's about the making the world real to students."
That's what GW did for him. When he first arrived on campus as an 18-year-old from the Deep South, Gnehm embraced different viewpoints that ultimately sparked a life's work fighting for others. He's happy to pay it forward and hopes the fellowship that will forever hold his name provides opportunities for GW students not so different from him 60 years earlier.
Whether it leads to a different perspective, career path or even inside a beloved grandmother's house after time away, Gnehm advises leaving every door open.
"You can have influence you never dreamed you would have," he said. "Just seize the moment, and sometimes you don't even know the impact you can have."