By Kristen Mitchell
Former ambassador Edward "Skip" Gnehm Jr., the Elliott School of International Affairs' Kuwait Professor of Gulf and Arabian Peninsula Affairs, was awarded the President's Medal Thursday.
Mr. Gnehm came to GW after a 36-year-long career in the United States Foreign Service. Before retiring in 2004, he served as U.S. ambassador to Jordan between 2001 and 2004 and ambassador to Kuwait between 1991 and 1994. His service took him around the globe, including assignments in Vietnam, Australia, Nepal, Syria, Saudi Arabia, Yemen, Tunisia and Lebanon.
George Washington President Steven Knapp said during a ceremony in Jack Morton Auditorium he was delighted to award the President's Medal to Mr. Gnehm, who joins an "illustrious line of recipients."
Mr. Gnehm is a two-time GW alumnus, B.A. '66 and M.A. '68. As an undergraduate, he served as Student Association president and played a key role in recruiting GW President Lloyd Elliott. Mr. Gnehm was also a member of Sigma Chi Fraternity, Omicron Delta Kappa Honor Society and Delta Phi Epsilon Foreign Service Professional Fraternity.
Mr. Gnehm said his GW education and the university's faculty opened his eyes to new ways of thinking and taught him how to face challenges in his adult life.
"Countless times in my career I could hear their voices with advice and counsel, and as my career emerged and moved forward there were so many times when I used what I learned here at GW to be able to face the crises that were in front of me," he said. "I'm forever grateful to those here at GW who taught me."
When his career in the Foreign Service was coming to a close, Mr. Gnehm knew he wanted to return to GW and help prepare the leaders of tomorrow. He wanted to share his experiences and knowledge to help students face an increasingly complex world.
"If I could do even in some small way what my professors had done for me when I was a student, then I knew I would have found that deeply meaningful place that I had been searching for," he said. "I found it."
Mr. Gnehm served on the GW Board of Trustees for seven years, at points chairing the board's Executive Committee and Student Affairs Committee. He also served as vice president of the GW Alumni Association. Mr. Gnehm's service to his alma mater and nation was recognized by fellow alumni when he was awarded the Distinguished Alumni Achievement Award in 1992 and the Jane Lingo Alumni Outstanding Service Award in 2012.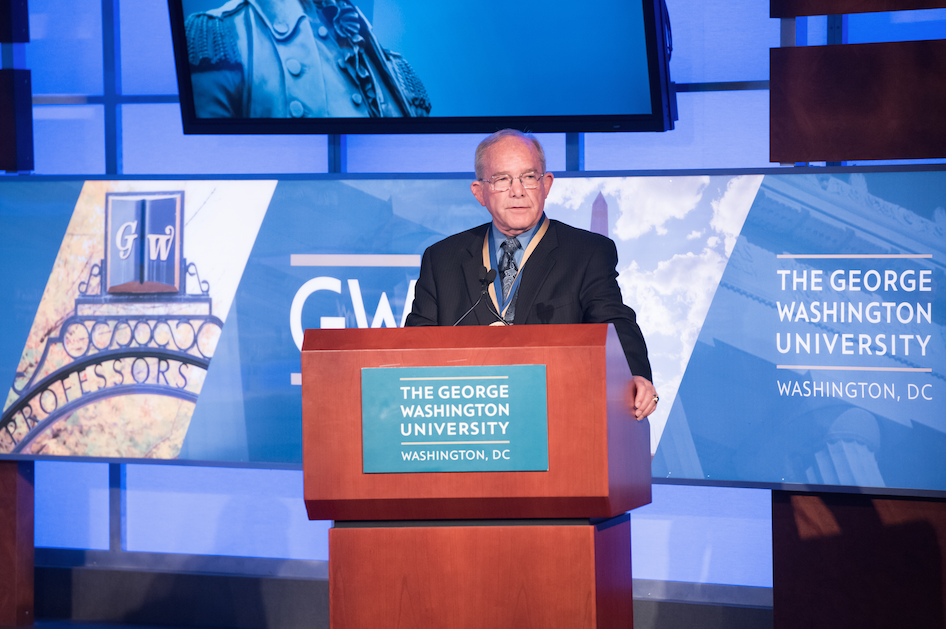 Former ambassador Edward 'Skip' Gnehm Jr. said Thursday he knew he wanted to return to GW after leaving the United States Foreign Service to pass on his knowledge to the next generation of leaders. (Photo by Dave Scavone)
---
Sen. Michael Enzi (R-Wyo.) reflected on his long friendship with Mr. Gnehm, which dates back to their first year at GW. The two men lived in the same residence hall and bonded over their similar backgrounds in rural America. They became fast friends, joined the same fraternity and lived together for three years at GW.
"Skip is really the only brother that I've ever had. So I've gotten to watch his career as a brother would," said Mr. Enzi, B.B.A. '66.
In addition to being an ESIA professor Mr. Gnehm is a member of the Middle East faculty and director of the Middle East Policy Forum. Mr. Gnehm gives the annual Kuwait Chair Lecture where he highlights a particular issue in the Middle East. Dr. Knapp praised Mr. Gnehm's ability to tackle difficult subjects in ways that engage both members of the public and his academic colleagues.
"I think we all come away really amazed by the depth of his experience, by his wisdom and by his wit and by his easy manner and very engaging way of addressing an audience," Dr. Knapp said.
Mr. Gnehm was born in Carrollton, Ga., to a mother who taught history and geography. As a child he had a deep fascination with ancient history, particularly in the Middle East. Mr. Gnehm's journey to GW began in eighth grade when he told his civics teacher he was interested in joining the Foreign Service and being an ambassador. The teacher told him he would need to attend GW to accomplish his goals.
Mr. Gnehm is also a member of the Board of Directors of American Near East Refugee Aid (ANERA) and the Arab Gulf States Institute in Washington, a member of the Board of Oversight of the Sultan Qaboos Cultural Center in Washington and a member of the Executive Committee of the American-Kuwaiti Alliance and the Senior Living Foundation.
The GW President's Medal, established in 1988, recognizes individuals who have exhibited courage, character and leadership in their chosen fields. Previous recipients include Nobel Peace Prize laureate Muhammad Yunus, Tony Bennett and his wife Susan Benedetto, Nobel laureate and former Soviet Union President Mikhail Gorbachev, former Israeli Prime Minister and Nobel laureate Shimon Perez and journalist Walter Cronkite.