In rehearsal, it takes MFA student and professional dancer Felicia Avalos a couple minutes to wrap the sleek, alien-like headset around her temples. Tiny sensors squeeze her brow like little tentacles, making her look like more prepped for the set of a science fiction film than a dance performance.
Ms. Withers helps to arrange the intriguing contraption around Ms. Avalos' auburn hair. "There you go," she murmured, and then asked Ms. Avalos to take her place in the center of the dance studio. 
She is getting inside her dancers' heads—literally. When MindFluctuations opens at Lisner Auditorium March 19, Ms. Avalos will perform in front of a 3D computer visualization created by computer artist Tania Fraga. The signals from her headset have been programmed to shift and change Ms. Fraga's artwork based on brain activity and expressive states, providing a real-time interpretation of what's going on in Ms. Avalos' mind as she dances across the stage.
With its marriage of dance, neuroscience, computer art and music,
MindFluctuations
is completely innovative—and emblematic of Ms. Withers' work. Her post-modern choreography has been internationally recognized, and most recently, locally at the 2014 D.C. Mayor's Arts Awards Ceremony. She has been teaching at the George Washington University for more than four decades, and this year, she celebrates the 40th anniversary of 
Maida Withers Dance Construction Company (MWDCCo)
. 
MindFluctuations
is a culmination of Ms. Withers' career as a dancer, choreographer and artistic director. The new work includes
GW professors, alumni and select students alongside professional dancers
: Music Professor
Steve Hilmy
 is composing and performing original music on four electronic instruments. He is a classically trained musician, the founder of the electronic music lab in GW's Department of Music and the resident composer and musician for MWDCCo since 2005, and he'll perform in
MindFluctuations
with New York-based musician/composer John Driscoll.
David Page
, sculptor and professor at the Corcoran School, created a handcrafted aluminum mask that a dancer will wear in the performance. The cast of professional dancers includes two GW alumnae, two undergraduate students as understudies and two professional dancers who are current MFA candidates.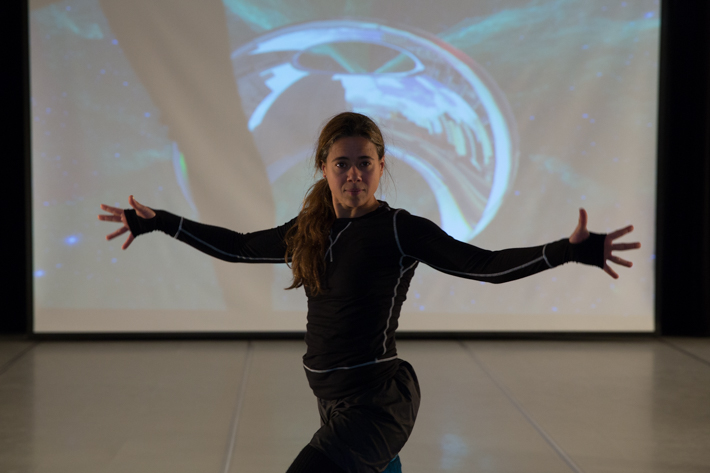 Giselle Ruzany, B.A. '97, rehearses for upcoming performance of 
MindFluctuations
.
---
Giselle Ruzany, B.A. '97, explains that MindFluctuations shows the universality of dance. She knows from experience. She was born in New York City and grew up speaking to her Brazilian parents in Spanish and Portuguese. Her grandparents spoke Polish and Yiddish, while her babysitter communicated to her in Russian. 
"There were so many languages, and I was always so confused," she said. So, after trying an improvisation class at the age of three, "my first language became dance," she explained.
Years later, as a professional ballerina in Brazil, she heard about Ms. Withers' work.
"My mom was living in Washington, D.C., and I said, 'Mom, I have to come visit you and meet this choreographer,' " she remembered. "Maida has been doing improvisation since the 1960s, and I was looking for someone like her, who knew the entire history of modern dance." 
Now, Ms. Ruzany runs a private psychotherapy practice that uses dance to help people overcome trauma. She also has taught several classes at GW, and one of her former students, senior Ian Ceccarelli, is dancing alongside her in MindFluctuations.
During a rehearsal, Ms. Ruzany helps him through an intricate piece of partner work. It's an example of the GW connections and collaboration that Ms. Withers encourages, and which Ms. Ruzany believes can be critical to helping younger dancers evolve into professionals. 
"By the end of this year, the undergraduates and I will be colleagues. We'll no longer be student and professor," she said. "That's one of the things I appreciated so much when I worked with Maida as an undergrad—she puts you in a professional setting and helps you bridge over to the next level in your dancing."
Mr. Ceccarelli is among the youngest members of Ms. Withers' cast, but he says working with Ms. Withers and the other professionals already is strengthening his technique. 
"It's really almost an exploration together. Everyone gets in there as a team, whether you're brand new, like me, or you're one of her colleagues who has worked with her for years," he said. 
MindFluctuations isn't just pushing Mr. Ceccarelli as a dancer. Ms. Withers' work draws on political affairs, as well as science and technology, and her viewpoints are opening new vistas for him.  
"The more perspectives you see, the more they increase your ability to create art. You can draw from the styles you observe, and that's invaluable in any field," he said.
$10 student tickers for MindFluctuations will be available on March 19 from noon to 6 p.m. at Lisner's box office located at 730 21st Street NW. General tickets are $25 to $38.