By Briahnna Brown
To Ashley Le, the newly-elected George Washington University Student Association president, the campaign has never been about her, she said.
Rather, Ms. Le explained, the campaign has been about the students and the student community.
"I ran on a platform of community empowerment, but after last night's results, I feel like I am the one empowered by the student community," Ms. Le said the day after the election. "I don't think I would have been able to do this without the support of a lot of students and a lot of groups—I'm very thankful."
A junior majoring in journalism and mass communications, Ms. Le has been with the SA during the previous two administrations as a director of information technology last year and as vice president for public affairs this year. She was born and raised in Ho Chi Minh City, Vietnam, and became a U.S. citizen in 2016 after moving to Huntington Beach, Calif., six years prior.
After more than 4,100 GW students voted on Tuesday and Wednesday, Ms. Le won the SA race for president with 51 percent of the vote, making her the first Asian-born woman to hold the position in recent history, which she said speaks to the university community being open to inclusivity with voices from different communities.
---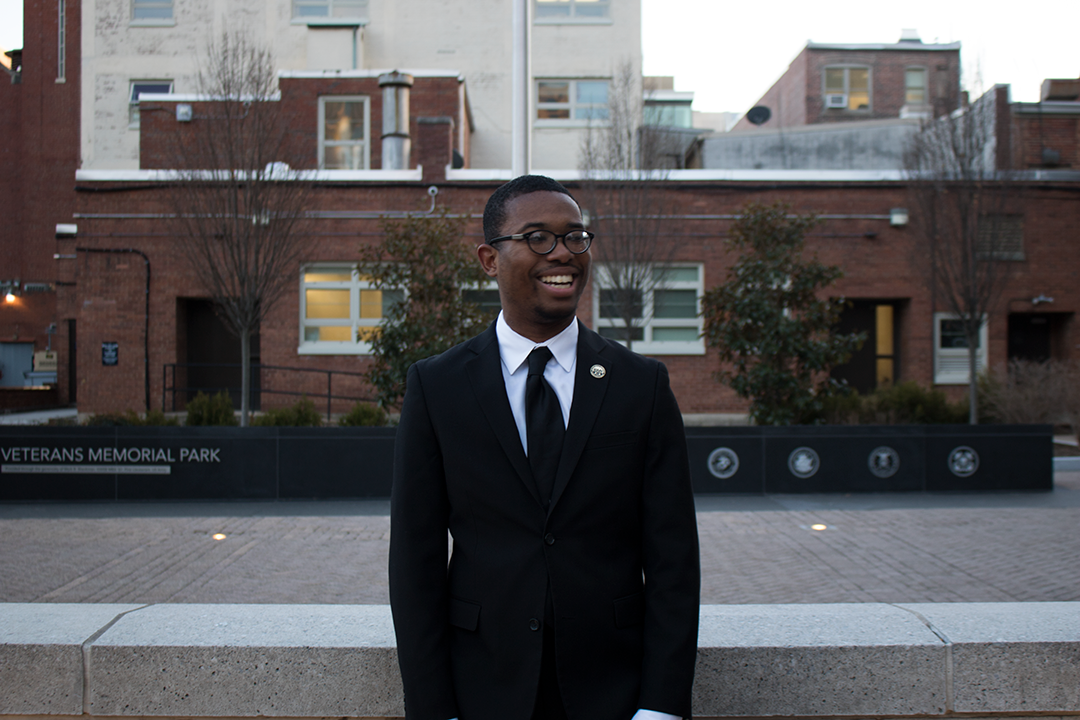 Sophomore Ojani Walthrust was elected as executive vice president of the Student Association. (Photo courtesy Ojani Walthrust)
---
For executive vice president, students chose Ojani Walthrust with 73 percent of the vote. A sophomore majoring in Latin American and Hemispheric studies in the Elliott School of International Affairs, Mr. Walthrust, from Queens, New York, was a SA committee aide last year and a senator this year. He said he is happy to see his supporters come together for the election, given that a key element of his platform is solidarity.
"I know that the real work begins now and I can't wait to push for more change and progress on campus," Mr. Walthrust said. "I am looking forward to continuing to bolster the experience of GW students."
There was a higher voter turnout this year compared to last, with about 1,400 more votes, according to the GW Joint Elections Commission. Graduate students also voted in higher numbers with 884 this year, more than doubling last year's graduate student total of 347.
An overwhelming majority of students—96 percent—voted in favor of a referendum that calls for all undergraduate students to be allowed to take up to 18 credits per semester under the fixed tuition rate; 54 percent of students said they would personally take advantage of the increased credit allowance.
Students also voted in favor of creating a position for a vice president for sustainability and allowing the three freshman and two first-year graduate senators the right to vote in their second semester, the referendums earning about 88 and 85 percent of the vote respectively. A majority of students—66 percent—said they want the Student Association's Program Board to host fewer events with higher-profile acts like artists, speakers and comedians.
Moving forward, Ms. Le said that she and Mr. Walthrust are in agreement that they hope to enhance the student experience by improving diversity on all levels. She added that she wants the GW student body to know that the SA is for and with them.
"The SA is not just a governing body, we're a group that is here because of students," Ms. Le said. "We are here for students and we are committed to making sure there are public spaces for intentional collaboration but also a welcoming and inclusive space for all voices."