By Briahnna Brown
Amazon has not killed retail, Doug Zarkin, B.B.A. '92, explained during a George Talks Business event on Monday.
Rather, the Pearle Vision, Luxottica vice president and chief marketing officer said, Amazon killed substandard retail.
"I think what that Amazon mentality is doing is that it's really forcing brands…to really evaluate what is their retail experience, one, and two what is product strategy, and I think most importantly, it's actually having a positive effect on investing in people," Mr. Zarkin said.
"When you have an online experience, you actually need to think about what your associates can deliver as part of an organizational service offering."
The George Washington University School of Business hosts the weekly George Talks Business series that features conversations with business and thought leaders on topics of timely importance. During the Monday afternoon event in Duquès Hall, GWSB Dean Anuj Mehrotra asked Mr. Zarkin a series of questions about online retailing's impact on brand management.
Mr. Zarkin, a GWSB alumnus, said his journey from Thurston Hall to Pearle Vision was not a straight line but always was motivated by a desire to understand the what and the why. He joined the Luxottica team seven years ago to reinvigorate the Pearle Vision brand.
---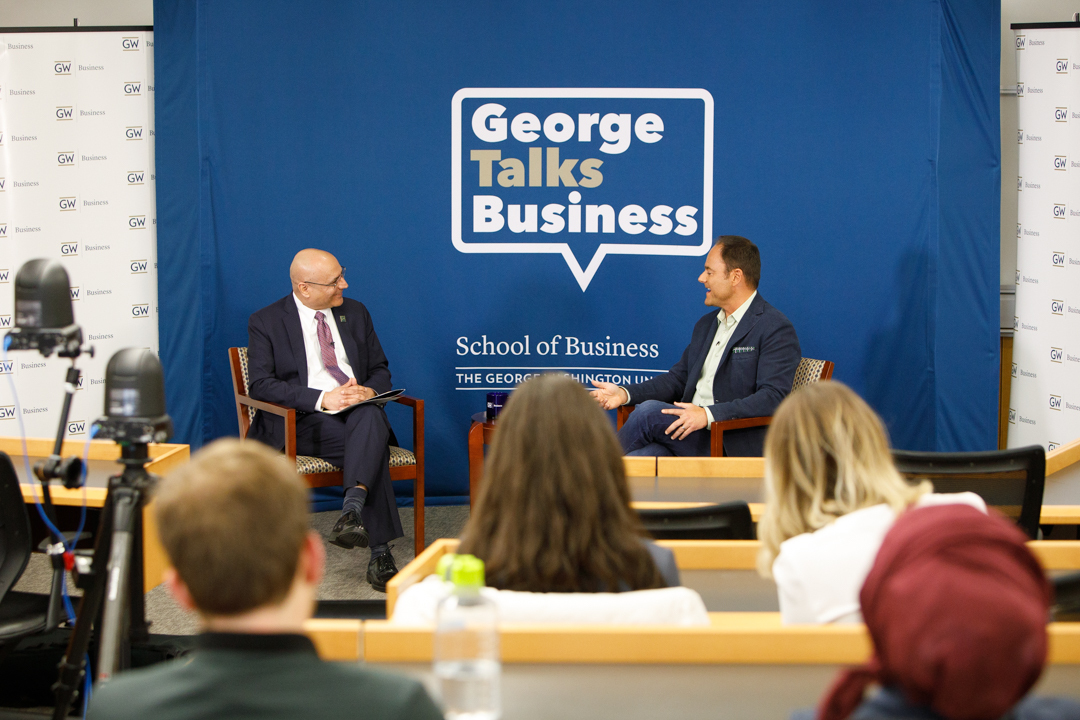 GWSB Dean Anuj Mehrotra (l) interviewed GWSB alumnus Doug Zarkin (r) during a George Talks Business event on Monday.
---
Branding was easier when there was no real-time feedback, Mr. Zarkin said, because consumers would tell you what they thought by the results generated through sales. In the digital age, consumers instantly will let brands know about missteps, which is why he said marketers and brand managers must be plugged in to what consumers need and want.
"When you put something out into the digital ecosphere, you find out immediately if it's a hit or a dog, and if it's a dog, you need to be prepared to read and react," Mr. Zarkin said. "I think we now go into executional strategies with a backup plan in mind, not because we think we're going to fail, but sometimes, as smart as we think we are, we miss it, and the consumer's going to let us know so."
Marketers cannot be successful in business today if they do not understand "big data" and how to use it, Mr. Zarkin said. There will be a revolution in how brands use big data in the next decade, he added, along with a reinvention of the retail model as online retailers seek ways to bring their brand to life and build connections with the consumer.
"We are never going to be as smart as our consumer is, this is why we have to continue to listen in order to lead," Mr. Zarkin said. "I think you'll see companies reinvest more in understanding the customer journey to really see if you can find those nuances that send a consumer either your way or to your competition."
Looking back, Mr. Zarkin said, he wished he took more time to just sit back and actively listen during his four years at GW, and he wishes that he knew to stop searching for the right way and just focus on a way. His biggest advice for GWSB students is to find someone to learn from, such as a mentor whom they see as a leader in the field. He encouraged students to build connections with those they admire and can connect with on a personal level.
"There is no right way—there are so many ways to do it," Mr. Zarkin said. "I think the most important thing is finding people in your career that you can create a connection with and use them to help guide you through the journey of learning."