By Nick Erickson
Thurgood Marshall Academy senior Cierra James wrote in a scholarship essay to George Washington University that she is "nothing without her community" and is committed to helping as many members of it as possible rise up.
She proved that throughout the pandemic by starting a virtual science enrichment program for kindergarteners through fourth graders, in addition to supplying toiletries and food to her neighbors when grocery stores were low on stock.
"I've always wanted to do more to help people," she said. "I'm just not a person who can sit down and not do something. And I love the aftermath of helping people, like seeing the smiles and the joy in their faces."
James was once again the reason for joyful faces on Tuesday morning. This time, her community was there to celebrate her as she was one of 10 D.C. students awarded a full-ride scholarship, the same one she wrote the essay for, to GW.
Senior classmates, teachers and staff members from the school gathered in the gymnasium as a team of GW leaders presented her—in a surprise reveal—the Stephen Joel Trachtenberg Scholarship, which will cover tuition, room, board, books and fees throughout four years at GW.  Thirty schools across D.C. nominated 145 students for the scholarship this year. Of the 25 students interviewed, 10 were selected to receive the SJT scholarship. James had the only in-person reveal this year, with the other nine recipients receiving their news virtually.
James entered the gym with her peers unaware that she was the reason for the gathering. With his GW mask turned inside out to not spoil the surprise, Dean of Admissions Ben Toll stood at the front of the stage once everyone was present and discussed the background of the scholarship.
Once it was clear where Toll worked and what he was doing at the school, James—seated front row stage left—put her hand over in mouth and leaned forward in her seat, almost in disbelief as it dawned on her what was happening. When Toll officially announced her name, the gym erupted in applause, and the stage curtains opened to a display of buff and blue balloons. 
Her parents and younger sister then appeared from behind the curtain to celebrate together. The university's mascot, George, then approached with a signed letter from GW President Mark S. Wrighton confirming the news.
"It was scary, exciting and amazing," James said of the moment. "It was crazy."
Since 1989, the SJT scholarship program has enrolled more than 200 high school students from the District of Columbia with full-ride scholarships covering all four years of their undergraduate education. GW selects students based on high school academic performance, strength of curriculum, recommendations, leadership qualities, community service, extracurricular activities and achievements and standardized test scores, should they choose to submit them.
"When we go through this application process, we are trying to identify students who aren't just bright but are going to be committed to their communities and students who are going to be able to make an impact," Toll said.  
James certainly fits that bill.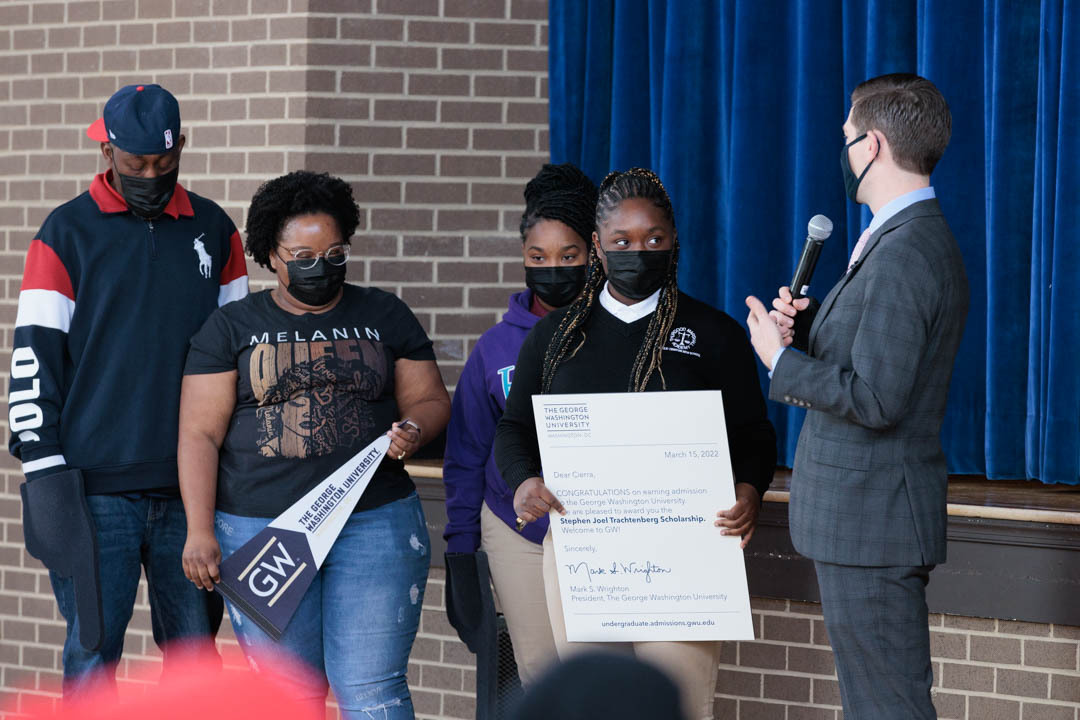 While her parents, Aleisha and Errick James, say she has always been driven, she came into her own as a leader during the early parts of the pandemic, recognizing it would magnify the disparities of resource availability. She encouraged younger students by orchestrating virtual hands-on learning sessions at home during after school hours while teaching them fun and practical ways to learn the fundamentals of epidemiology. She also helped with neighborhood distribution projects.
"It just showed her that even though you are stuck in this, the world is still moving, and you can contribute," Aleisha James said. "It helped her see how her service to others makes her happy but also impacts their lives."
James has ambitions to one day become a contract lawyer. She wants to be well-versed in how the economic markets work and build a strong network before studying law, so she plans to enroll in the GW School of Business.
While she looks forward to a future of fighting on behalf of others, she also embraces being a role model for her fellow schoolmates and younger sister, advising them to "never give up and never settle."
Both Errick and Aleisha James were proud that the scholarship allows their daughter to see the fruits of her labor, and that she can stay in D.C. to pursue her goals. 
"This provides that space for Washingtonians," Errick James said. "I'm happy for her. I didn't know this was here. I knew GW was here, but I didn't know this type of scholarship was available. And man, I'm just glad she was able to take advantage of it."
He then proudly held a pennant of his daughter's future school as though it were the Stanley Cup.
"Thank you, GW!" he exclaimed. "My baby's got a scholarship! Yes!"
The in-person reveal at Thurgood Marshall Academy was followed by virtual notifications to nine additional recipients. They are: Charnese Carr, Cesar Chavez Public Charter School; Ahmad Khan, McKinley Technology High School; Damiyah Brown, Eastern High School; Nathanielle Campo and Yazmin Fields, Benjamin Banneker Academic High School; Mamadou Diabate and Sintia Madrid Romero, Bell Multicultural High School/Columbia Heights Educational Campus; and Madison Dias and Eden Parker, Woodrow Wilson High School.
All recipients will be honored at an in-person congratulatory reception March 23 on campus.
---