By Ruth Steinhardt
On Wednesday morning, Momona Hadish answered the door of her family house in Northeast Washington, D.C., and stopped on the front steps, hand over her mouth. Her front yard was decked with gold balloons and signs reading "Congratulations! Momona Is an SJT Scholar." The visitors waiting to greet her included a cameraman, strangers waving pompoms and a large mascot in a tricorn hat.
The college admissions wait was over for Ms. Hadish, a senior at D.C. International School. As Ms. Hadish's family and neighbors cheered, George Washington University Dean of Admissions Ben Toll informed her that she had received a Stephen Joel Trachtenberg Scholarship. The SJT scholarship will cover the full cost of her education at GW—four years of tuition, room, board, books and fees. 
"It was so unexpected," said Ms. Hadish, an activist against gun violence who hopes to study international affairs and political science. "I feel liberated, especially because my parents are immigrants to this country and this scholarship means a lot to us. This means I'm able to navigate college without the burden of tuition, and I'm able to really have academic freedom at GW."
Since 1989, the SJT scholarship program has enrolled more than 200 District of Columbia students with full-ride scholarships covering all four years of their undergraduate education. 
This year, COVID-19 necessitated a change in the traditional surprise reveals, usually crowded spectacles at the recipients' schools. Based on student preferences revealed during the application process, only Ms. Hadish had an in-person reveal, with social distancing in place and just a few people present. For the remainder of the award notifications, Mr. Toll "Zoom bombed" what the unsuspecting winners thought would be college counseling meetings set up by their high schools.
The new SJT scholars came together at a virtual reception that evening, hosted by GW President Thomas J. LeBlanc and Provost M. Brian Blake and included students' families, nominators, school counselors and principals. Also in attendance were D.C. Public School Chancellor Lewis Ferebee and D.C. Councilmember Janeese Lewis George (D-Ward 4).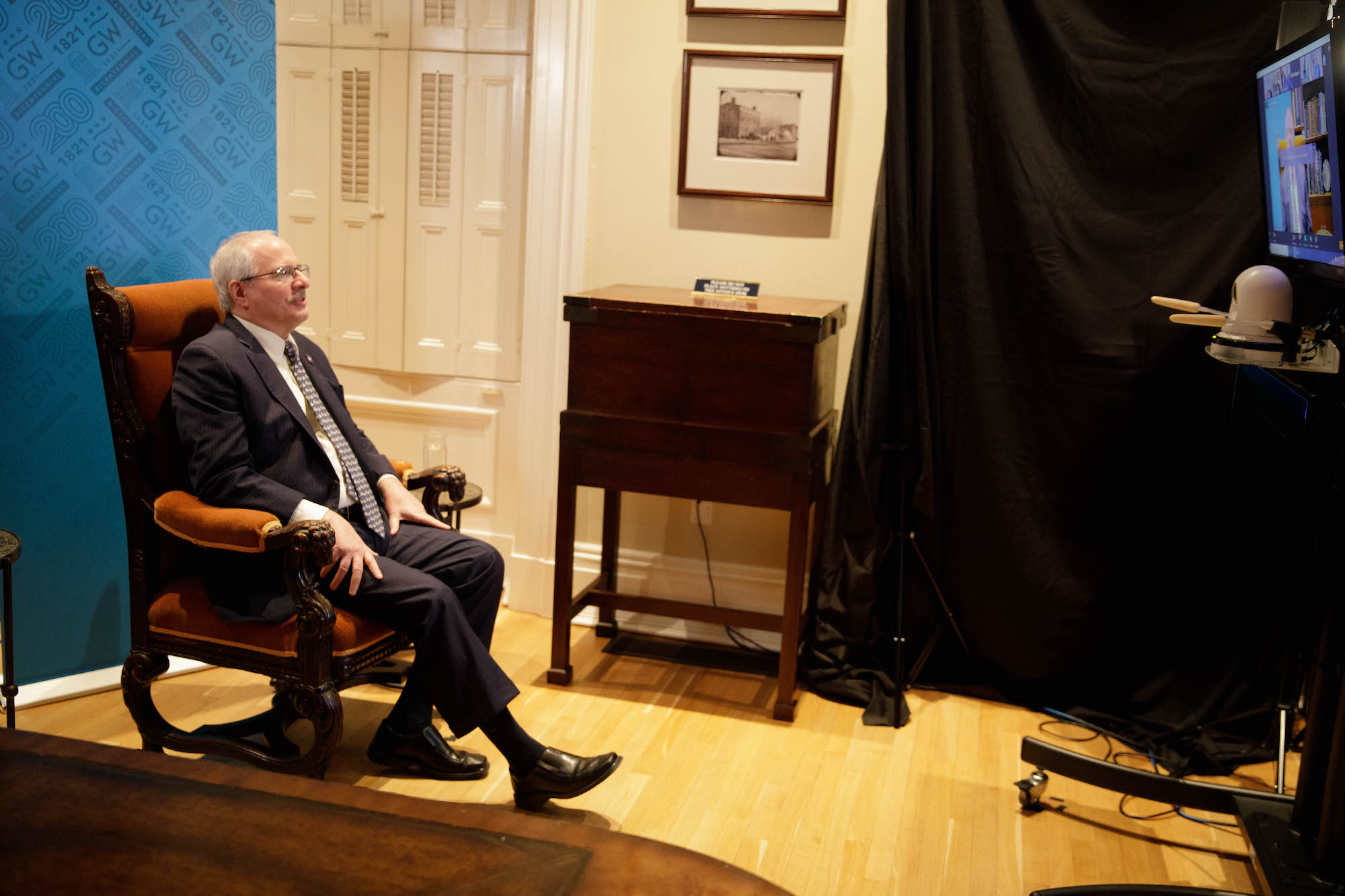 Dr. LeBlanc hosts a welcome Zoom for SJT scholars at the F Street House. (William Atkins/GW Today)
Dr. LeBlanc congratulated students on their accomplishments and hard work and welcomed them to GW during its bicentennial year. "We have the honor of adding your promise, your joy, your creativity and your potential to our GW family," Dr. LeBlanc said. "By joining GW's Class of 2025, you will become part of our engaged, inclusive and intellectual community that is driven by knowledge and innovation, and by ideals and service."
GW selects students based on high school academic performance, strength of curriculum, recommendations, leadership qualities, community service, extracurricular activities and achievements and standardized test scores, should they choose to submit them. This year, 30 schools across the district nominated 145 students for the scholarship.
Dr. Blake told the group that being named an SJT Scholar  means "you have to be exceptional in every way–you have to be an excellent student, a leader among your peers and an active participant in community service and extracurricular activities."
"That takes a lot of time, dedication and motivation.," Dr. Blake said. "That drive and well-rounded experience are exactly what make you a perfect fit for GW's vibrant community of scholars."
Besides D.C. International, this year's SJT scholars are students from Bell/Columbia Heights Education Campus, Benjamin Banneker Academic High School, Capital City Public Charter School, Duke Ellington School of the Arts, E.L. Haynes Public Charter School, IDEA Public Charter School, Paul Laurence Dunbar High School, Washington International School and Washington Latin Public Charter School.