Blyss Swan and Jazmin Angel-Guzman were having an ordinary morning at Benjamin Banneker High School, where both are seniors, when an unusual guest interrupted their routine: George Washington.
The George Washington University mascot, accompanied by GW President Thomas LeBlanc and Dean of Admissions Ben Toll, was a symbol of big news. Both Ms. Swan and Ms. Angel-Guzman are recipients of Stephen Joel Trachtenberg Scholarships, which will cover the full cost of their education at GW—four years of tuition, room, board, books and fees. And their families had tagged along with the GW awards team to share the surprise.
"GW has been my dream school since tenth grade, so it's even better that I get to go to my dream school and also be able to afford it," Ms. Swan said. "I'm just speechless."
Ms. Swan's father, Fred Swan, said the scholarship is a "a reward and validation for all her hard work."
 "She's been a phenomenal student from day one—since elementary school. So this is a payoff for her, and I'm just very proud," he said.
The girls' classmates erupted in cheers when Dr. LeBlanc announced their names. Both were almost immediately swamped in an exuberant group hug.
"It's just so good to see them get what they worked so hard for, what they wanted so much," said classmate Toi Francis, still visibly emotional. "I'm so happy for them—it's like seeing someone in your family succeed."
Classmates rushed to congratulate SJT winner Blyss Swan (center, in white with dark braids). (William Atkins/GW Today)
---
Dr. LeBlanc, Mr. Toll and the GW awards team spent Tuesday traveling to nine schools in Washington, D.C., where they hand-delivered acceptance letters and shared the news that 10 students and their families no longer had to worry about how to pay for college.
Since 1989, the SJT scholarship program has enrolled 194 District of Columbia students with full-ride scholarships covering all four years of their undergraduate education. GW selects students based on high school academic performance, strength of curriculum, recommendations, leadership qualities, community service, extracurricular activities and achievements and standardized test scores, should they choose to submit them.
Ward 7 Councilmember Vincent C. Gray and DCPS Chancellor Lewis D. Ferebee, both GW alumni, made appearances at H.D. Woodson High School for a staged "college application and preparation workshop"—actually an excuse to present student Michael Prather with his SJT scholarship.
GW is "one of the greatest universities that there is," Mr. Gray said. "I do the commercials, too."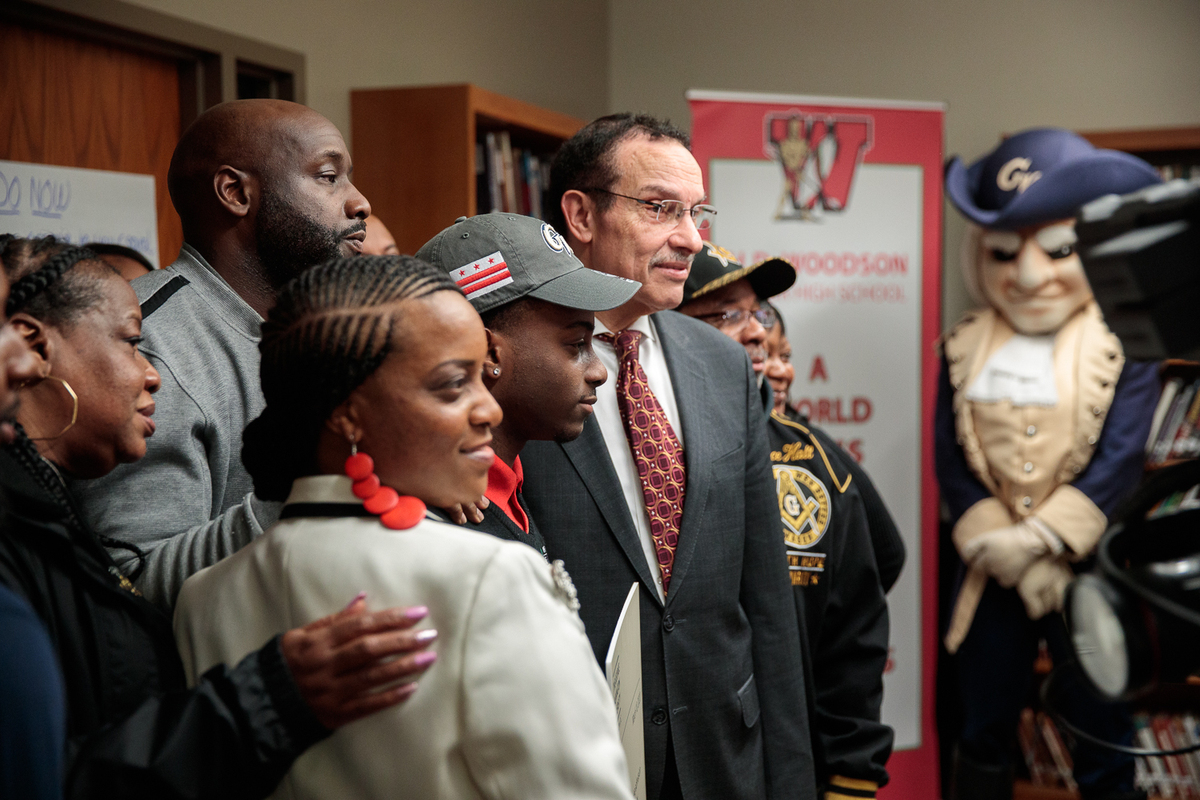 Councilmember Vincent Gray helped surprise winner Michael Prather at Woodson High School. (Harrison Jones/GW Today)
---
Mr. Prather said he struggled in his freshman year at a different D.C. high school, but was determined not to give up.
"Don't ever quit," Mr. Prather said. "Don't let your failures define who you are. Let how you attack those failures and mess-ups define who you are."
Winner Aly Nguyen burst into tears when her parents and three siblings—including brother Daniel, a current GW senior who received an SJT award in 2016—entered her classroom at Capital City Public Charter School.
"Four years ago I saw him go through this, and to think that I could go through the same thing—it actually happening was just very mind blowing," she said.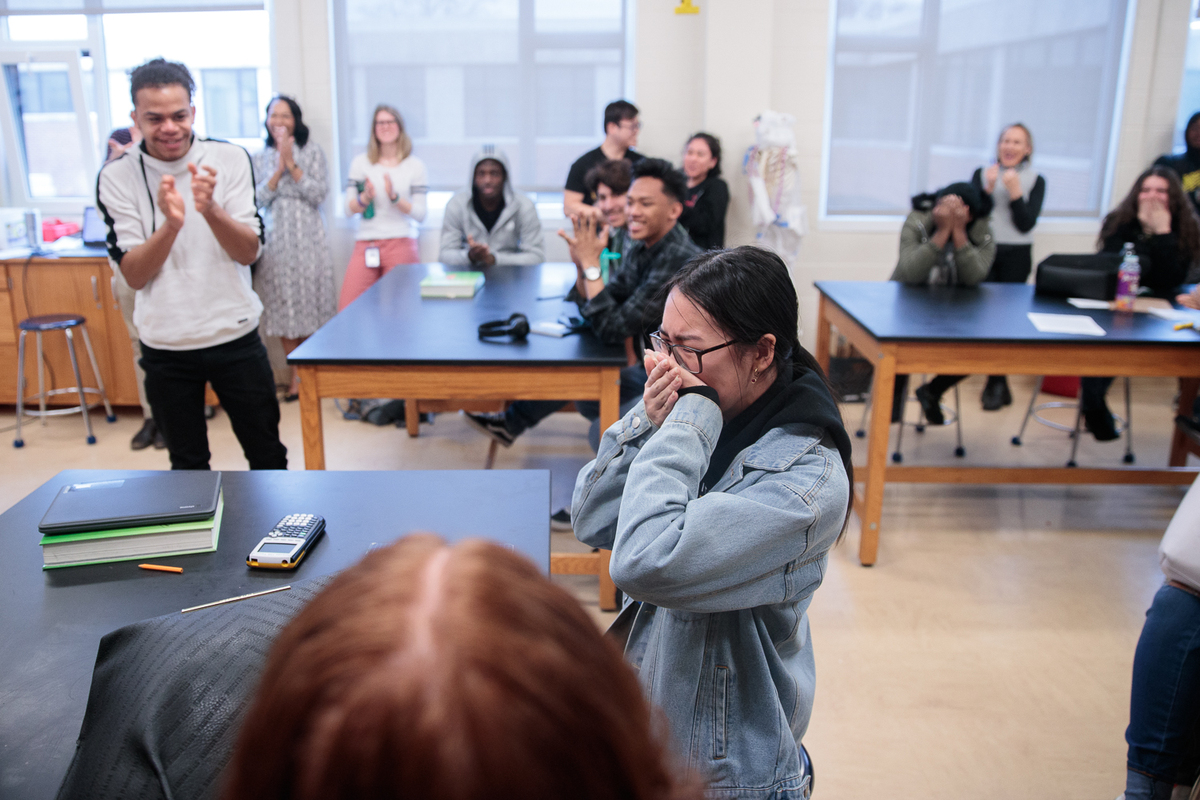 At Capital City Charter High School, Aly Nguyen was overwhelmed with emotion. (Harrison Jones/GW Today)
---
Daniel Nguyen was thrilled by his little sister's success.
"She's extremely smart and bright, and she's also an artist at heart," he said. "I'm ecstatic to have her become part of the GW community as well as becoming part of the SJT family."
At GW's neighboring School Without Walls, scholar Iftakhar Alam searched for words to articulate how he felt, finally giving up with a laugh.
"I'm just really shocked. I'm glad, definitely surprised—but I'm excited, super excited," he said.
For Dr. LeBlanc, the best part of the day is witnessing parents' pride and relief.
"We want great students to be able to attend" GW regardless of their financial situation, he said. "Just to see the looks on their faces makes it all worthwhile."
Winner Bailey Moore, a senior at Duke Ellington School of the Arts, has seen that relief firsthand.
"My mom has loans, my brother has loans, and I don't want to add more to that," she said. "It's nice to know I can go to undergrad without any stress at all."
This year's Stephen Joel Trachtenberg Scholarship recipients are students from Roosevelt STAY Opportunity Academy, Benjamin Banneker High School, H. D. Woodson High School, Capital City Public Charter School, Calvin Coolidge High School, DC International School, Woodrow Wilson High School, Duke Ellington School of the Arts and the School Without Walls.