While living in the suburbs of Nanjing, China, with her family during seventh and eighth grades, Marguerite "Maggie" Wedeman remembers looking out of the window of the computer classroom and seeing more than 40 cranes on the horizon.
As buildings went up, so did the boxy blue houses of the migrant workers who would live on the grounds of the factories, Ms. Wedeman said.
She was intrigued but didn't realize until later that the construction was a part of China's effort to build an economic power that would change the global economy.
"That period of time—2006 to 2008— was a big time of rapid growth in China," said Ms. Wedeman, who is now a senior at the George Washington University with a double major in international affairs and Chinese language and literature.
"I was a young child observing these massive changes, and I later came to GW because we have such an amazing China studies program in terms of politics and language."  
Since then, Ms. Wedeman has intensely pursued her academic passion and has spent a cumulative three years living and studying in China.
Her hard work recently earned her a spot among the 111 students selected for the inaugural class of the Schwarzman Scholars program.
The competitive global scholarship program was founded by Blackstone Chairman, CEO and co-founder Stephen Schwarzman and modeled after the Rhodes Scholarships program.
 It offers a one-year master's degree at Tsinghua University in Beijing and grants unprecedented access to global leaders with the goal of training a new generation to navigate the international world of modern business, politics and economics. The cohort includes students from around the world. They will live and study together on the newly built Schwarzman College campus.
"The program is there to train scholars and professionals about China," she said. "Many of the other candidates have such different experiences than me, so it will be exciting to build relationships with so many smart, young, motivated people."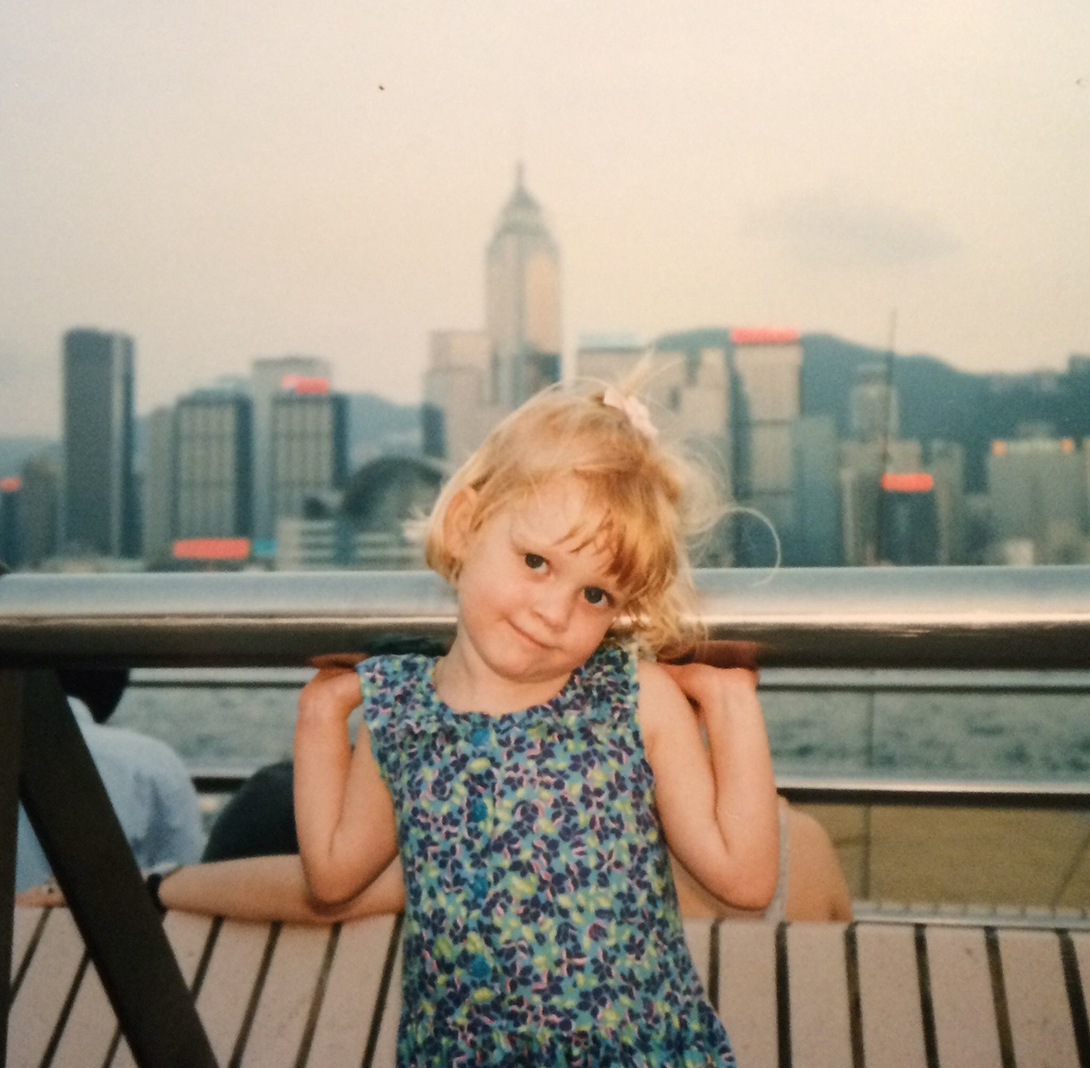 Maggie Wedeman at 3 years old in Hong Kong. 
---
Ms. Wedeman competed against more than 3,000 applicants for her spot in the program. The rigorous application process included 16 revisions of her personal statements with help from Director of the Center for Undergraduate Research and Fellowships Paul Hoyt O'Connor and her parents—both of whom are career academics and GW alumni.
Ms. Wedeman's mother, Kelly Eaton, earned bachelor's and master's degrees in international affairs and a Ph.D. in political science from GW in 1982, 1984 and 1994, respectively. And Andrew Wedeman, her father, was born at GW Hospital and received a bachelor's degree in political science and a master's degree in security policy studies in 1982 and 1984.
"My parents are academics, and they have been hugely influential and helpful in this process," Ms. Wedeman said. "I've known about the program since freshman year, but I think I really started preparing for it years ago when I was living in China with my parents."
After making it to the next round of 300 semifinalists, Ms. Wedeman focused on studying local, national and global sources on politics, current events, culture and policy in preparation for the panel interview.  She even participated in a mock interview with Robert A. Daly, director of the Kissinger Institute on China and the United States.
Once the day of the panel interview arrived in October, she was feeling calm, excited and "pretty mellow."
"I knew I needed to be able to draw connections on a global scale, from intellectual piracy issues to politics in [my home state of] Nebraska," Ms. Wedeman said. "They asked my opinion on different issues, and I thought it went well. Luckily, I didn't realize the former prime minister of Canada was on the panel."
Just a few weeks later, Ms. Wedeman was home for Thanksgiving break with her parents when she opened her acceptance email for the program.
Looking back, she said that every experience at GW has helped her become a better candidate, from serving as a residential assistant and peer adviser for the University Honors program to leading an alternative break to Otavalo, Ecuador, and participating in study abroad programs in China in the summers following her freshman, sophomore and junior years.
"I don't think I would have been competitive for this program if I hadn't been focused for three years," Ms. Wedeman said. "I selected my classes and study abroad carefully, and I sacrificed participating in Colonial Cabinet to do the U.S. Department of State Critical Language Scholarship program in Dalian, China, last summer."
"All of these experiences helped make me a more well-rounded candidate."
Looking ahead, Ms. Wedeman is excited to continue her studies and gain experiences that will help her "lead from the academy."
"A lot of people think you have to go into an executive position to lead, but a lot of what I think is important in terms of security policy as related to China is going to center on people conducting solid research and leading the discourse on what is important from an academic standpoint."