Actor Matt Damon gazes down upon sunny Los Angeles from inside a helicopter flying above the city. In a world of rising temperatures, his co-passenger explains, the concrete-covered city is especially at risk for heat waves—and climate change promises to increase the magnitude and prevalence of extremely hot days.
"Is it possible that the most dangerous thing about global warming is also the most obvious: the heat itself?" asks Mr. Damon.
In another part of L.A., actor Michael C. Hall is packing for a journey of his own—to Bangladesh, where extreme weather events, worsened by climate change, are ripping people from their homes and pushing them to Dhaka, one of the most overpopulated cities in the world.
"I know I'm living in a bubble," Mr. Hall says. "And I know there are places outside my bubble where climate change is impossible to ignore."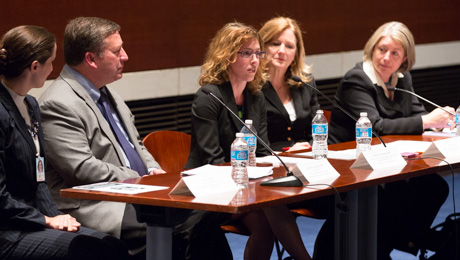 Sabrina McCormick, an associate professor in the Milken Institute School of Public health, discusses climate change with an expert panel in the U.S. Capitol Visitor Center on Tuesday evening.
They are scenes from the eighth episode of the Showtime documentary series "Years of Living Dangerously." The show brings audiences along to areas around the world being affected by climate change, with big-name celebrities as their guides. In the episode featuring Mr. Damon and Mr. Hall, viewers see that climate change itself is not always the leading cause of disasters; rather it often acts as an accelerant or threat multiplier.
Policymakers, students and others got a sneak preview of the episode—which will air on June 2—when it was shown on the big screen in the U.S. Capitol Center Visitor Center on Tuesday evening.
The event was hosted by the House of Representatives' Sustainable Energy and Environment Coalition as well as the Senate Climate Action Task Force.
Sabrina McCormick, an associate professor in the Milken Institute School of Public Health at the George Washington University who has been researching heat waves for nearly a decade, was a producer for the episode. She helped both Mr. Damon and Mr. Hall tell the stories of those who are already feeling the life-threatening effects of climate change. Prior to the screening, Dr. McCormick joined a panel of experts to discuss climate change as a public health, economic and national security issue.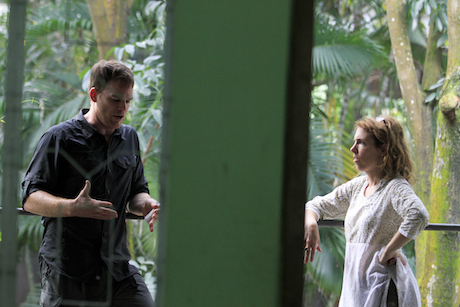 Actor Michael C. Hall speaks with Professor Sabrina McCormick during a filming break in Bangladesh. (Photo credit: Ismail Ferdous/The Years Project)
"You'll see in this episode that climate change is going to have serious impacts on public health in the United States and internationally," Dr. McCormick said. "In fact, I would argue climate change is the most critical public health issue of the 21st century."
And an issue, she emphasized, that will require action from political leaders, public health officials, health care workers, families and people living in every part of this country.
Heat waves, for example, are deadly—killing more people than all other extreme weather events combined. In 2003, up to 70,000 people died in Western Europe from extreme heat.
In his "Years" episode, Mr. Damon tells viewers that many sorts of health consequences linked to heat, including death, are being missed completely. He visits a clinic where a doctor explains that heat waves increase the risk of getting dehydrated and can trigger early labor for women who are not ready to give birth. And the death toll from heat waves is likely much higher than reported, since it is difficult to determine heat as a cause of death.
The "Years" series also brought Dr. McCormick to Dhaka, one of the densest places on the planet, which will become much denser as sea levels rise in the south and migrants flee to the north. Mr. Hall finds that Bangladesh is "geographically cursed" due to a play of water and land. The country is extremely flat and has a close proximity to water, but global warming is making the situation disastrous, leading to overwhelming flooding and cyclones.
"Lately, cyclones here are bigger, stronger and more frequent," Mr. Hall says. "A combination of two cyclones—Sidr in 2007 and Aila in 2009—left the country in ruins. Thousands of people died, and more than 1 million people became homeless.
But the most shocking thing, Mr. Hall says, is that by the end of this century, climate scientists project there will be a three-foot rise in sea level. That means some 20 million people in southern Bangladesh will be forced off their land by 2100.
Following the screening, panelist Thomas R. Armstrong, executive director of the U.S. Global Change Research Program, praised the docu-series.
"For me, it put a face on climate change, and it reminded me why I do what I do," he said.
While the future of the planet may look bleak, Dr. McCormick reminded those present in the audience that "seeing the public health implications of climate change also opens up ways we can be empowered to make a difference."
She said the very same strategies that might be employed to improve health can also help mitigate climate change, such as improving regulations of air quality, planting trees in cities and talking to communities about how climate change could greatly affect their health.
"I appreciate all the work those here today have been doing on these issues, and I want to encourage you to do more—to speak about it with your constituents and to act as quickly as possible to mitigate climate change to prevent as many of these health effects as we can," she said. "I hope that seeing this episode and the others will truly make you think differently about climate change and to take action in new ways."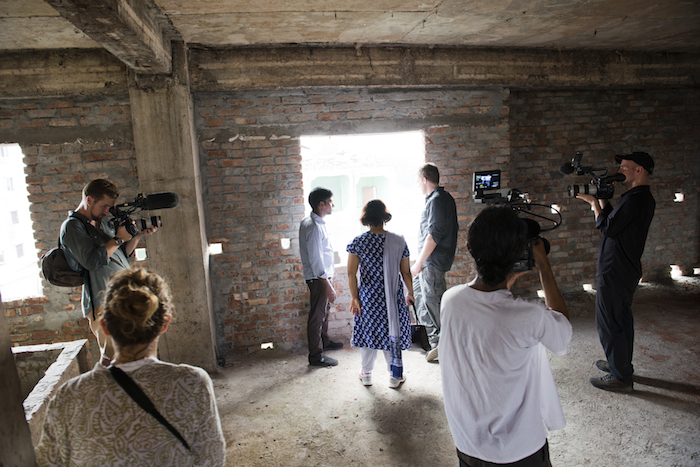 Michael C. Hall is filmed by the "Years" crew as he interviews Tasneem Siddiqui, a political science professsor at the
University of Dhaka, and Shahidul, a Bengladeshi man. (Photo credit: Ismail Ferdous/The Years Project)
---