A new Showtime documentary series, "Years of Living Dangerously," will share the heartbreaking—and sometimes haunting—stories of men and women across the globe who are being affected by climate change.
The nine-part series features big-name celebrities (Jessica Alba, Matt Damon and Harrison Ford, to name a few), who travel the world investigating the devastating impacts of the warming planet, and what can be done about them. The first episode premieres Sunday on Showtime at 10 p.m. but is already available on YouTube.
"Everybody thinks that this is about melting glaciers and polar bears. I think that's a big mistake. This is 100 percent a people story," says executive producer James Cameron in the series' trailer.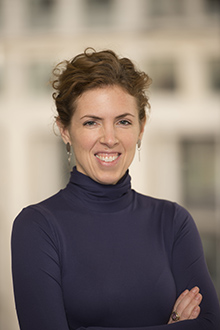 The George Washington University's own Sabrina McCormick, an associate professor in the Milken Institute School of Public Health, worked behind the scenes as a producer on two of the series' episodes that will air in June.
Dr. McCormick, a longtime filmmaker and sociologist, is the author of "No Family History," a book about the link between common chemical exposures and breast cancer and directed an award-winning documentary film on the same topic. Her research for the past decade has focused on how communities respond to heat waves, hurricanes and other weather events triggered by climate disruption.
George Washington Today sat down with Dr. McCormick to learn about her experience documenting climate change. 
Q: While you were growing up in Georgia, your childhood home was contaminated with an illegal toxic chemical. Can you talk about this event, and how it sparked your interest in the link between human health and the environment?
A: I grew up in the suburbs of Atlanta, and when I was a kid we had powder post beetles in our house, which are pretty common in Georgia. So my mom brought exterminators in to spray, and then she started feeling dizzy, with numbness in her hands and feet. The smell of this chemical they had sprayed was lingering, so she decided to have piece of wood from the house tested. She discovered that our house had been sprayed with an illegal chemical, chlordane, which had been outlawed a year earlier. My mother sued the company, but we also moved out of our house and had to leave everything behind. This whole event was pretty traumatic as a child. It made this permanent imprint on me, as a sign of how toxic exposures can really affect you on a very intimate level and take away things that you care about, including my own mother's health.
Q: How did you become involved in "Years of Living Dangerously?"
A: I double majored when I was an undergraduate, and one of my degrees was in art. When I went to get my Ph.D. at Brown University, the Rhode Island School of Design was right down the street. So I made some films as a graduate student and continued doing that after school. I have a couple of short films at festivals now. One is about a couple who loses its home to a wildfire, which is called "Burned Out." And another one is called, "Not by Sight," which is about oil regulation. So I've been making documentary films, and I've been doing research on climate change for a while. When I met the executive producer from "Years," it was kind of a match made in heaven.
Q: Some may think of the arts and sciences as mutually exclusive. Why did you decide to combine your two interests?
A: I was doing research in graduate school about the environmental causes of breast cancer, and when I would talk to people about it, they would say, "What are you talking about?" I did write a book about it in the end, but I felt like film was actually a much more effective way to communicate. For me, the two go hand in hand. Although it is sometimes a challenge to figure out how to tell a real story that is engaging and interesting, while at the same time making sure that it is evidence based.
Q: Can you tell us a little more about the series? What was your role in each of the episodes you were involved in?
A: My two primary roles were associate producer on a story about Bangladesh and producer on a story about heat waves. I have been working on research about heat waves for a long time. In the United States, heat waves are the biggest health impact of climate change—they kill more people than all other extreme weather events combined. For this story, which we shot in Los Angeles, Matt Damon was the episode's "celebrity correspondent." Each episode has a celebrity, who is basically the main character of the story, walking us through these different places and investigating the issue.
As associate producer on the story about Bangladesh, I actually spent three weeks in the country with the production team and Michael C. Hall, the star of Dexter and Six Feet Under. Bangladesh is one of the most vulnerable countries for climate change. The whole country is a delta, and so sea levels rise and cyclones force people to move out of their homes.
Q: What was it like working with Matt Damon and Michael C. Hall?
A: Part of what is really cool about working with them is they're very good at what they do. Matt Damon is very smart, and he's very concerned about policy and the environment. And that, I think, really made a difference in being able to tell the story with him.
I got to spend more time with Michael C. Hall. Michael is a lovely person. He's one of these guys you could have grown up with. He was a little different from Matt in that he didn't know much about climate change. He admitted it. He was like, "I don't really know what this is, and I want to find out." His curiosity and his interest in the story made all the difference. It was great to see how he learned all of this new stuff, met all these people affected by climate change and took it all in. It seemed to change him.
Q: What was the most powerful moment you experienced during the filming?
A: In Bangladesh we spent time in the south, which is dominated by a number of river systems, so people are living on the brink of being flooded all the time. There, I met a prostitute who told me this incredible story about how she and her son had lived through two of the biggest cyclones that Bangladesh had ever seen. And in both cases, this woman and her son were in their hut on the river bank. They had to climb on top of their hut in order to escape the flooding. She told me the reason they couldn't go to one of the cyclone shelters was because she was a prostitute, and they wouldn't allow her in. And so it was just such a poignant example of how people are being affected by climate change right now, because these cyclones have been directly linked to greenhouse gas emissions. Her story also speaks to the importance of gender and the social dimensions of this issue.
Q: What are the most concerning short-term and long-term impacts of climate change? Is it already affecting our lives in ways that we're not even aware of?
A: Something I focus on is temperature change. It's getting hotter, and it's going to keep getting hotter. And it's going to get hotter not just on average, but we're going to see more extreme weather events, more extreme heat wave events, and this is going to affect the daily life of every American.
Q: Why should the GW community tune into the series?
A: Because it's amazing! It is, I think, the most ambitious, high-quality climate change communications project that has ever happened. Not only is it full of poignant stories, it is also beautifully shot and such high-quality production value. I think it's going to really reveal a lot about climate change that people haven't ever seen on the screen before.