The George Washington University was part of the historic nationwide effort to develop and test a safe, effective COVID-19 vaccine in record time, serving as a Phase 3 clinical trial site for the mRNA-1273 vaccine the Food and Drug Administration approved Friday for emergency use. The trial showed vaccine efficacy against COVID-19 to be 94.1 percent.
GW was selected as one of about 100 sites in the United States to participate in this clinical trial as part of the COVID-19 Prevention Network (CoVPN), established by the National Institute of Allergy and Infectious Diseases (NIAID) of the National Institutes of Health (NIH). NIAID scientists and the biotechnology company Moderna, Inc., worked together to co-develop the mRNA-1273 vaccine.
"Our participation in the Moderna Phase 3 vaccine trials has enhanced GW's already-robust vaccine research effort and further highlighted our prominence among other research universities in the collective effort to address the largest global health crisis in modern times," said Barbara Lee Bass, vice president for health affairs, dean of the School of Medicine and Health Sciences (SMHS) and CEO of the GW Medical Faculty Associates (MFA).
"GW has a long track record of conducting vaccine research and running clinical vaccine trials, which means we were ready to rapidly respond in this moment of crisis to serve as a clinical trial site for an investigational COVID-19 vaccine," said principal investigator David Diemert, a professor of medicine in SMHS and a physician in the Division of Infectious Diseases at the MFA. Dr. Diemert is also the clinical director of the GW Vaccine Research Unit (GW VRU).
In late July, Moderna launched a Phase 3 study of its vaccine, and GW announced its participation in the study as a trial site. The trial was conducted by the SMHS and MFA in partnership with the Milken Institute School of Public Health and the NIH-funded GW HIV Prevention Trials Network clinical research site.
"Throughout this pandemic, the George Washington University has been at the forefront of fighting COVID-19," GW President Thomas J. LeBlanc said. "Our Moderna vaccine clinical trial site is among our university's most important contributions, and we are proud of the faculty, researchers and clinicians at the George Washington University School of Medicine and Health Sciences, GW Medical Faculty Associates and Milken Institute School of Public Health for once again using their expertise and our academic mission in service of the public good."
Co-investigator Manya Magnus, professor of epidemiology in the Milken SPH, called the GW effort "a true collaboration among the school of public health, the medical school, the MFA and our community partners."
"Data people, community engagement people, lab people, clinicians, epidemiologists, behaviorists—it really takes a village, and we're trying to be that village here at GW," she said.
A vaccine that works for everyone
Of 30,000 volunteers in the vaccine trials nationwide, about 350 enrolled at the GW trial site. More than half of those volunteers were Black or Latino, and over 35 percent were either 65 or older or were younger than 65 with at least one existing health condition like heart disease, severe obesity or diabetes.
Researchers said the diversity of GW's volunteer pool was crucial in the fight against a disease that has disproportionately impacted communities of color and appears to manifest most severely in older patients and patients with coexisting health conditions. It's an issue both of public health and public trust, ensuring both that the vaccine works across populations and that people from every background feel safe taking it.
"If we don't test a drug or a vaccine in the populations who need it most, then what we find will not be generalizable to those populations," said Dr. Magnus, who also is clinical research site director of the GW HIV Prevention Trials Network site. "Diversity is key to making sure that in the end we get a vaccine that is safest and most useful in the populations most affected by the disease."
GW was able to attract such a diverse pool of volunteers quickly because clinical researchers at the university have worked hard to listen to, learn from and establish trust with the Washington, D.C., community, said senior study co-investigator Marc Siegel, an associate professor of medicine at SMHS and a physician in the Division of Infectious Diseases at the MFA who has been principal investigator in several studies by the District of Columbia Center for AIDS Research.
"We have a community advisory board we've been working with for eight-plus years to help us encourage people of color to participate in clinical trials," Dr. Siegel said. "So we were able to leverage relationships we already had with the community, and we had a good reputation and a high level of trust."
The volunteer pool grew exponentially as word spread through the community, with enrollees sharing their experiences and referring families, friends and neighbors.
"I think it's just built on openness and transparency," Dr. Magnus said. "If people think you're just trying to get something from them, they're not going to want to come in a study. That's never worked. But if we are working with people in partnership to overcome a problem, that's what works."
---
Moderna Vaccination Trial Overview from The George Washington University on Vimeo.
---
The volunteer experience
Elmer Huerta was sitting in a taxi in the pouring rain, en route to receive his first dose of the experimental vaccine at the GW test site, when he realized the magnitude of what he'd signed up for.
"I spent 30 years encouraging people, particularly in the Latino community, not to be afraid to enroll in clinical trials because they are the only method science has developed to prove that medications work," said Dr. Huerta, clinical professor of medicine, director of the Cancer Preventorium at the GW Cancer Center and a health correspondent for CNN Español. "Every time you take any approved medication, whether it's for blood pressure or pain or anything at all, you have to be grateful to the hundreds of thousands of people who participated in those clinical trials."
But being on the other side of the equation—plus not knowing whether he would receive the placebo or the vaccine itself—was new and a little unsettling.
"I'd done my research, I'd read the studies from the earlier trial phases, and I'd made the decision that this felt safe," he said. "But I still had this moment where I wasn't thinking as a professional—where I just went, 'Only a few thousand people have received this shot, and now I'm going to be one of them. Is this kind of crazy?'"
In the end, the process was painless. After a physical examination and medical history, a study coordinator explained every page of the consent form, as is required for informed consent in a clinical trial. Then Dr. Huerta's information was entered into a computer, which randomly assigned him in either the placebo or the vaccine group—he still doesn't know which
"I didn't feel anything; it was easier than the flu shot," he said. It was so easy, in fact, that his wife and two children also signed up to participate—an example of the community messaging that made GW's trial operations possible.
Participants received two injections, spaced one month apart, with half of enrollees receiving a saline placebo for control purposes. All participants were monitored for symptoms, side effects and COVID-19, and researchers will continue to follow up regularly with participants for two years now that they have received the second injection.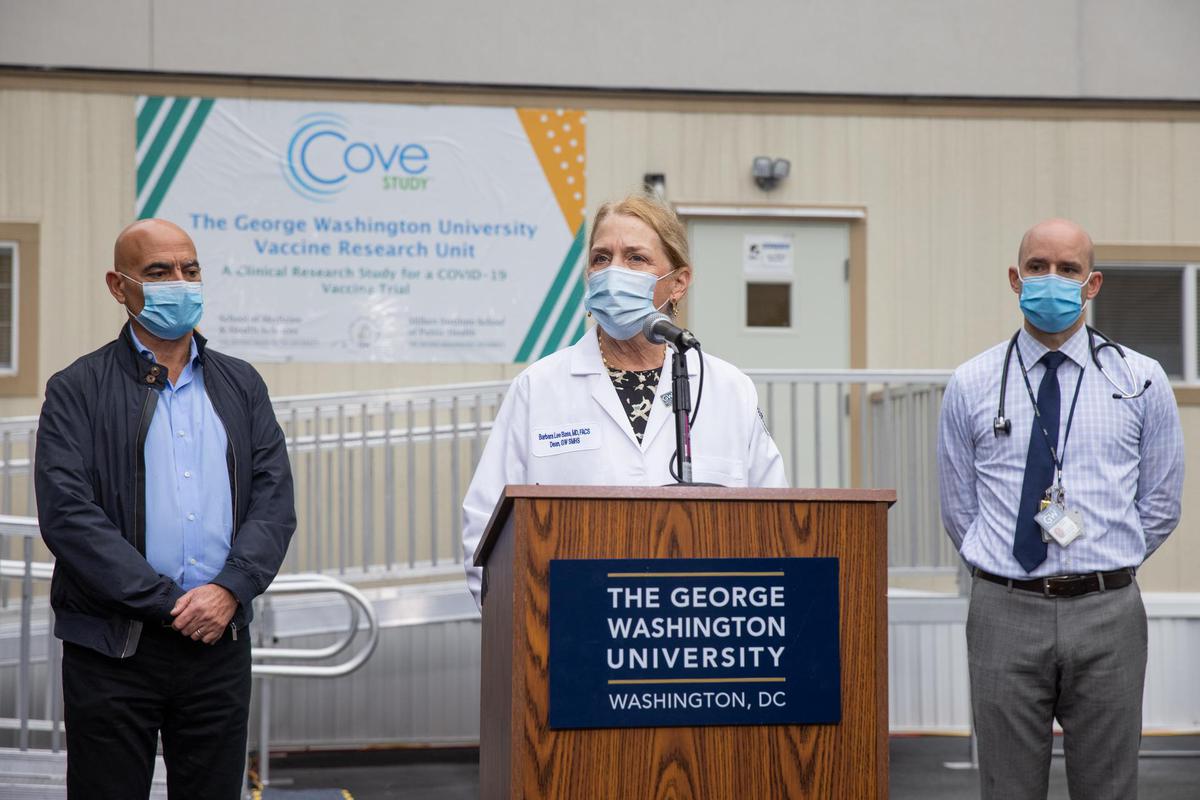 Moncef Slaoui (l), who leads the federal effort on COVID-19 vaccines, visited GW's vaccine trial clinic in October with SMHS Dean Bass (c) and SMHS professor David Diemert, the principal investigator for the GW trial site. (Harrison Jones/GW Today)
---
"Operation Warp Speed"
Conducting clinical trials safely and ethically is a time-consuming process, said Dr. Siegel, the senior study co-investigator. Enrolling just one volunteer can take several hours, especially when that volunteer—unlike Dr. Huerta—doesn't have medical training or foundational knowledge of the world of clinical trials. Practitioners have to take a full medical history and perform a complete physical exam, painstakingly inform the volunteer of every part of the trial requiring consent and, of course, administer the injection itself. Then the volunteer's information has to be entered into the various portals required to track their progress for the duration of the trial.
Plus, each enrollment has to involve multiple study team members to ensure the trial remains blind: The practitioner performing injections can't participate in any other kind of analysis, because they're likely to be able to tell from the viscosity of the substance they inject whether a participant has received the vaccine or the placebo.
The research team was unwilling to cut corners. Fortunately, they had an existing apparatus with a high baseline level of experience in the HIV Prevention Trials Network and GW VRU. And the high profile and national priority level of the trials gave them the extra budgetary and physical resources they needed, like a portable trailer that has been used as a breakout clinical space to make room for more rapid enrollment.
"We have a clinical trials team that has specific training and experience doing trials of investigational vaccines," said principal investigator Dr. Diemert. "[They are] experienced with the ethical aspects, with the regulatory aspects, with the safety aspects of doing a vaccine trial…not just in the clinic, but even in the lab. We have a team with experience handling specimens and processing them for a clinical trial, working with central labs [and] central data groups, and we have our own data management team who could put all of that data together and make sure it all gets submitted properly.
"We did have to hire some additional personnel because it was such a big study that we had to do in a very short amount of time, but most of the bread-and-butter components were there already."
Dr. Siegel said the vaccine trial was conducted "the same way we would any other study, and we were able to always make sure participant safety was first and foremost and that participants felt comfortable and informed."
A new kind of vaccine
Unlike traditional vaccines, which may involve a weak or inactivated form of the virus being prevented, the mRNA-1273 vaccine uses just a scrap of the virus's genetic code: a chemical messenger called ribonucleic acid, or mRNA, that instructs the body's cells to create a protein mimicking one of the "spikes" found on the outer surface of the virus that causes COVID-19. Injections spur the body to mount an immune response, preventing future illness from the novel coronavirus.
mRNA vaccines are faster and easier to manufacture than traditional vaccines, since they can be constructed from existing materials and don't require growing inactivated viruses in living cells. And unlike vaccines involving weakened or inert versions of viruses, they carry no risk of infection.
"It's impossible to get COVID from this vaccine," Dr. Diemert said. "And just because of the way it's made and its structure, it's much less likely to cause side effects from a biological standpoint. There is a lot of vaccine hesitancy, and people are always wary about new technologies—but over 30,000 people have received one of the two mRNA vaccines that are out there, and we have seen what the side effects are. They've been manageable, with nothing unexpected or serious."
An effective mRNA vaccine against COVID-19 might also open research doors for the technology's use against other pathogens, Dr. Diemert said.
"There are already groups that are now thinking about and planning to use mRNA technology for HIV vaccine development," he said. "So it could lead to breakthroughs in other areas and other infections that have been really stubborn in terms of being able to develop vaccines for."
Envisioning the next challenge
The structure of these clinical trials, which condensed multiple clinical phases in order to produce the vaccine in record time, could represent a "paradigm shift" for vaccine development under crisis conditions, Dr. Diemert said.
"There could be another pandemic virus that spreads across the world in record time," Dr. Diemert said. "If that does happen, we'll have this blueprint in place so that we could maybe even more quickly develop a vaccine for a new virus that comes along."
If or when that happens, Dr. Diemert said, GW will be more ready than ever.
"One of the results of us doing the Moderna Phase 3 vaccine trial will definitely be a stronger and bigger vaccine testing unit and capacity and especially an increased collaboration between the School of Medicine and Health Sciences, the MFA, and the Milken Institute School of Public Health," he said. "I think it's going to lead to more collaborations and for [GW] to grow as a vaccine research center, to be able to do more trials and to really grow as an institution known for doing vaccine development."
To learn more, visit covidvaccine.gwu.edu/.