By Kristen Mitchell
When it was announced that George Washington University would be bringing back a limited number of students, faculty and staff on campuses this fall and that individuals would need to be regularly tested for COVID-19, leaders at the GW School of Nursing got to work. 
They needed to quickly launch the testing clinic they had been planning for over the past few months and prepare to complete hundreds of COVID-19 nasal swabs for the GW community based on the Virginia Science and Technology campus. From ordering supplies to setting up individual testing booths, getting the site up and running was a massive undertaking, but it also presented an opportunity for hands-on learning. 
The roughly 400 undergraduate students in the Accelerated B.S.N. and Veterans B.S.N. program are part of the cohort that need to be on campus this fall in order to fulfill academic requirements. The school graduates more than 125 new nurses every semester, who in turn enter the regional nursing workforce. Students in the last semester of the Accelerated B.S.N. program are helping with day-to-day clinic operations including collecting nasal specimens, registering individuals for surveillance testing and taking turns serving as the charge nurse overseeing the clinic. 
"The COVID-19 testing center at VSTC is a testament to the leadership and capabilities that nurses bring to the clinical setting every day," said GW School of Nursing Dean Pamela Jeffries. "I'm so proud of the unbelievable teamwork and collaboration that went into successfully launching and running the center. Not only does it help to ensure that students, faculty and staff on the VSTC campus are safe and healthy, but it also gives our accelerated B.S.N. students an invaluable clinical experience as many of them are helping to conduct COVID surveillance testing on the front lines." 
Faculty nurses are on site to assist student nurses and answer any questions that come up. (William Atkins/ GW Today)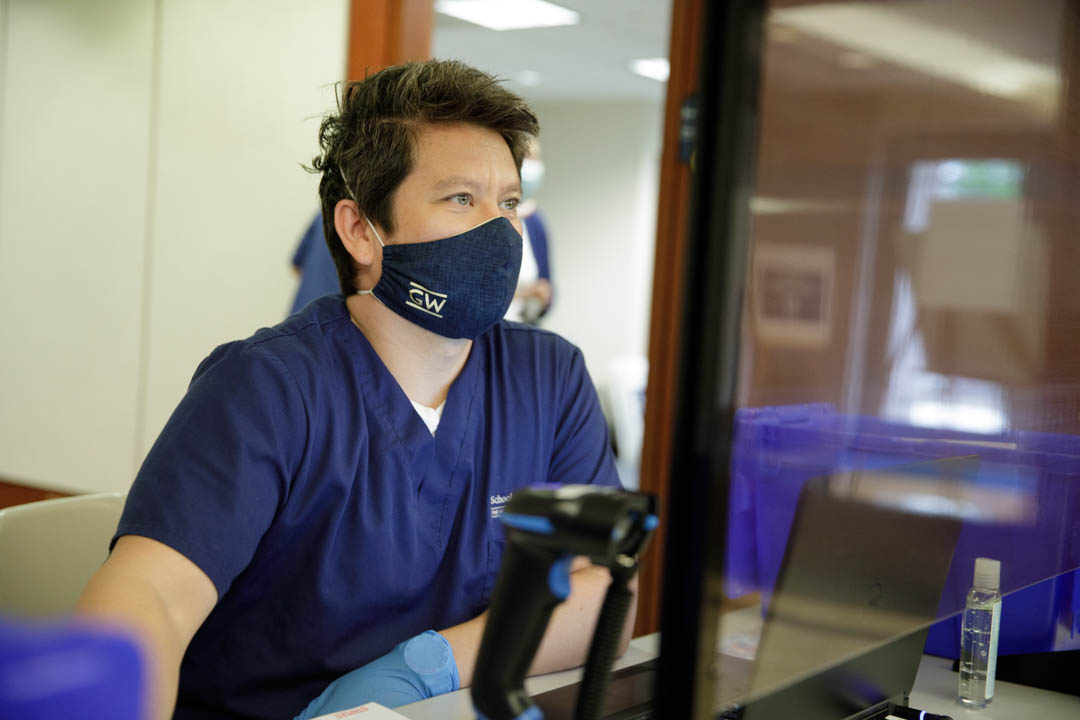 Student nurses collect nasal specimens and register individuals for testing. (William Atkins/ GW Today) 
---
Eight students staff the clinic, based in Enterprise Hall, during operational hours. Every two weeks a new cohort of students will swap in, with overlap time for training. Working in the clinic helps students fulfill requirements for their community health clinical, which during a typical year they would fulfill at places like the Colonial Health Center or other local clinics. Faculty nurses are on site to assist the students and answer any questions that come up. 
Bonnie Sakallaris, a registered nurse who was brought in last month to serve as operations director of the VSTC clinic, said the current moment is a once-in-a-lifetime learning opportunity for students.
"They're learning quite a bit about some of the issues individuals in public health face," she said. "Even in a crisis, there's opportunity to learn new things, and that's exactly what's happening at the testing center."
Paul Challan, a member of the accelerated B.S.N. program, was one of the first students to work at the testing site. As part of their training, the student nurses were taught how to perform nasal swabs and shown how to appropriately use personal protective equipment such as gloves, face masks and face shields in the testing environment. At the end of each shift, the team discusses what processes went well and what can be improved. 
"I feel like we're getting acclimated to what it's going to be like when we graduate and get that first job," he said. "It's been a really great experience to get that introduction into it."
During the first week of operations, the VSTC clinic tested more than 500 individuals for COVID-19. Those tests are taken twice daily to the Foggy Bottom campus, where they are processed in a new public health laboratory in Science and Engineering Hall. Every single one of those first 600 tests was determined to be a high-quality sample acceptable for testing. 
"I'm really proud of the quality of the sampling that the students are doing.  They are learning so much, and have really stepped up," said Karen Drenkard, associate dean of clinical practice and community engagement, leader of the VSTC testing center team and co-chair of the University Health and Wellness committee. "Our students, faculty and staff can feel confident that they will have a safe, effective and professional testing experience."
The on-campus lab provides for rapid testing and produces results within 24 hours. This quick turnaround empowers university's health experts to pinpoint any potential outbreaks or surges in the number of COVID-19 cases within the GW community. Samples collected from the Foggy Bottom testing clinic located at the Smith Center and staffed by the Medical Faculty Associates are processed in the same lab. 
The clinical space at VSTC was designed to be scaled up to increase testing capacity as needed, as early efforts were geared towards the return of the entire GW community of nearly 30,000 people. The space will be used later this year as SON nursing students will be administering free flu shots as a part of a joint effort with the Medical Faculty Associates and the Milken Institute School of Public Health.  
"We look forward to seeing everybody coming through, it's a nice opportunity to interact with our student nurses," Dr. Sakallaris said. "They are the cream of the crop, so it's a great place to get tested."
For information on COVID-19 testing and tracing, visit GW's fall 2020 website.