By Kristen Mitchell
The George Washington School of Nursing was officially chartered 10 years ago this month, becoming GW's 10th school and changing the landscape of nursing education in the D.C. region. Since then, the school and its renowned faculty have received national recognition for high-quality graduate programs, leadership in health policy, commitment to educating veterans and innovative academic and technology initiatives.
Pamela Jeffries, dean of GW Nursing, credits the faculty's hard work and student-centered approach for all the school has achieved over the past decade.
"I'm very proud of not only the way our school has grown," Dr. Jeffries said.  "Our students receive a stellar education through the faculty and experiential learning opportunities. Our faculty are national leaders, and they remain very passionate about quality teaching and supporting students to ensure they are successful."
GW Nursing, based on the Virginia Science and Technology campus, was born out of the School of Medicine and Health Sciences' Department of Nursing Education. By 2010, the department had already launched a doctor of nursing practice program, a master's degree in nursing and a second-degree accelerated bachelor of science in nursing degree option. The school has continued to expand its academic offerings—most recently to include a Ph.D. in nursing. 
Jean Johnson, founding dean of GW Nursing, said she's proud of how far the school has come. GW Nursing launched during a time when there was significant concern about a future nursing shortage, as many longtime nurses had reached retirement age. There was additionally an increased demand projected with the population aging and requiring more chronic illness management and the passage of the Affordable Care Act, which created the opportunity for more people to get consistent health care. Today, GW Nursing produces the most new nurses in the commonwealth of Virginia.
"It's really satisfying to see what we initially accomplished has been expanded," Dr. Johnson said. "Dean Jeffries has done a great job, and has moved the school to be influential and prominent within nursing and health care in general and that's what needed to happen."
The university will celebrate GW Nursing's 10-year milestone with a virtual toast at 5:30 p.m. Thursday. You can tune in to the event on the school's Facebook page.
Embracing technology
GW Nursing has embraced the use of technology as part of experiential nursing education through its Simulation and Innovation Learning Center. The learning laboratory in Innovation Hall features human-like manikins that simulate a variety of health care scenarios, and rooms for monitoring and communicating with students in the simulated environments. This technology helps prepare students to make real-time decisions in a clinical setting, Dr. Jeffries said.
Dr. Jeffries launched a renovation project in Innovation Hall that nearly doubled the lab's simulation spaces in 2018. Dr. Jeffries has been a long-time advocate for experiential learning and leads the school's simulation initiatives.
"Students are actually immersed in caring for simulator patients and developing critical thinking and diagnostic reasoning skills that are incredibly important as they prepare to care for real patients," she said. "With COVID-19, I'm so glad we have simulations and that our faculty are prepared to teach using simulations. Our virtual simulations allow students to progress in clinical education, and right now, providing instructional continuity during this unprecedented time."
GW has also been a leader in online nursing education. U.S. News & World Report ranked GW's master of science in nursing program sixth in the nation for online graduate nursing. The school also has ranked third for best online master's in nursing programs for veterans. In addition, the school was named a Center of Excellence by the National League for Nursing in 2018 for its enduring commitment to best teaching practices and investment in modern technologies.
Research and policy impact
Focused on a wide range of disciplines, GW Nursing faculty have spent the past 10 years conducting research that largely focuses on improving patient care and outcomes.
These initiatives include the Pathways Project, led by Associate Research Professor Dale Lupu, which aims to revolutionize the type of end-of-life care available to elderly kidney disease patients, and Associate Professor Ashley Darcy-Mahoney's work on infant health and the impact of language interventions on cognitive development.
Other researchers, such as Professor Christine Pintz, are focused on advancing nursing education. She leads a team that was awarded $2.8 million to develop a new curriculum to prepare primary care nurse practitioner students to better care for underserved patients in both rural and urban communities.
GW Nursing also leverages its proximity to D.C. to contribute to the larger national public health conversation and conduct analysis on health care policy. The Center for Health Policy and Media Engagement is committed to increasing the visibility of nurses across health care disciplines to educate the public about their expertise, perspectives and work.
In 2018 GW researchers replicated the 1997 Woodhull Study on Nursing and the Media and found that nurses continue to be underrepresented as sources in health news stories, despite their increasing levels of education and expertise.
Dr. Johnson said she hopes to see GW Nursing continue to lead on health care policy issues and work to bring together stakeholders to discuss important health subjects such as elder care and health disparities. The university is "poised to provide that leadership," she said.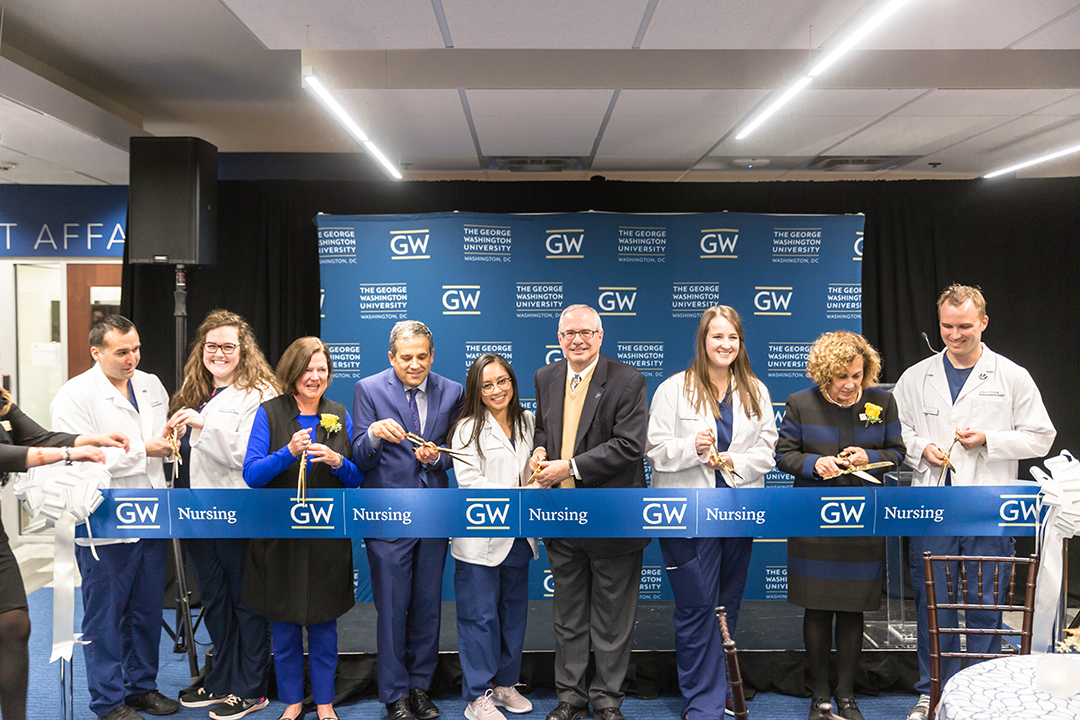 University leaders celebrate the opening of the new simulation lab space and Student Success Center at Innovation Hall on the Virginia Science and Technology Campus in November 2018. (Photo: GW Nursing)
---
Commitment to veterans
GW Nursing has become a go-to school for veterans looking to transition to a new career after their service. In 2014 the school launched a program specifically tailored to veterans to provide support services and specialized advising within the bachelor of science in nursing program. The program allows students to receive credit based on their applicable prior training and experience in the military. About 25 percent of the school's undergraduate students were veterans or active military during the past academic year.
"Our veterans have served our country, and we offer them a pathway into the civilian nursing workforce," Dr. Jeffries said. "They make wonderful nurses. The profession is ideal for them because they've been serving their country, and now they're going to serve others, the community, the patients, the families, in all that they do."
The school recently received $2.5 million to offer financial assistance to veterans to pursue a bachelor of science in nursing. It is the largest philanthropic gift in the school's history. The gift will launch the William and Joanne Conway Transitioning Warriors Nursing Scholars Initiative and support more than 65 students over the next five years.
GW Nursing's veteran initiatives are also aided by the university's participation in the Yellow Ribbon program, a provision of the G.I. Bill that provides assistance with educational expenses.
The future of nursing
As GW Nursing celebrates this milestone, Dr. Jeffries is also looking to the future. The way patients interact with their own health is evolving. Many are using wearable devices that track their heart rate and other data. Nurses will need to know how to use and interpret that data and knowledge.
Using technology such as artificial intelligence and machine learning are "game changers" for healthcare, Dr. Jeffries said. The nursing profession needs to be ready to embrace and work with these transformative changes.
"People come into clinics or healthcare settings having already diagnosed themselves," she said. "They're very tech savvy, and we have to be prepared for that." 
The current pandemic has brought some known challenges—such as disparities in access to quality health care—to the forefront. Additionally, the nurses of tomorrow will need to be equipped to use telehealth technologies to meet with patients remotely, as many are currently doing.
"The landscape of health care is changing," she said. "We need to be proactive in anticipating these changes so we can prepare future nurses and nursing leaders with the skillset to navigate this dynamic and ever changing environment. Caring for an aging population and health disparities are a priority now and as we move into the future."