The George Washington University has topped the Peace Corps list of volunteer-producing medium-sized colleges and universities for the fifth time in 10 years.
GW trumped 27 schools with 5,000 to 15,000 undergraduates to earn the honor. Currently, 43 GW alumni are serving in communities around the world.
 A total of 1,189 Colonials have participated in the Peace Corps since its founding in 1961.
In a press conference call with news media last Thursday, GW President Steven Knapp said that the alumni volunteers who are creating female empowerment programs in Albania, developing mobile phone campaigns for sexual health and reproduction education in Nicaragua and finding other ways to serve are continuing the legacy of university namesake George Washington.
"We tend to attract students to Washington, D.C., who do really want to make a difference in the world," Dr. Knapp said. "We look forward to continuing to educate generations of citizen leaders for this great tradition, and we are proud of our partnership with the Peace Corps."
According to Managing Director of Employer Services Staci Fowler, the Center for Career Services has focused on deepening a relationship with the Peace Corps through programs like Peace Corps Day, an annual event that connects returned volunteers with interested students.
During the first annual Peace Corps Day, students met with GW alumni who served in Kenya, Togo, Kazakhstan and other countries.
Students also can connect with the Peace Corps through GW's federal work-study program as early as freshman year. About 30 students work at the Peace Corps headquarters through federal work-study each year.
"Programs like Peace Corps Day and the federal work student program are unique to the GW experience," Ms. Fowler said. "GW's location allows the Center for Career Services to connect with major, global organizations like the Peace Corps in a more personal way and support students' aspirations, whether they are searching for volunteer, internship or job opportunities."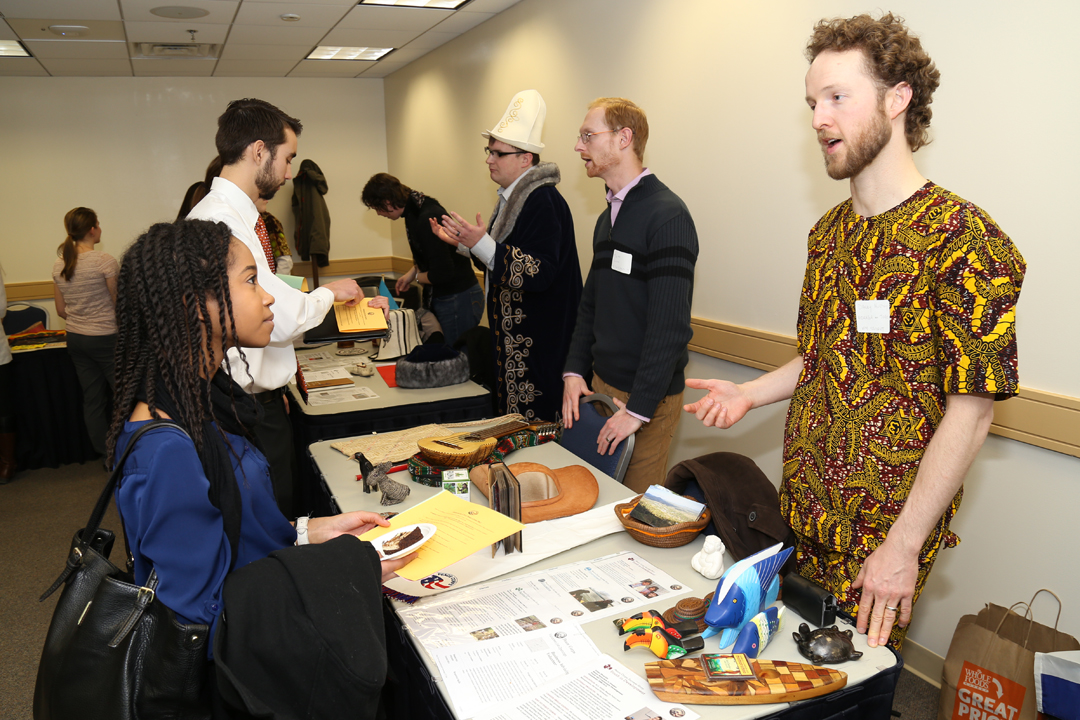 Danny Murphy talks about his experience in the Peace Corps with Elliot School of International Affairs student Nicole Banton during GW Peace Corps Day. (Rob Stewart/GW Today)
---
Ms. Fowler cites Success in Service, an event that launched three years ago in partnership with the Peace Corps and National Society of Collegiate Scholars, as another example of how GW students can connect with alumni who share their passion for civic engagement and public service.
The TED Talk-style event brings past Peace Corps volunteers to campus to discuss their experiences. Program speakers have included Meg Garlinhouse, director of LinkedIn for Good, Erica Burman, director of communications at the National Peace Corps Association, and Robert Shepherd, professor of anthropology, honors and international affairs. 
"I think this event has been so successful because it is student-driven," Ms. Fowler said. "It really is an example of how passionate our students are about service."
The event was initially sparked by a conversation between GW alumna Brooke Marchewka, B.A., '15, and Dr. Knapp during his office hours. Ms. Marchewka served as a federal work student intern at the Peace Corps during her sophomore, junior and senior years. She will begin her Peace Corps mission this month.
"I am proud to say that Success in Service has taken off at nearly 50 universities around the country," Ms. Marchewka said. "The proximity of Peace Corps headquarters to GW was part of my decision in choosing GW for my bachelor's degree. If the Peace Corps hadn't been so accessible, I would not have had an opportunity to work there and to learn so much more about it."
Interested in the Peace Corps? Check out the 2016 Success in Service event on March 25 or stop by the Center for Career Services for information.