Three years ago, Maria Belding was working in her local church's food pantry in Iowa when they received a big donation—10,000 boxes of macaroni and cheese that would expire in one year.
Ms. Belding said the gift was welcome but too big. The miscommunication led to 400 boxes of wasted food.
"It was great—but they never bothered to ask if we needed that much," Ms. Belding laughed. "It was the middle of winter in Iowa, and I had to throw out 400 boxes of macaroni that had gone bad while there was a line of hungry people we had to turn away."
To solve the problem, Ms. Belding— now a freshman at American University—enlisted the help of Grant Nelson—a second-year law student at the George Washington University to build the MEANS Database.
Mr. Nelson wrote every line of code for the MEANS Database, a web-based, searchable database that lets member food pantries and suppliers share information about whether they need specific products or have an excess of products so that pantries can make better use of resources and avoid waste.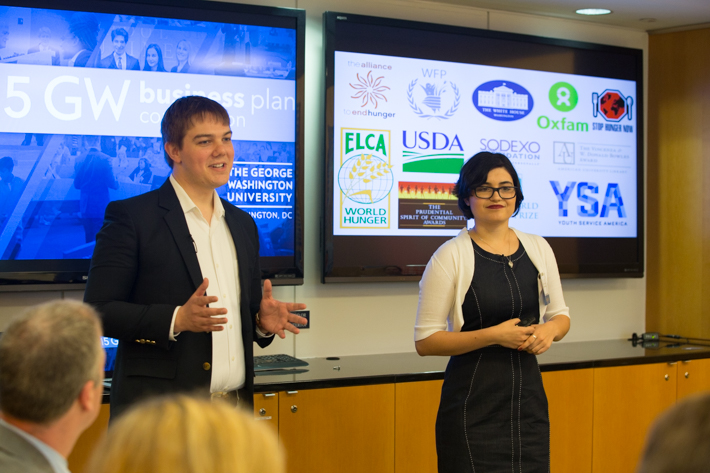 Mr. Nelson and Ms. Belding were the first to present to judges during the final round of the competition Tuesday evening. The MEANS Database is a social entrepreneurship venture to better connect food pantries and suppliers. 
---
Tuesday evening, Ms. Belding and Mr. Nelson's simple food waste solution became a prize-winning startup. It won more than $60,000 in cash and prizes and first place in the 2015 GW Business Plan Competition.
"Beyond the prizes, this has just been such a valuable experience," Mr. Nelson said. "But the most valuable thing we learned was how to pitch. There was a workshop session with venture capitalists, and it helped us understand exactly how to pitch our mission."
The MEANS Database is the first social entrepreneurship venture to win first place. The Center for Civic Engagement and Public Service houses GWupstart Social Innovation Lab, which offers financial support, mentorship and training for social entrepreneurs. 
"The competition integrated a social entrepreneurship track just last year, and to have a nonprofit win top prize speaks volumes about the passion GW students have for creating thoughtful, innovative change," said Melanie Fedri, coordinator of the GWupstart Social Innovation Lab.
Ms. Belding and Mr. Nelson competed against nine finalists whose creative ventures aim to solve big problems. For example, second place winner Quorum is a web-based platform that hopes to transform the legislative process by making research easier.
Launched by GW sophomores Elizabeth Wuller and Joshua Hone with Harvard University seniors Alex Wirth and Jonathan Marks, Quorum aggregates legislative data and provides reference tools and quantitative analysis.
Finalists were selected by a panel of judges following two rounds of competition that began in January.
According to Business Plan Director Lex McCusker, there were more than 200 participants in the 2015 competition and nearly 100 additional students who took part in entrepreneurship workshops and coaching and mentoring sessions.
"Our first goal was to guide entrepreneurs in refining their ideas and creating scalable business models. We then connected them with the resources they need to move forward," Mr. McCusker said. "Many students attend our workshops and we expect that many will return to compete next year."
The seventh annual competition marked a record high in prizes—more than $200,000 in cash and in-kind gifts were awarded to winners, Mr. McCusker said.
The event was co-sponsored by Annette and Richard Scott and supported by Luther King Capital Management, TechShop, Cloud Coaching Institute, Arjuna Solutions, UberOffices, General Assembly, AARP Foundation, Mindhatch and WeWork.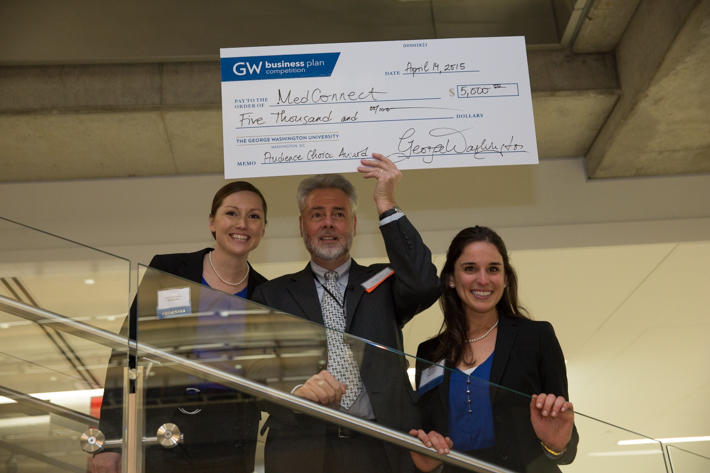 Milken Institute School of Public Health graduate students Laira Roth and Amy Rutkowske pictured with Mr. McCusker after winning the Audience Choice award and $5,000. They were also the recipients of the inaugural Veterans Prize and an additional $5,000.
---
Other sponsors include GWUpstart, Blank Rome LLP, Brazen Careerist, iStrategyLabs, Metro Offices and AvantEdge Business Center. The Office of Entrepreneurship, the GW Entrepreneurs Roundtable and all 10 GW schools provided additional support.  
Prior to final presentations, GW School of Business Dean Linda Livingstone awarded Michael Quinn, a partner at Q Advisors, the Distinguished Entrepreneurial Achievement Award. 
Mr. Quinn, who described himself as a "reluctant entrepreneur," is the founder and former chief corporate development officer of Brazilian telecommunications firm VeloCom, Inc. He currently serves on the GWSB Board of Advisors.
"To succeed, you need to be passionate about what you do, and you have to be knowledgeable—you can't fake it," Mr. Quinn advised the finalists.
New to the competition was a $5,000 prize for a start-up founded by a veteran or that focuses on serving veterans' needs.
Milken Institute School of Public Health graduate students Laira Roth and Amy Rutkowske won the veterans prize for MedConnect, telemedicine smartphone technology that allows patients to connect with medical services via a digital application.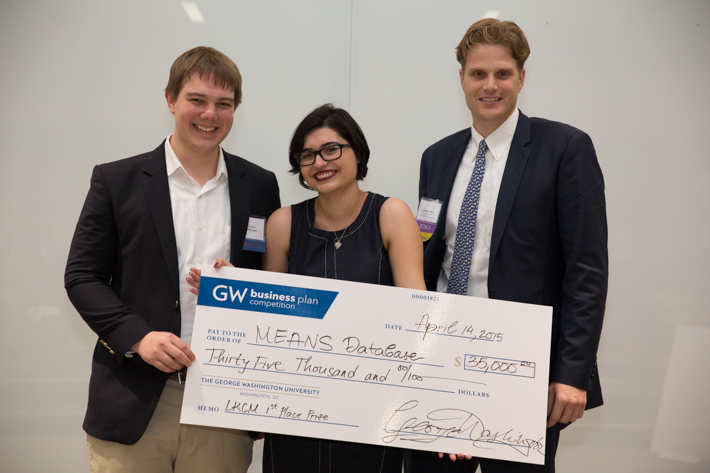 The MEANS Database team said they plan to use their winnings to hire a web developer to assist Mr. Nelson, hire Ms. Belding full time and invest in the company. They stand with Jonathan B. Miller, senior associate with Luther King Capital Management, the first place prize sponsor. 
---
"It is an honor to receive the veteran prize," said Ms. Rutkowske, who served in the U.S. Army as a medical department officer. "This experience has provided us with so many opportunities to network and expand our business—it is truly exciting."
While a distinguished panel of judges chose the final winners, audience members were able to vote on the GW Business Plan smartphone application to select their favorite startup. MedConnect was also the winner of the audience choice award and additional $5,000.
Here is a list of the 2015 Business Plan Competition winners:
Cash Prizes
Luther King Capital Management First First Place Prize, $35,000
MEANS Database
Second Place Prize, $15,000
Quorum
Third Place Prize, $10,000
Project Dharavi: Redefining Waste
Fourth Place Prize, $5,000
The Rival, LLC
Blank Rome's Best Undergraduate Prize, $10,000
Quorum
GWupstart's Best Nonprofit Social Venture Prize, $7,500
MEANS Database
GWupstart's Best For-profit Social Venture Prize, $7,500
GRID, Gaming Revolution for International Development
Quinn Prize for Best International Venture Prize,  $7,500
Project Dharavi: Redefining Waste
Audience Choice Prize, $5,000
MedConnect
Veterans Prize, $5,000
MedConnect
Honorable Mention Prizes, $1,200 each
Bleed Freeze
Connecting4Good (C4G)
GutFeeling
Your Health Concierge, Inc.
In-Kind Prizes
Metro Offices, Office space and amenities for six months ($33,210 value)
Quorum
Connect4Good
General Assembly, Course and front row access ($15,466 value)
MEANS Database
WeWork, Membership for six months ($12,000 value)
Project Dharavi: Redefining Waste
UberOffices, Membership for six months ($7,200 value)
GutFeeling
TechShop, Membership for six months ($6,000 value)
MEANS Database
Cloud Coaching Institute, Behavior report and analysis ($5,000 value)
MEANS Database
Blank Rome LLP, Legal services ($4,000 value)
MEANS Database
Quorum
The Rival, LLC
iStrategy Labs, Custom lab consultation ($3,000 value)
The Rival, LLC
AdvantEdge Business Centers, Co-working space for 10 months ($15,000 value)
MedConnect
Arjuna Solutions, Digital Marketing Strategy Session ($2,500 value)
MEANS Database
Mindhatch, Workshop and consultation ($750 value)
MEANS Database
Marie Rudolph, Military Bowl Tickets ($300 value)
MedConnect