By Kevin Burke
Jaret Edwards, a junior pitcher on the George Washington University baseball team, took his first glance Saturday at the team's new Fassnacht Clubhouse and training facility. It made his jaw drop.
"Wow," Mr. Edwards said. "I've seen locker rooms before, but when I saw what it was – just to see our jerseys hanging up and all the buff and blue – it was really an unbelievable moment. It's something special."
The program's new year-round home at Tucker Field at Barcroft Park in Arlington, Va., was unveiled on Saturday in front of friends and family of GW Athletics and the GW baseball program. It is the first permanent on-site clubhouse in the history of GW baseball, which started at the university in 1903.
Head baseball coach Gregg Ritchie said the new facility made him "a little emotional."
"I kept thinking about all the people in years past that have been working to produce this for GW baseball," Mr. Ritchie said. "They were all sitting out there in the audience. The loving, giving nature of people like the Fassnachts and Ave Tucker all kind of hit me."
The new clubhouse became a reality because of numerous gifts from donors, including Dave and Tam Fassnacht for whom the clubhouse is named. The Fassnachts are parents of Nate Fassnacht, a sophomore GW student-athlete and member of the baseball team.
 The $3.5 million project features a one-story 6,200-square-foot building that will serve as the team's permanent clubhouse and training facility. It features a locker room with designated lockers for each player, coaches' offices, players' lounge and an indoor turf training area.  The team's existing batting cages were enclosed in a 3,240-square-foot structure.
---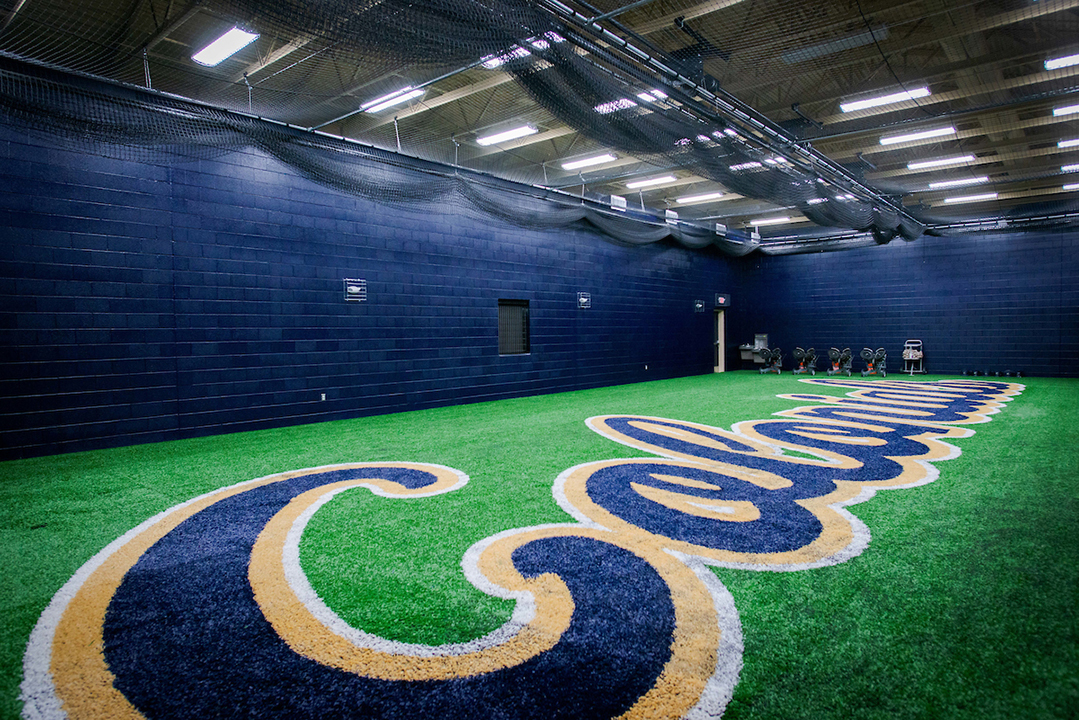 Part of the Colonials indoor training facility at the Fassnacht Clubhouse and training facility at Tucker Field at Barcroft Park in Arlington, Va.
---
The ceremony featured remarks from Ave Tucker, B.B.A '77, a former GW baseball student-athlete and member of the GW Board of Trustees; Director of Athletics and Recreation Tanya Vogel; Arlington County Athletic and Facilities Services Division Chief Peter Lusk; and GW President Thomas LeBlanc.
Mr. Tucker, for whom Tucker Field is named, said the new complex makes him "totally excited" for the program and the players. "It's an amazing complex now," Mr. Tucker said. "They've worked really hard, and this will allow them to work harder during the winter and continue their path to success."
Dr. LeBlanc expressed gratitude to Tucker and the Fassnachts, who also were in attendance, for their gifts in helping to complete the baseball complex. "Your generosity--and the generosity of all donors who contribute to GW--plays an important role in building and shaping an outstanding experience for all students," he said. "In making these gifts, you are leaders and role models for others."
Following the remarks, team members took their tour of the new facilities.
Kevin Hodgson, a redshirt senior pitcher, said that walking through the clubhouse for the first time made him recall all his teammates he has played at GW. "It's humbling to see how far the program has come," Mr. Hodgson said.
---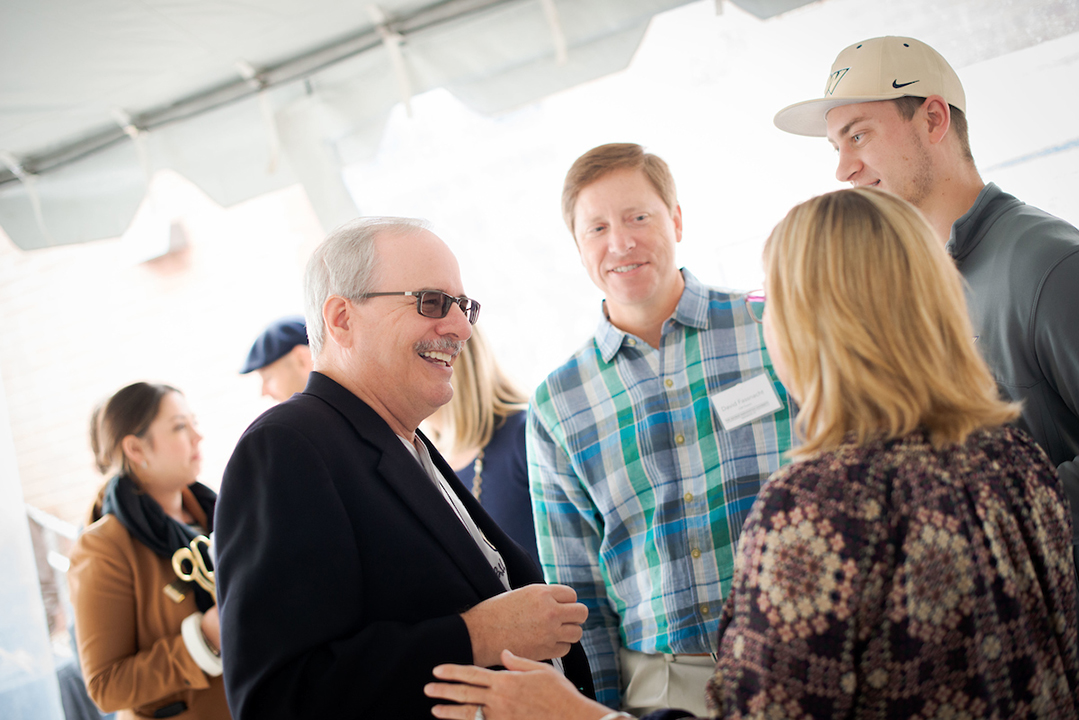 President LeBlanc (l) and Dave Fassnacht discuss GW baseball's new Fassnacht Clubhouse and training facility with at Tucker Field at Barcroft Park in Arlington, Va., with Tam Fasshnacht (back to camera).