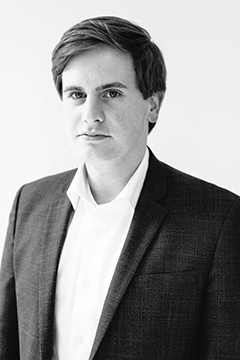 By Kristen Mitchell
George Washington University alumnus Atticus Francken, B.S. '16, has been named to the newest class of Schwarzman Scholars, a prestigious graduate fellowship located at Schwarzman College at Tsinghua University in Beijing. 
The vision of Schwarzman Scholars is to bring together young leaders to explore and understand the economic, political and cultural factors that have contributed to China's increasing importance as a global power and train them to become effective links between China and the rest of the world, according to the Schwarzman Scholars website.
Mr. Francken, an entrepreneur based in Illinois, said he's thrilled to be selected for this opportunity to pursue graduate studies abroad. He hopes the experience prepares him to be a better team member and collaborator and equips him to build well-rounded business ventures in the future. 
"It's an exciting way to learn about a country that I don't know well," he said. "It's really just an honor more than anything."
Mr. Francken, who was a math and economics student in GW's Columbian College of Arts and Sciences, is one of 154 scholars selected to join the Class of 2022, chosen from a group of more than 3,600 applicants. The scholars include students and alumni from 39 countries and 99 universities, including Princeton University, Massachusetts Institute of Technology (MIT), Yale University, Cornell University and the University of Pennsylvania. Alongside the rest of his class, Mr. Francken will pursue a master's degree in global affairs with a core curriculum focused on leadership and China. 
This year's class of scholars was selected through an application process designed to identify leadership potential, academic ability and strength of character. Candidates from more than 60 countries were invited to interview virtually before panels of CEOs, government officials, university presidents, journalists and nonprofit executives, among others.
Over the past several years Mr. Francken has launched multiple companies and is primarily  focused on renewable energy development and financing. He currently serves as vice chair of the Democratic National Committee's Small Business Council. Mr. Francken is the second GW student or alumni to receive the Schwarzman Scholarship, which launched in 2016. He will enroll in August 2021.