By Greg Varner
It was the happiest of happy hours when undergraduate degree candidates (and a parent or two) gathered at 1 p.m. Tuesday in the Grand Ballroom at the University Student Center for the annual senior class toast, raising glasses of champagne to their promising futures as GW alumni.
The overall mood was festive. The ballroom buzzed with conversation and laughter; a lot of optimism and a little nervousness was expressed; warm greetings and hugs were exchanged. Plans for the summer and beyond were shared. Students talked of catching up on their sleep, their plans for graduate school, and jobs they have already landed or hope to find.
Clusters of balloons in the GW colors, buff and blue, strained to reach the ceiling, anchored by tethers of ribbon. Friends posed for photos in the various photo booths and enjoyed a variety of hors d'oeuvres.
A student receiving his M.P.S. in strategic public relations, David Overy, said he attended the toast to commemorate and celebrate. "It's good to see people again and be back in person instead of doing everything online," he said.
Many other celebrants expressed general agreement with his remarks, some waxing philosophical about their time at GW.
"It's great seeing the Class of 2022 together," said Bishop Walton, a political science major who is heading for law school in the fall. "It allows us to start off the week on a high note and celebrate everything we've accomplished thus far."
Ashok Kaushik, a senior with a double major in economics and international affairs, said, "It's been an interesting experience because of the pandemic, but I wouldn't trade this. It's like that saying, 'When life gives you lemons, make lemonade.' When the world throws you a pandemic, you have to make the best of it."
Discussions of future plans were briefly quieted when Daniel Burgner, executive director of annual giving, welcomed the group and congratulated graduates for overcoming the difficulties associated with the pandemic. He also acknowledged their generosity towards the Senior Class Gift Campaign and encouraged the Class of 2022 to stay connected with GW post-graduation.
---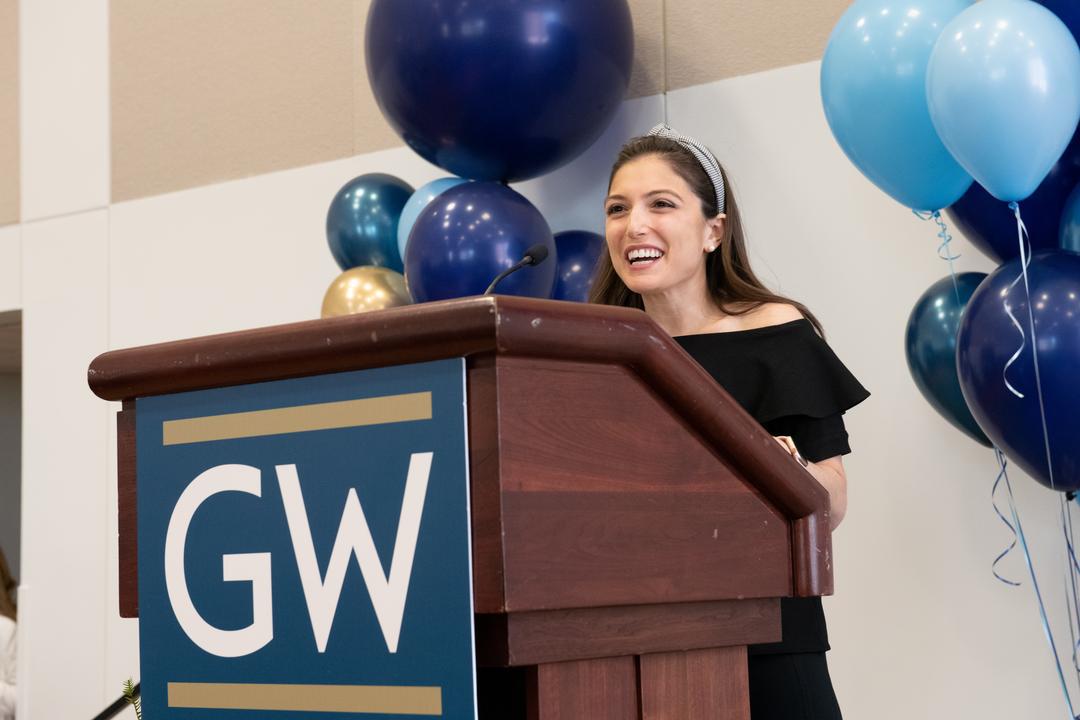 Alumni Trustee Mollie Bowman, B.A. '16, M.A. '17, led the assembled soon-to-be graduates in a toast.
---
Next in the program, Burgner introduced alumni trustee, Mollie Bowman, B.A. '16, M.A. '17, who led the assembled soon-to-be graduates in a toast.
"I love Commencement so much, I did it twice," Bowman said. "I hope you're excited about the opportunity to grow your relationship with GW as an alum. Doing so has made a monumental impact in my life and I know it will do the same for you. Our alumni community is strong because WE make it strong and I hope I can count on you to make it even better in the years to come."
 "Welcome to the GW Alumni Association," she cheered, leading guests in a toast with glasses raised high. "I cannot wait to witness the impact I know you will make on the rest of the world."