Washington, D.C., is more than the seat of the national government. The DMV—the District of Columbia, Maryland and Virginia—is home to broad, diverse communities and neighborhoods that offer history, good eats, parks and waterfronts—much of it a quick Metro ride away. Once a month during the academic year, Getting to Know the DMV will offer a glimpse of selected neighborhoods.
---
By Kristen Mitchell
Washington, D.C.,'s Penn Quarter neighborhood is full of exciting restaurants, museums and shops for those willing to venture north of the National Mall. This area lining Pennsylvania Avenue was considered a central hub of downtown activity in the mid-20 Century. Over the past decade it has been experiencing an exciting revitalization.
Just a few Metro stops from Foggy Bottom, Penn Quarter is a great place to spend an afternoon in the heart of the city.
What to Do:
Penn Quarter is known as an arts and entertainment district. You can plan a day around a concert or sporting event at Capital One Arena or just venture into the neighborhood for the great restaurants and must-see museums.
The Original Portrait Mode
Check out one of the Smithsonian's coolest museums, the National Portrait Gallery, located at 8th and F streets NW. Don't miss your shot at seeing Alexander Hamilton's portrait or the must-see exhibition of presidential paintings before heading down to the Arlene Kogod Courtyard, a beautiful light-filled atrium that would be the perfect place to settle in with a book on a rainy afternoon. Admission is free.
Explore Chinatown
Penn Quarter overlaps with D.C.'s historic Chinatown borough, an enclave of various Asian businesses and restaurants. Spend an afternoon exploring to find your new favorite Asian restaurant in the city and snap a photo in front of the Friendship Archway, built in 1986 near 7th and H streets NW.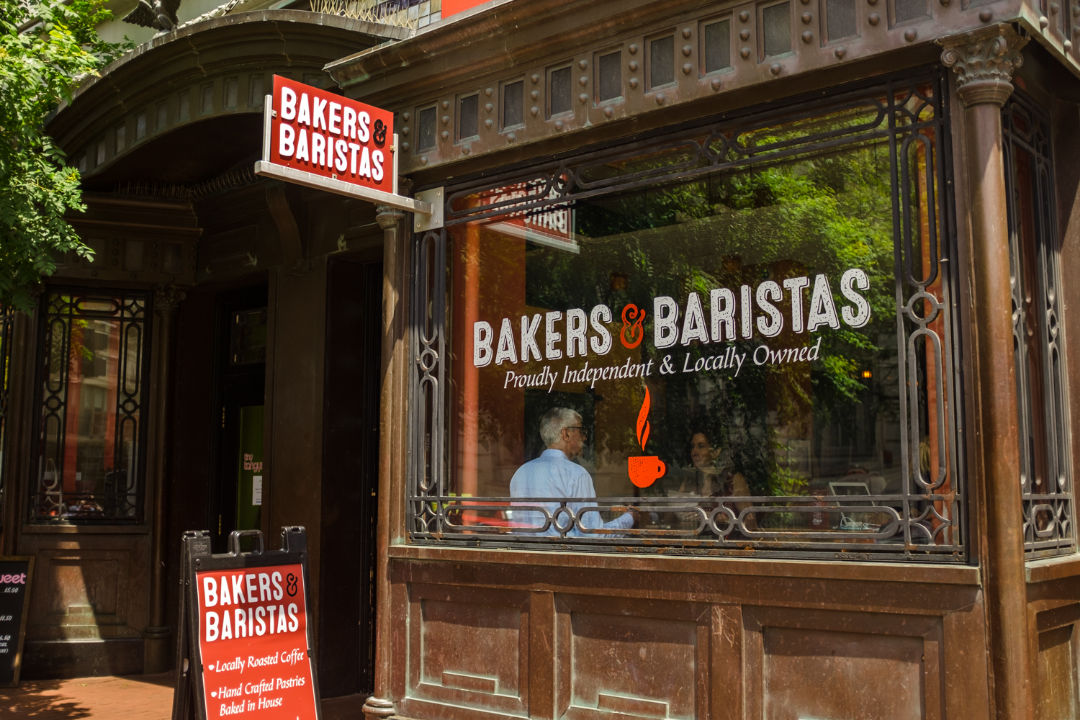 Grab a mid-morning coffee and a pastry at Bakers & Baristas, located at 501 7th St. NW. (William Atkins/ GW Today)
---
Grab a Bite...or Two
Penn Quarter is full of delicious places to eat. Start the day with a latte and pastry from Bakers & Baristas and head over to José Andrés' Jaleo for an authentic Spanish lunch complete with small plate offerings. Here are some other options:
Bar Deco is the perfect option if you are headed to Capital One Arena. This rooftop restaurant serves locally-sourced food along with a great view of the city.
Fight a mid-day slump with giant Jenga and shuffleboard at Penn Social. Located at 801 E Street NW, this spot is a great place to catch a sporting event or kick back with friends. Just remember, no one likes a sore loser.
Craving the classics? Check out the Shake Shack on F Street and treat yourself to a ShackBurger and a delicious milkshake.
Step Back in Time
Penn Quarter is famously home to Ford's Theatre, where President Abraham Lincoln was assassinated during a rendition of Our American Cousin in April 1865. The theatre is only a few blocks from the White House, but Mr. Lincoln's condition was too critical for the bumpy carriage ride home on the cobblestone streets. His final moments were instead spent in a nearby boarding house. Ford's Theatre has been preserved so future generations can see where the story of the United States changed course forever. Timed entry tickets are priced at an affordable $3 online.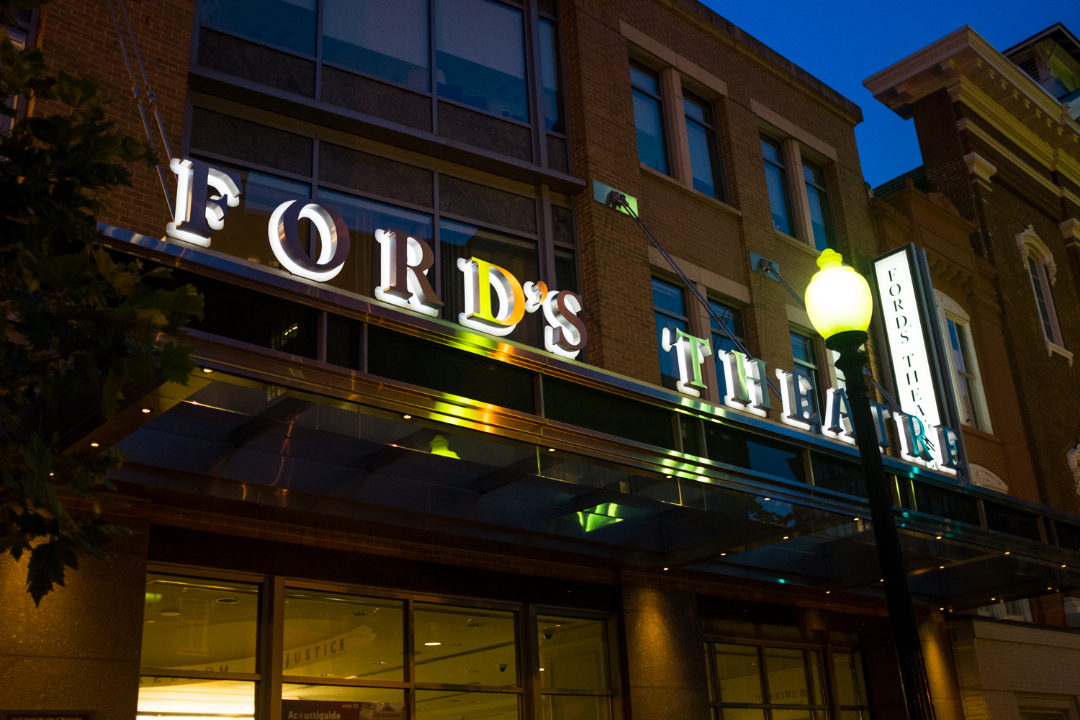 President Abraham Lincoln was assassinated at Ford's Theatre while seeing a play in April 1865. Today you can visit this historical landmark at 511 10th St. NW. (William Atkins/ GW Today)
---
Fight Fake News
If you find it difficult to unplug from the news alerts lighting up your phone during class, the Newseum is a must-see attraction. The Newseum keeps a record of the biggest moments in media history with a gallery of award-winning photographs and a piece of the Berlin Wall that thoughtfully demonstrates censorship of the era. Adult tickets cost $24.95 at the door and $21.21 online. The museum won't be in this location much longer, so check it out before it closes to the public in January 2020.
A National Treasure
National Archives is just past the boundary of Penn Quarter, but we'll let it slide. This Smithsonian museum is a history-buff's dream. Come to see original copies of the Declaration of Independence, Constitution and Bill of Rights, stay for the interesting exhibits exploring the Vietnam War and the country's history of civil liberties. Like all Smithsonian museums, the National Archives is free.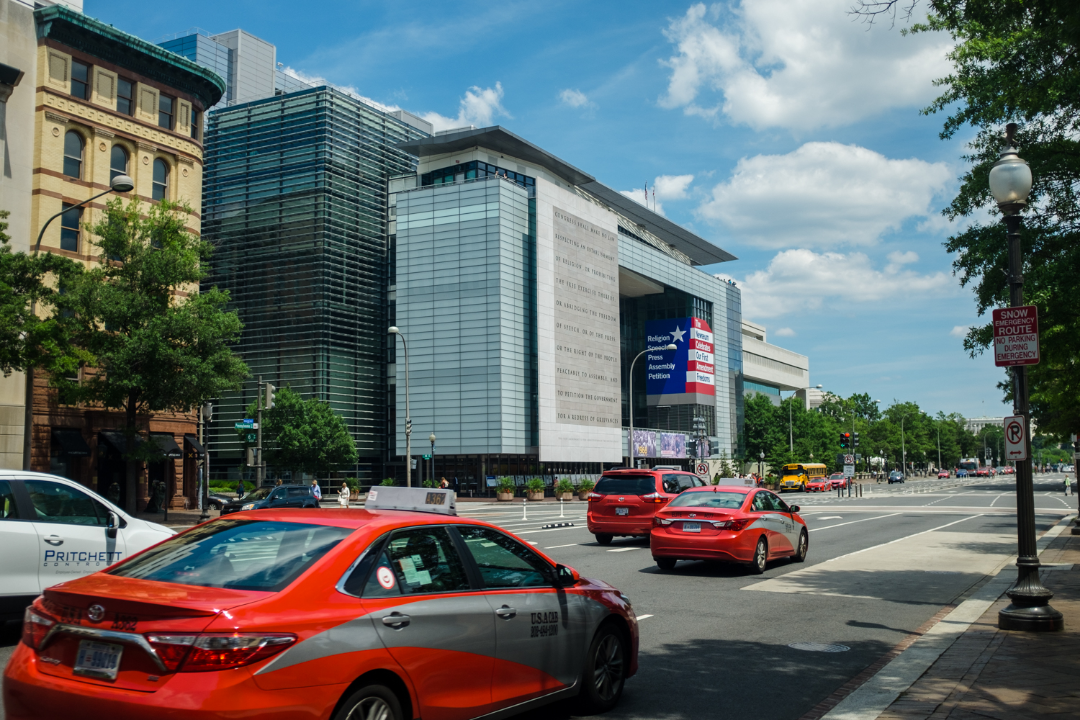 Explore the most important moments in media history at the Newseum, located at 555 Pennsylvania Ave. NW. (William Atkins/ GW Today)
---
Sports on the Mind
Following a Stanley Cup-winning season, now is the perfect time to become a Washington Capitals fan. Go to a Caps game at Capital One Arena this year to support the team as they try to replicate their 2017-18 season success. Who knows, you could be a good luck charm. If hockey isn't your thing, check out the Washington Mystics or a Wizards game.
How to Get There:
From Foggy Bottom
Metro: Take Blue, Orange or Silver lines train from Foggy Bottom to Metro Center and walk or transfer to the Red Line at Metro Center and take the train to Gallery Place.
Capital Bikeshare: Rent a bike at any of the several bikeshare docks in Foggy Bottom and bike the two miles to Penn Quarter. If you make the trip in 30 minutes or less, it will only cost $2. Make sure to follow all traffic laws.
From Mount Vernon
Campus Shuttles- The Vern Express runs between the Mount Vernon and Foggy Bottom campuses. The shuttle will only make stops on campus, so once you are in Foggy Bottom follow the suggested travel routes mentioned above.