By Kristen Mitchell
George Washington University student Danya Sherman spends her time between classes on the phone with potential distributors and business executives, formulating plans to launch her own company that will empower and educate her peers about drug-facilitated assault.
Through her company KnoNap, Ms. Sherman has developed a regular-looking napkin that will detect the presence of various date rape drugs in a drink. A spot on the napkin will turn a bright color when it comes into contact with a small amount of contaminated liquid, alerting the user that their drink has been tampered with.
Since she first presented on KnoNap at the 2017 New Venture Competition, Ms. Sherman's life has radically changed. She has received funding to continue her work, been honored as a top student entrepreneur in the United States and plans to launch a Kickstarter campaign to bring her product to market later this year—all while balancing life as a full-time international affairs student in the Elliott School of International Affairs.
Ms. Sherman expects the KnoNap to be available later this year and at full scale wants KnoNaps to be price comparable to traditional napkins. She hopes one day it will become the industry standard.
Ms. Sherman's passion for empowering and educating her peers about drug-facilitated sexual assault was born out of personal experience. Ms. Sherman was studying abroad when a friend slipped drugs into her drink and took advantage of the situation. She decided then she wanted to create a product that would empower individuals in social settings, and ensure they didn't have to choose between their social comfort and welfare.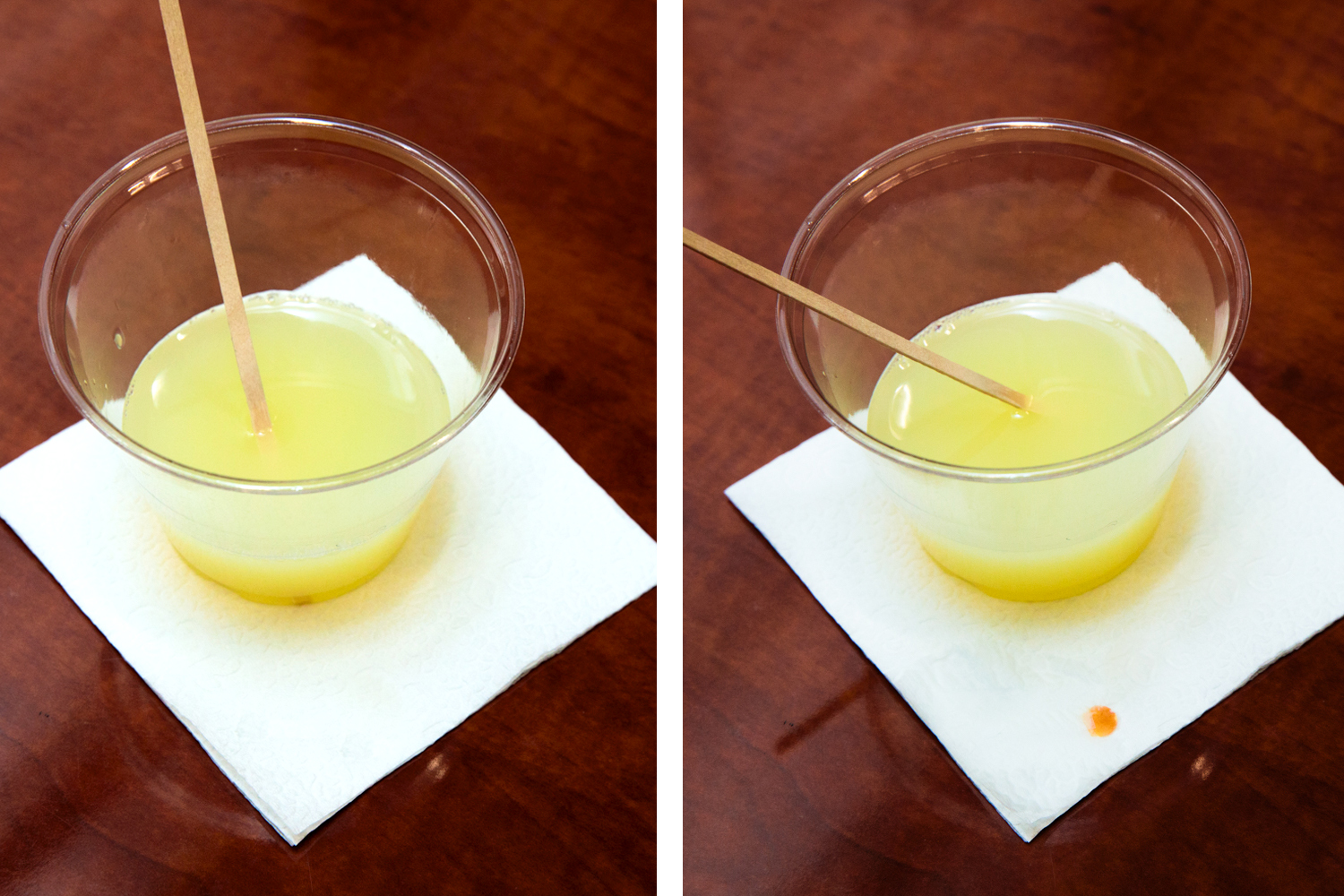 A spot on the napkin will turn a bright color when it comes into contact with a small amount of contaminated liquid, as seen on the right. This alerts the user that their drink has been tampered with. (William Atkins/ GW Today)
---
Ms. Sherman has heard from countless individuals about their experiences with sexual assault while promoting her company. Sharing her story and hearing from others has been a humbling experience that highlights how much work needs to be done.
"We are so proud of KnoNap, because it can be seamlessly incorporated into any social setting and used by anyone regardless of gender and sexual orientation," Ms. Sherman said. "What I want my company to do is join the movement of individuals, thought leaders, survivors and advocates to say, enough is enough and something has to change."
Before starting KnoNap, Ms. Sherman didn't see herself as a budding entrepreneur. Her entrepreneurial parents encouraged her to enroll in a Women's Entrepreneurial Leadership Initiative course in Spring 2017. Having the space to put her thoughts down on paper and create a business plan changed her life, Ms. Sherman said.
Ms. Sherman entered her proposal in the 2017 New Venture Competition, where she competed for funding alongside other innovative GW students. KnoNap was named a finalist and was awarded the audience choice prize. She then went on to win the first place undergraduate award and the audience's choice award in the Pitch George Competition.
With some funding behind her, Ms. Sherman's company started to gain traction. She was named a fellow at the Halcyon Incubator, a Kairos Fellow and recognized as one of Washington Life's 2017 Tech 25 Innovators and Disruptors. Later this year, she will be representing the United States at a the Entrepreneurs' Organization Global Student Entrepreneur Awards, a global entrepreneurship competition for students.
One out of every 13 college students reports having been drugged or suspects they have been drugged, according to a 2016 study, but there is low awareness of the issue. Part of Ms. Sherman's long-term goal is to partner with universities, Title IX offices and police departments to increase education on drug-facilitated assault.
"You cannot protect yourself against an issue for which you are not familiar," she said.
There is no product similar to KnoNap currently on the market, Ms. Sherman said, and she has a patent pending. The closest item on the market is a coaster that only detects two drugs and is less discrete, broadcasting the product's purpose.
Over the last few months KnoNap has taken off, with features in local media and Glamour, and Ms. Sherman is learning to adapt to a new normal—long nights and early mornings to bring her ideas to fruition and make her company a success. As the head of the company, she has learned to enjoy the successes, learn from the failures and most of all, keep pushing forward.
Lex McCusker, director of student entrepreneurship programs for the GW Office of Innovation and Entrepreneurship, said he's seen Ms. Sherman transform as an entrepreneur during her time at GW.
"Danya came to our office with an idea and a passion to solve an important problem," he said. "The GW Office of Innovation and Entrepreneurship connected her with tools and resources at GW that showed her how to turn that idea and passion into a viable solution."
Ms. Sherman likes to say that KnoNap is first and foremost a safety company that uses napkins as a vehicle. Most startups fail, but she will do everything she can to make sure KnoNap's mission of empowerment, education, and advocacy a success.
"I didn't fall in love with my product, I will fall in love with our mission," she said. "I will do whatever it takes and pivot and iterate to make sure that the products we're putting out will be successful so that we can achieve our mission."
---
To learn more about available research opportunities contact the GW Center for Undergraduate Fellowships and Research.
The 2018 New Venture Competition finals will be held on April 19. Tickets are available now.