By Kristen Mitchell
A team of George Washington University entrepreneurs is looking to revolutionize the health care industry by providing more accessible primary care options to a community's most vulnerable population.
Freya Spielberg, an associate professor at the Milken Institute School of Public Health and director of GW's community-oriented primary care, founded the startup Urgent Wellness, which plans to develop telemedicine and medical vending machines staffed by community health workers to lower health care costs nationwide and improve access for homeless and low-income patients.
These resources would be put into homeless shelters and housing projects to provide more convenient preventative care for Medicare and Medicaid patients, Dr. Spielberg said. It would also decrease reliance on emergency room services.
Urgent Wellness was awarded more than $25,000 at this year's New Venture Competition and took home the $15,000 first place prize. Dr. Spielberg said years of working in urgent care in underserved areas have made her passionate about health care disparities.
"When I was working in urgent care, I would see people, and I wanted to take care of the whole person because I'm in family medicine, but I really wasn't allowed to," she said. "I had to get them in, get them out, take care of the acute care issue."
Thirty-two percent of Medicaid patients use the emergency room once a year at least, and about 37 percent of those visits could be avoided, said Dr. Spielberg. When patients overuse these services, health care costs rise. The only way to improve this problem is by creating a system that can be paid for by insurance and provides a new kind of routine care, she said.
"I see the need, and I see the solution, and we have the technology now to make this work so it's really just time," she said.
Dr. Spielberg and co-founder of Urgent Wellness Aubrey Villalobos, director of comprehensive cancer control at the GW Cancer Center and a graduate student in the Milken Institute School of Public Health, presented their pitch Thursday at Jack Morton Auditorium. The team also included Luigi Leblanc and John Barabino.
Urgent Wellness participated in the DC I-Corps cohort, where they conducted dozens of customer development interviews to better understand their market.
Twelve teams presented business proposals during the ninth annual New Venture Competition and vied for more than $300,000 in cash and in-kind prizes. The competition was split into three tracks—social ventures, technology ventures and new ventures—with four finalists in each category. Proposals ranged from new ways of thinking about food waste, an on-the-go makeup kit and technology that would allow gardeners to save money on irrigation by taking advantage of natural condensation.
The competition is put on by the Office of Innovation and Entrepreneurship and the Office of the Vice President for Research. In the past nine years, 40 percent of finalists have launched their companies and 26 startups have been formed, said Jim Chung, associate vice president for research, innovation and entrepreneurship.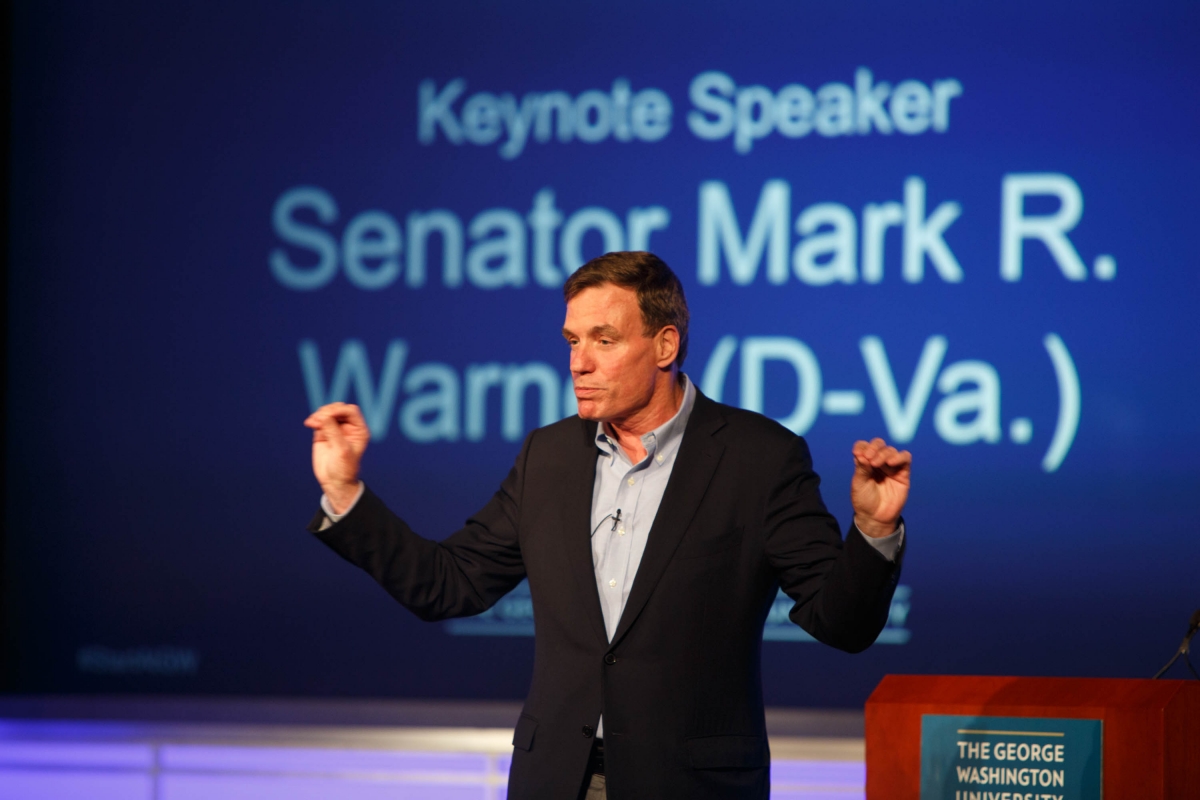 Sen. Mark Warner (D-Va.) said the path to success is not a straight line. Several of his business ventures failed before he found success, he said at Jack Morton Auditorium. (William Atkin/ GW Today)
---
Sen. Mark Warner Keynote
George Washington President Steven Knapp introduced Sen. Mark Warner (D-Va.), who gave a keynote address about his experience in the business world.
Mr. Warner, B.A. '77, was an early investor in the cell phone pioneer Nextel and became a prominent business operator and political leader. Before he was successful, however, several of his ventures failed. Two companies he invested in after graduating from Harvard Law School went bankrupt. His path to where he is today was not a straight line, he said.
"At the ripe old age of, I think I was 26½, I had student debt, I was sleeping out of my car and unlike a lot of my GW classmates and law school classmates, I decided I would try it one more time," he said.
In 1982 when Mr. Warner got involved with cellular phones, his friends told him there was no way people would want a phone in their cars. Mr. Warner believed in the technology, and it paid off. That spirit of innovation and entrepreneurship is uniquely American, he said.
"There is not this culture in many other countries around the world," he said. "Many of the other countries are trying to copy us, but in many ways it is that secret sauce of entrepreneurship, innovation, that I would argue attracts the best and brightest from around the world."
In the past 30 years, all of the net new jobs in the United States have been created by startups, Mr. Warner said. Some of those go on to become Google, Facebook and Under Armor, but many don't but still provide good paying jobs. The challenge facing the country is distributing this job growth outside of hotbed markets like Silicon Valley, New York City and Austin, Texas.
Mr. Warner encouraged students thinking about starting a business to launch it in their local communities. He is concerned, however, that young people today don't have the same advantages he did when he entered the business world.
The workforce has changed significantly over the past 40 years. Employees no longer work for one company their entire lives and climb the corporate ladder because so much of the workforce depends on temporary employment. Student loan debt is also crippling young people's ability to take risks, and low-income employees are getting insufficient training to adapt as factory jobs disappear.
"I have been one of the single biggest beneficiaries of modern American capitalism. I took a chance, I failed a few times, picked myself up and do it, managed to do well," Mr. Warner said. "I worry though that today in America modern American capitalism is not working for enough people."
The values of young people across the political divide give him hope, Mr. Warner said. Millennials put a premium on companies with social values that makes it a priority in the marketplace.
The ability to adapt is also critical. Mr. Warner said he has never invested in an entrepreneur who met his or her original business plan and emphasized the importance of teamwork.
"The ones who make it are the ones who can shift and understand changing complexity then realize no matter how smart they may be, you're much better as a team," he said. "I've never seen a successful venture that was only driven by a single entrepreneur."
You can watch and hear Warner's full speech here.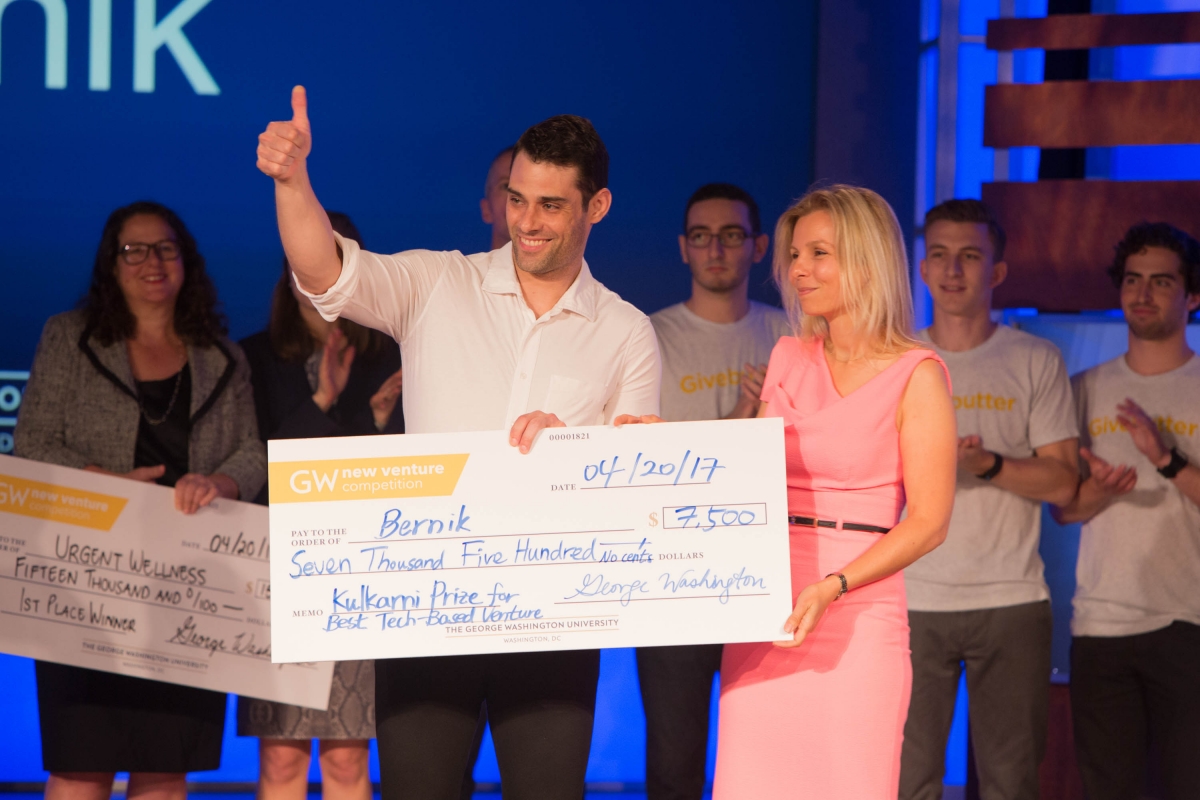 The Bernik team proposed technology that would allow motorcyclists to safely use GPS technology while driving. They were awarded the Kulkarni Prize for Best Technology Venture (William Atkins/ GW Today)
---
Other New Venture Winners
School of Engineering and Applied Science alumni Vicki Gumtow, B.S. '91, and Karl Gumtow, B.S. '92, received the 2017 Distinguished Entrepreneurial Achievement Award, presented by David Dolling, SEAS dean. The Gumtows started CyberPoint, a cybersecurity company, in Baltimore in 2009.
Daniel Berg, a junior majoring in health and wellness and organizational sciences, was awarded the second place prize for his company Berg Bites, which produces a healthy snack marketed toward gym-goers with a sweet tooth.
Mr. Berg and his team were awarded $25,000, including the $10,000 second place prize, $10,000 for the best undergraduate proposal and an additional $5,000 for making it to the finals. Mr. Berg said receiving the awards was a surreal experience.
"As I was rolling these bites in my house, in my apartment this year, I could never have imagined we would have gotten this far so fast," he said. "I never really could even imagine anything happening like this, I'm very grateful especially to GW for having such an awesome event like this."
As a health conscious middle schooler, Mr. Berg decided one day his family needed to get rid of all the candy and sweets in their New York home. They came up with energy bites made from oats and coined them Berg Bites. Today Mr. Berg has launched three different flavors and is planning another this summer, along with a week-long pop-up shop in New York City.
"This is something I always told my mom I was going to do since I was in high school," he said. "I'm so happy that people are enjoying it the same way I enjoy it."
Below is a list of all New Venture winners:
Cash Prizes
1st Place ($15,000)
Urgent Wellness
2nd Place ($10,000)
Berg Bites
3rd Place ($5,000)
Agaport
4th Place ($2,500)
Pocket Palette
Best Undergraduate Prize ($10,000)
Berg Bites
Best International Venture Prize ($7,500)
Agaport
Kulkarni Prize for Best Technology Venture ($7,500)
Bernik
Best Interdisciplinary Team ($5,000)
Agaport
Sustainable Infrastructure Prize ($5,000)
Clean Condense
AARP Foundation's Older-Adult Focused Innovation Prize ($5,000)
Urgent Wellness
Quality Support Inc.'s Veterans Prize ($5,000)
Corkboard
Opportune Clean Energy Prize ($5,000)
Trident Innovations
Audience Choice Award ($5,000)
KnoNap
An additional $5,000 was awarded to each finalist team in the semi-final round ($60,000)
In-Kind Prizes
Vistaprint Digital, premium website package for one year (valued at $26,100)
All 116 teams entering the 2017 GW New Venture Competition
Audienti, platform access for six months and onboarding package (valued at $24,000)
Berg Bites
Blank Rome, legal services (valued at $15,000)
Bernik, The Pocket Palette, Urgent Wellness
AdvantEdge Business Centers, co-working space for six months (valued at $13,000)
Blackbook
Hera Hub DC, full-time co-working membership for six months (valued at $12,000)
The Pocket Palette
General Assembly, tuition credits towards GA courses (valued at $3,950)
Servify
General Assembly, credits towards any GA course or workshop (valued at $5,000)
All New Venture Competition participants
General Assembly, web development workshop (valued at $1,750)
Up to 50 New Venture Competition participants
Aveya Creative, on-demand creative services (valued at $10,000)
The Forgotten Fruit
GenB MVP, strategic planning session and support (valued at $10,000)
SignOut
WeWork, office space and membership for three months (valued at $8,940)
GiveButter
College of Professional Studies/Virginia Science and Technology Campus, co-working space for six months (valued at $8,000)
Clean Condense
MakeOffices, membership and co-working space for six months (valued at $7,600)
drwr
Refraction, community membership for six months (valued at $4,600)
Fourth Wave Studios
TechShop, memberships (valued at $3,700)
Opal: Medical Equipment Management, Dis-Ability, Journeyture
Cove, one free month planning (valued at $3,115)
All 12 finalists
Eastern Foundry, six-month membership (valued at $3,000)
Trident Innovations
iStrategy Labs, custom half-day consultation/workshop (valued at $3,000)
KnoNap
Social Driver, consultation session with creative studio (valued at $3,000)
Agaport
99 Designs, graphic design services (valued at $1,200)
Urgent Wellness, Berg Bites, Agaport
SeedSpot, evening program designed for launch stage entrepreneurs (valued at $1,000)
V-Fashion
Marie Rudolph, Military Bowl tickets (valued at $500)
Corkboard