By Nick Erickson 
Vice President for Student Affairs and Dean of Students M.L. "Cissy" Petty was in the final stages of her morning run last Thursday, just as the sun began to rise over the Potomac. Even though it was the end of her jaunt, she felt a burst of energy entering the Foggy Bottom campus. George Washington University students headed to an early class or breakfast stopped to wave. The women's rowing team—finishing its own workout nearby—cheered her on, and Dr. Petty returned the favor with words of encouragement.
She was on her new running route, and she was saying hello to her new neighbors.
Dr. Petty—and her 15-year-old Yorkie-poo, Jazz—moved in at District House as a full-time resident in mid-October, fully embracing her student engagement role at GW. She is proud to be someone people on campus can connect with at all times.
"Life doesn't stop at the university at five o'clock," Dr. Petty said. "It's a 24/7 operation."
The door leading to her two-bedroom apartment filled with dog keepsakes and Bayou memorabilia collected at one of her favorite career stops in New Orleans will always be available for a knock. As she does during the working hours, she plans to be there for students whether they are proudly boasting about a test score or when they need a comforting voice during a hard time.
Dr. Petty has already situated her living room to have such conversations as the furniture is arranged in a way that she hopes feels communal. She'll also host events throughout the year for student, faculty and staff groups.
"I think of this as a university space," Dr. Petty said. "I look forward to opening my home for gatherings and conversations around the student experience."
Dr. Petty has prior experience with living in residence and near campus during her time at St. Lawrence University, Mississippi University for Women and University of North Carolina, Asheville. At those places, she held a wide range of events within her living space, from student conversations to Chaz Bono getting together with LGBTQIA+ students, faculty and staff. She expects a similar range of events at her District House digs.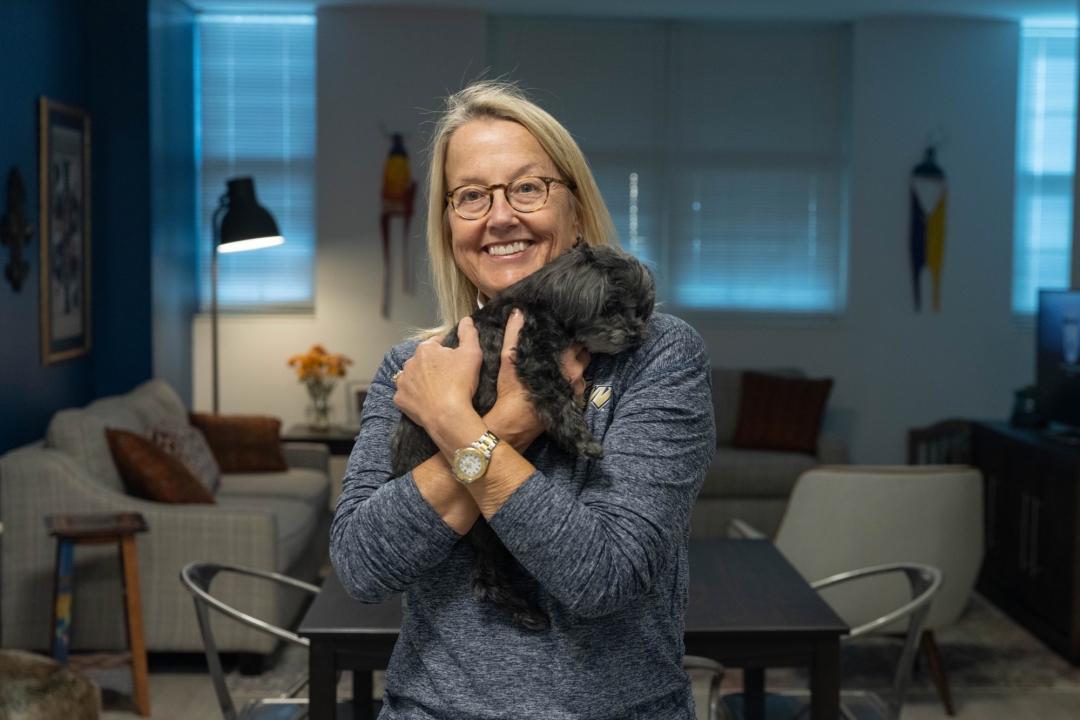 This also isn't the first time Dr. Petty has frequented GW student housing. Early on in her tenure at the university, she lived in different residence halls for a week at a time, starting at the Mount Vernon campus. She believes this permanent move will help her recognize student expectations and needs even more.
"Dean Petty being on campus is a game changer for community at GW," said Stewart Robinette, Campus Living and Residential Education assistant dean of students. "Our residence halls strive to create a sense of belonging for all and provide spaces for learning outside of the classroom. I can't imagine someone with a greater love for community and our students than Cissy. I have no doubt that her living with the students and our other live-in staff will add to an even stronger student-centered community."  
Her move comes at an especially vital time as students aim to re-establish themselves on campus after an academic year away due to COVID-19.
She'd like students to consider her more of a listening ear instead of an adviser. Dr. Petty said that the more students see her out running or out walking Jazz the more they are comfortable in approaching her informally, which is one of the main goals of the move.
"Nothing showcases dedication to the student experience and demystifies our administrators and faculty like having them live among the students," said Christopher Alan Bracey, interim provost and executive vice president for Academic Affairs. "I applaud Dr. Petty's move."
Dr. Petty is already blending into her new living space. During a passing time last Thursday afternoon, she walked outside the District House on the H Street Side while wearing blue jeans and a GW pullover. Jazz was tucked in her arm. Students immediately gravitated toward her, petting the elderly dog while simultaneously exchanging email information to set up a future meeting with her.
While new running routes past the monuments and eventually up into Rock Creek Park certainly excites her, it's those informal connections that now extend into all hours that Dr. Petty looks forward to the most with her new change of address. That, and a fresh charge for her four-legged companion.
"I think it will be good for students to have another resource in the halls," Dr. Petty said. "And certainly, Jazz will have a much longer life getting all that energy from the students."