A major solar power deal to bring green energy to the campuses of the George Washington University, American University (AU) and the George Washington University Hospital (GWUH) is getting the attention of other institutions across the country.
George Washington President Steven Knapp and American University President Neil Kerwin spoke Thursday about the Capital Partners Solar Project, which was recognized as an exemplary renewable energy model at the 2014 Presidential Summit on Climate Leadership held in Boston.
The three-day conference attracted hundreds of higher education sustainability leaders, including college and university presidents. 
The 20-year agreement with Duke Energy Renewables will tap into solar power from North Carolina to meet half of each university's and about one-third of the hospital's electricity needs and reduce their carbon footprints. Dr. Knapp told the audience that the three institutions were stronger together than apart.
"People often think of universities as competing for recruiting students, recruiting faculty and on the athletic field, but this is a model of collaboration that I hope is transportable to other situations," Dr. Knapp said.
Both presidents noted that by joining forces they created demand and a market for renewable energy sources.
"We are not just consumers anymore, we are initiators," Dr. Kerwin said. "We are people and we are organizations that have the capacity to move markets."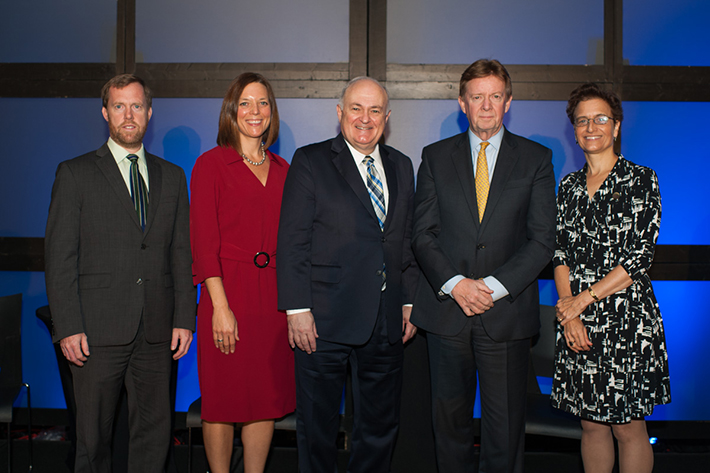 (L-R) AU Director of Sustainability Chris O'Brien, GW Director of the Office of Sustainability Meghan Chapple, GW President Steven Knapp, AU President Neil Kerwin, Agnes Scott College President Elizabeth Kiss  (Photo Credit: ©2014 Jennifer White Photography)
---
When GW, AU and GW Hospital announced the agreement in June it was the largest non-utility solar power purchase agreement in the country. 
"We've had interest in this cutting-edge model from prominent universities on the East and West Coast, who are asking, 'How did you do this?'" said Meghan Chapple, director of GW's Office of Sustainability.   
In September, the University of California system announced a similar deal, and corporations such as Microsoft and IKEA have announced investments in wind farms to offset their energy needs with power sources that don't release greenhouse gases. 
"We issued an RFP [request for proposals], and we got nearly 30 responses," said Chris O'Brien, AU director of sustainability, who joined the panel discussion with Ms. Chapple. "Most of them were from wind projects, which is what we expected, but what we didn't expect was a couple of the most competitive were bids were from solar projects."
Ms. Chapple added that by banding together they were able to lock in a better market price over the life of the contract, which has the potential to save millions of dollars.
Construction of the three solar farms in North Carolina is under way and once completed will generate 123 million kilowatt-hours of emissions-free electricity by the start of 2016.
GW's Eco-Building Program, an Innovation Task Force idea launched in 2012 by the Division of Operations, is also supporting GW's Climate Action Plan to be a carbon neutral institution by 2040.
The phase-by-phase renovation plan has reduced the university's energy bills through updates to the Estelle and Melvin Gelman Library and several other buildings. The Law School, the Marvin Center and Funger and Duques halls will be renovated in the second and third phases.
Ms. Chapple said that together, the Eco-Building Program and on-campus renewable energy will help GW achieve a goal of 40 percent emissions reduction by 2025.
"Work can include replacing or updating heating and cooling systems, installing occupancy sensors, window film and smart power strips and upgrading to more energy-efficient lighting," Ms. Chapple said.
GW and AU sustainability offices are continuing to encourage other institutions to explore similar power purchase agreements. They will lead an EPA Green Power Partnership webinar on Oct. 7 about the topic, and present at the Association for the Advancement of Sustainability in Higher Education conference on Oct. 28.
"Under the agreement, we have the potential to reduce our collective emissions by 60,000 metric tons of carbon dioxide per year," Ms. Chapple said. "That is equivalent to taking 12,500 cars off the road or the carbon sequestered by 50,000 acres of U.S. forests. Imagine the impact if other universities, colleges or municipalities did the same."