The George Washington University Board of Trustees on Friday elected new leadership and approved the fiscal 2020 budget, including a proposal for the renovation of Thurston Hall.
Beginning June 1, Grace Speights, J.D. '82, will become chair of the board and Ave Tucker, B.B.A. '77, will become secretary. Ellen Zane, B.A. '73, will continue in her role as vice chair.
In addition to funding for the renovation to Thurston Hall, the university's new budget also includes the elimination or significant reduction of student charges for laundry, printing and space rental, valued at roughly $1 million.
"The idea here is to not nickel and dime our student body and to hope that we can alleviate some of the minutia that has plagued some of our students," said Ms. Zane, chair of the board's Committee on Finance and Audit.
---

From left to right: Grace Speights, Ellen Zane and Ave Tucker
---
Special recognition
The board honored Chair Nelson Carbonell Jr., B.S. '85, with a resolution read by Ms. Speights, noting his significant contributions to GW during his 17 years as a trustee, including six as chair. The board elected him chair emeritus.
Ms. Zane emphasized Mr. Carbonell's vision, tenacity, passion and "raw ability to lead" as key to his success.
"In my life and in my experience I have rarely seen an individual who has all of these skills, all of these attributes, all wrapped up," Ms. Zane said. "And Nelson is one of those people. Like all of the people in this room, he wanted to make a difference. And he did."
The board also honored Provost Forrest Maltzman, who announced in April that he would step down from his role. Madeleine Jacobs, B.S. '68, chair of the board's Committee on Academic Affairs, lauded Dr. Maltzman for his "tireless enthusiasm" and support for faculty, staff and students throughout his career.
President's report
President Thomas LeBlanc updated the board on strategic initiatives progress, including on the student experience; provided updates on leadership changes; and discussed planning for the university's future.
Dr. LeBlanc said over the next year GW will be focused on conversations across the university about the next strategic plan. He noted especially the significance of GW marking its bicentennial in 2021.
"It reminds us once again how extraordinary our university is. We need to think carefully about the next century of our development," he said.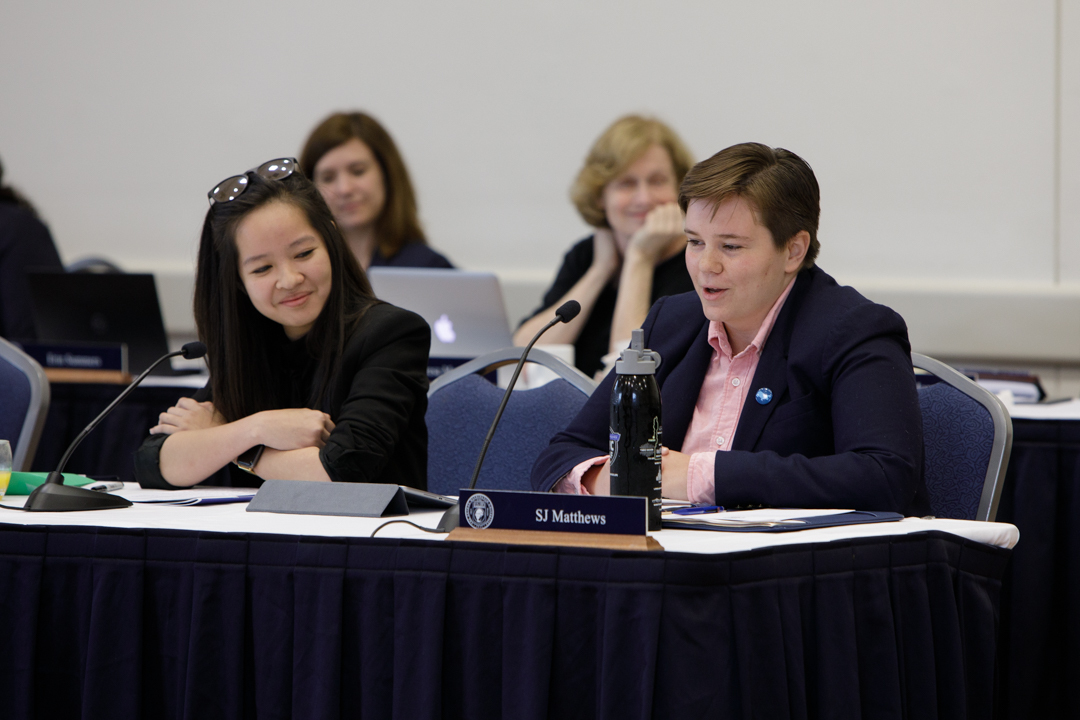 Incoming Student Association President SJ Matthews outlines goals for the upcoming year in remarks to the Board of Trustees on Friday. (William Atkins/GW Today)
---
Student and faculty reports
Also Friday, incoming SA President SJ Matthews told the board her administration's goals for the upcoming year include increasing transparency; improving accessibility, both in terms of classrooms and technology as well as food insecurity; and enhancing community, including through creating more student-friendly spaces on campus.
"We are all in this together. We are all here to improve GW," Ms. Matthews said. "If we come together, we can make a tremendous impact."
In her remarks Sylvia Marotta-Walters, chair of the Faculty Senate Executive Committee, noted the importance of faculty involvement in the newly approved Faculty Code and strategic initiatives on research and institutional culture.
Dr. Marotta-Walters said faculty would work next year to continue "two-way-street" conversations among faculty, administration and the board.
Mr. Carbonell remarks
In concluding remarks, Mr. Carbonell offered parting advice and wisdom, asking the board to "always focus on what's strategic," take care of GW and think about the important intellectual role universities play in society.
And finally, he added: Remember one of his favorite mantras: "Follow those who seek the truth. Run from those who have found it."
Other board news