Fans of Marvel's superheroic Black Panther, alias King T'Challa, suffered a blow this month with the death of actor Chadwick Boseman, who portrayed the ruler of the fictional African country of Wakanda. Jesse J. Holland, assistant professor of media and public affairs at the George Washington University School of Media and Public Affairs, is one of those fans.
But Mr. Holland's relationship with the King of Wakanda is more personal than most. He authored Marvel's first novel starring the superhero—exploring T'Challa's backstory in "Black Panther: Who Is the Black Panther?," which came out a few months before the megahit movie in 2018.
"What brings a lot of people to the Black Panther is that he is a character who doesn't fit any of the traditional, European superhero molds that we're familiar with," Mr. Holland said. "He doesn't have the generic flaws that we expect our heroes to have; he's everything he says he is. He's noble, he's strong, he's kind. He's only cruel when he has to be. On top of that he's from his own country, and it's a country that has never been contaminated by European colonization. So it's a world that a lot of us think we want."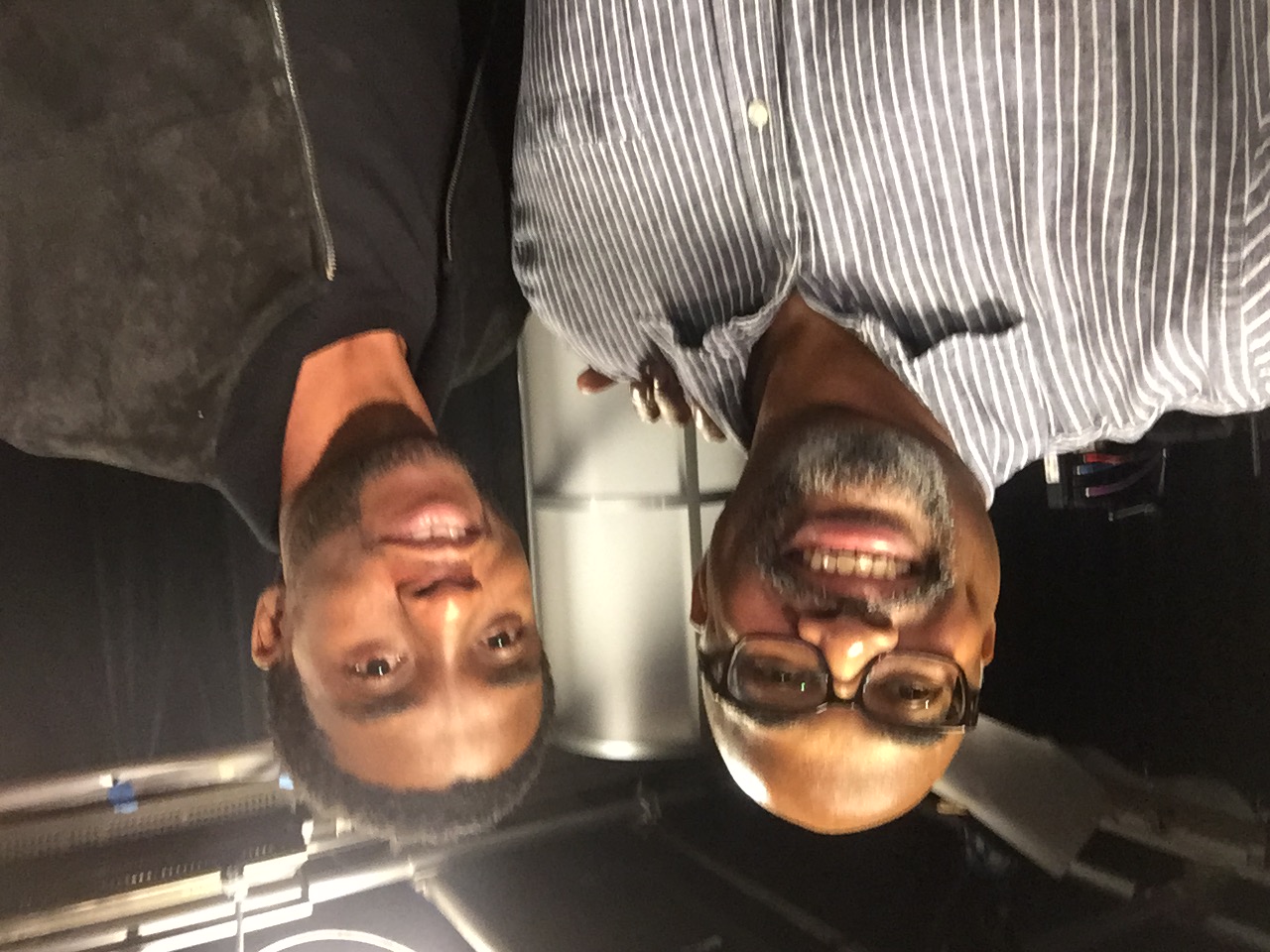 Jesse J. Holland with "Black Panther" actor Chadwick Boseman in 2017. (Courtesy Jesse Holland)
---
An award-winning journalist and nonfiction author, Mr. Holland spent the first two decades and a half of his career working for the Associated Press, living very much in the real rather than the ideal world. But as a child on a farm in rural Mississippi, his first ambition was to be a novelist.
"When I went to college I figured I didn't have anything to write about, so I needed practice being a writer," he said. "And what was a career where you had to write every day? Well, that was being a journalist. So I got into journalism originally to practice my writing for my novels."
But he liked journalism, so he stuck around. In the mid-2010s, Mr. Holland was covering the Supreme Court for the AP and had just completed his second nonfiction book, "The Invisibles: The Untold Story of African American Slaves in The White House." But he was still talking about his love of comics and science fiction on social media, where an editor from Lucasfilm, who had read and admired "The Invisibles," found him.
"She looks me up and sees that I'm a huge Star Wars fan, so she calls me and says 'Hey, have you ever written fiction before? And have you ever thought about writing for Star Wars?'" Mr. Holland remembered.
That call led to his first novel, "Star Wars: The Force Awakens—Finn's Story," which laid out a backstory for the fan favorite character played by John Boyega. After it was published in 2016, an editor at Marvel read "Finn's Story" and reached out. Marvel was working on a feature film about its newest Avenger, the Black Panther. Would Mr. Holland be interested in adapting the character's origin story into a novel?
He would.
Mr. Holland grew up receiving comic books from his father, and Black Panther was one of the first heroes he remembers encountering. He wouldn't discover until adulthood that his father, too, was a major comics fan—one who had, to Mr. Holland's chagrin, abandoned a potential treasure trove of first-edition Superman and Spider-Man comics from the 1940s in his own mother's house years earlier.
"His mother told him to come get them, and he never did," Mr. Holland said with still-audible regret. "So when my mother told me to come get my comics out of her house, I rented a U-Haul and drove them from Mississippi, and now I have a room that's filled to the walls with comic books."
For "Who Is the Black Panther?" Marvel tasked Mr. Holland with adapting Reginald Hudlin's comic series, written between 2005 and 2008.
"I had a blueprint, but it was up to me to fill in the blanks and flesh out the personalities and make it more modern," he said. "[Hudlin] wrote his comic when George W. Bush was president; I'm now writing when Donald Trump is president. Those are two different Americas. So I have to decide for myself how a current government would think of Wakanda."
He also got to play up now-favorite characters like T'Challa's kid genius sister, Shuri, and the Dora Milaje, his elite all-female squad of bodyguards.
"When you're dealing with Marvel or Disney or any entity where the characters are not yours, you get to play in somebody else's sandbox, and it's incumbent upon you to make the characters as compelling as you can so more people enjoy them—and doing that stuff is totally fun," he said. "I felt really lucky to help shape these characters and introduce them to a legion of readers."
And in 2017, when Chadwick Boseman came to Washington, D.C., to promote his Thurgood Marshall biopic "Marshall," Mr. Holland got to meet the man who would be T'Challa.
"Very rarely do you hit perfect casting for any movie, where it's hard to think about anybody else playing that character," he said. "I can't see anybody else embodying the spirit and nobility of T'Challa, the Black Panther."
Eventually, though, another actor will inhabit the role. And that's a good thing, Mr. Holland said.
"I want my children's children to have that same sort of excitement, that same sort of joy of seeing the Black Panther on screen, that we got," Mr. Holland said. "It might be a few years before we can accept another Black Panther, but I do think they need to continue with the franchise. Because I do know that we're going to continue writing the stories."