By Ruth Steinhardt
Anthony and Joe Russo are superhero experts: lifetime comic books fans who, as a directing duo, have been entrusted with three of the 19 blockbuster films collectively known as the Marvel Cinematic Universe. Their latest, "Avengers: Infinity War," has demonstrated superpowers of its own, decimating box office records in its opening weekend.
But when it comes to storytelling, the Russos said, it's important to de-emphasize the super and emphasize the human.
"When you're dealing with characters who have extraordinary powers, how do you make them vulnerable?" Anthony Russo said. "For us as storytellers and as cinephiles, that's when people become interesting—when they are flawed, when you see their limitations."
The Russos came to the George Washington University's Lisner Auditorium for a Smithsonian Associates-sponsored conversation with NPR's Linda Holmes. They also used the event to sign a deed donating their directing chairs and a Captain America shield prop to the Smithsonian's National Museum of American History.
The Russos' first Marvel movie was "Captain America: Winter Soldier," which they described as "a political thriller." "Captain America: Civil War" and "Infinity War" followed.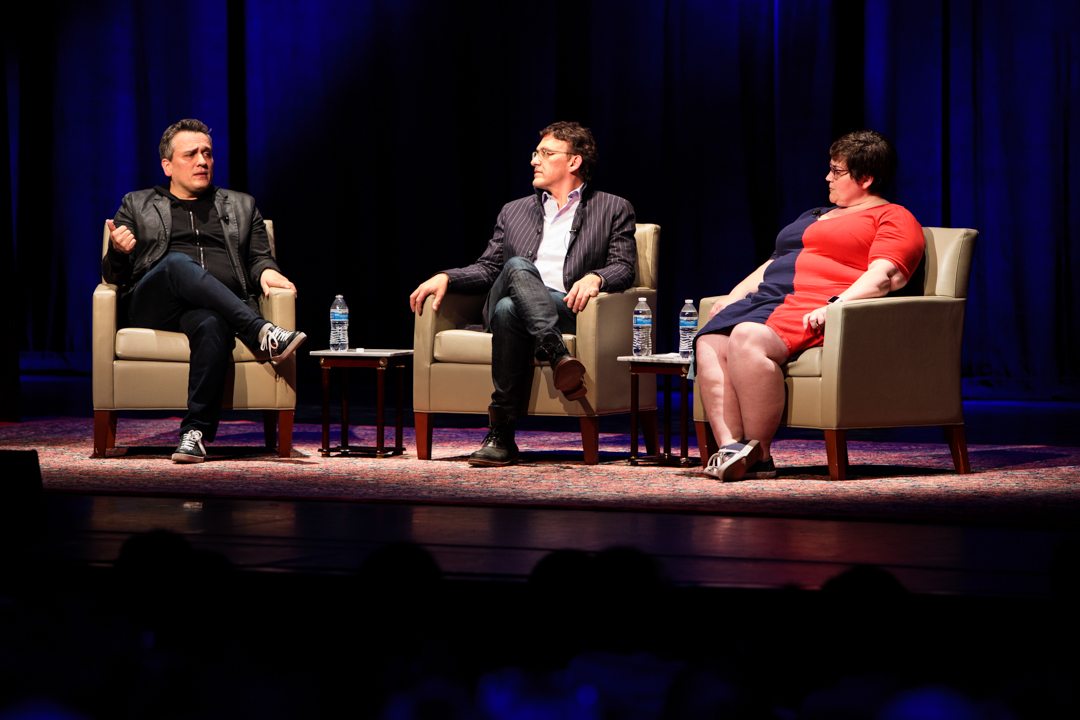 Joe Russo, Anthony Russo and Linda Holmes. (William Atkins/GW Today)
---
The brothers said their upbringing in 1970s Cleveland drives the way they tell stories—particularly in terms of humanizing and complicating their villains.
"Heroes are only as good as their villains," Joe Russo said. "Anthony and I are deconstructionists. We grew up in Cleveland, Ohio, the river caught fire, the city was going bankrupt, the news made fun of us every night…you grow up with this kind of punk rock attitude, that you don't care because you're an underdog. And I think that mentality has pervaded how we tell stories."
Anthony Russo described himself and his brother as "performer-oriented directors" who share, rather than split, directing duties. He said they try to create conditions under which each member of their ensemble—those who prefer to act within a tight structure and those who favor a looser, more improvised style—can deliver their best performance.
That can pose challenges in an effects-heavy movie like "Infinity War," the brothers admitted. They wanted actor Josh Brolin, who plays the movie's villain, Thanos, to film on set to create a stronger ensemble dynamic. But in the movie he appears as a giant, computer-generated purple humanoid, twice the size of those he shares the screen with. To make that work, the Russos said, they had to employ some trickery on set—such as placing Mr. Brolin on a high platform or wrapping his arms in foam when another actor was set to touch them.
Ms. Holmes pointed out that in between the releases of "Civil War" and "Infinity War," the global successes of "Black Panther" and "Thor: Ragnarok," both helmed by directors of color, shifted popular perceptions of Marvel's path forward.
"[Black Panther elicited] a resounding 'yes' from the audience that they want more diversity in their filmmaking, and that's our responsibility as filmmakers," Joe Russo said, to applause. "Everybody has the right to experience these characters and identify with these characters on a cultural level, on a race level, on a sexual orientation level and on a gender level."
But the Russos' respect for their audience doesn't mean they're above messing with them a little. They admitted to altering footage from the movie in trailers, so viewers would be surprised in the theater. And the ending of "Infinity War"—which this article will not spoil—has been notoriously devastating for audiences. But its directors said they see that as a positive.
"Infinity War" posed a daunting problem: The Russos, with screenwriters Christopher Markus and Stephen McFeely, had to unite more than 50 characters from across 19 cinematic worlds. They had to maintain the individual characters' integrity over a unified storyline. And, with "Infinity War" and its sequel, "Avengers 4," they had to create a climax that would be emotionally resonant and satisfying.
But the Russos saw that challenge as a moment unique in the history of cinema: an opportunity to create emotional catharsis on a previously undreamt-of scale.
"I don't think that this [audience] reaction could happen in a traditional movie," Joe Russo said. "The Marvel universe is a grand experiment in narrative…10 years of diverse, successful franchises combining into one film. I don't know we could have gotten that kind of response in a traditional two-hour film, without the audience having 10 years of emotional backstory with these characters."
 "You guys are monsters," Ms. Holmes told the Russos, matter-of-factly.
"Well, we're happy monsters," Anthony said.