By Kristen Mitchell
In his first public event since the Nov. 8 election, Vermont Sen. Bernie Sanders said president-elect Donald Trump tapped into a struggling middle class that Washington insiders and media organizations couldn't understand.
Americans are better off today than they were eight years ago before President Barack Obama took office, Sen. Sanders said Wednesday. Across the country, however, there are millions of people frightened about the world they are living in.
Mr. Trump has promised not to cut Social Security, Medicaid and Medicare, to raise the minimum wage and to invest in infrastructure as president. Sen. Sanders said Democrats have a list of Mr. Trump's promises and will hold him to them.
"What you will see on Capitol Hill is many Democrats will be prepared to work with Mr. Trump if he turns out to be sincere about the promises he made during the campaign," Sen. Sanders said. "If those promises turn out to be hollow, if they were nothing more than campaign rhetoric, we will not only oppose his economic policies, we will expose that hypocrisy as well."
Democrats will not, however, be involved in the expansion of bigotry, racism, sexism and homophobia under the Trump administration.
"We are not going backwards in terms of bigotry, we're going to go forward in creating a non-discriminatory society," Sen. Sanders said.
The Vermont senator was at George Washington University's Lisner Auditorium in partnership with Washington, D.C., bookstore and coffeehouse Politics & Prose to promote his new memoir "Our Revolution: A Future to Believe In." The book chronicles his life and rise to popularity among young progressives during the Democratic primary leading up to the 2016 presidential election.
When Sen. Sanders took the stage the packed crowd gave him a long standing ovation.
Sen. Sanders ran against former Secretary of State Hillary Clinton for the Democratic presidential nomination but was ultimately unsuccessful. In the months before Election Day, he campaigned for Ms. Clinton as an advocate for progressive policies. On election night many were stunned when Ms. Clinton lost to Mr. Trump after many polls suggested she would win. Sen. Sanders called election night a depressing evening.
For better or for worse he has gotten to know Ms. Clinton well over the last year and a half, Sen. Sanders said. "She's very impressive, and I like her a lot," he said. "On the other hand, what is very clear is her politics and Bill Clinton's politics are very different than mine."
During the primary campaign, Sen. Sanders criticized Ms. Clinton for her support of the Trans-Pacific Partnership and her relationship with Wall Street. Post-election, some have questioned Sen. Sanders' primary run and whether his determination to stay in the race long after it became clear he didn't have enough delegates to win cost Ms. Clinton the presidency.
He said the exact opposite could be argued: that maybe he could have been elected president had he been the nominee.
"The presumption behind that question is that, I guess, we should anoint candidates for president," Sen. Sanders said. "That a serious debate or candidates competing against each other is somehow a bad thing for democracy."
The hard-fought primary campaign made Ms. Clinton a better candidate and moved her toward more progressive policy positions, he said. Sen. Sanders said his candidacy also engaged millions of young people who hadn't been involved in politics before.
Before Sen. Sanders took the stage, he met briefly with Student Association President Erika Feinman and Executive Vice President Thomas Falcigno. Mr. Falcigno said Sen. Sanders has had a large impact on millennials and the politics on college campuses.
"It was truly an honor to meet someone who has sparked so much interest in politics and activism among our community and our generation," Mr. Falcigno said.
Sen. Sanders called on the president-elect to rescind the appointment of Steve Bannon, the former executive chairman of the alt-right website Breitbart News, as chief White House strategist and senior counselor. He told the crowd the appointment was unacceptable and the president should not have a racist by his side.
The senator also warned about the dangers of climate change. In decades to come, he said, the planet will be less healthy and habitable than it is today.
"Read a little bit about science," he advised the president-elect. "Start listening to the scientific community and not the CEOs of the fossil fuel industry."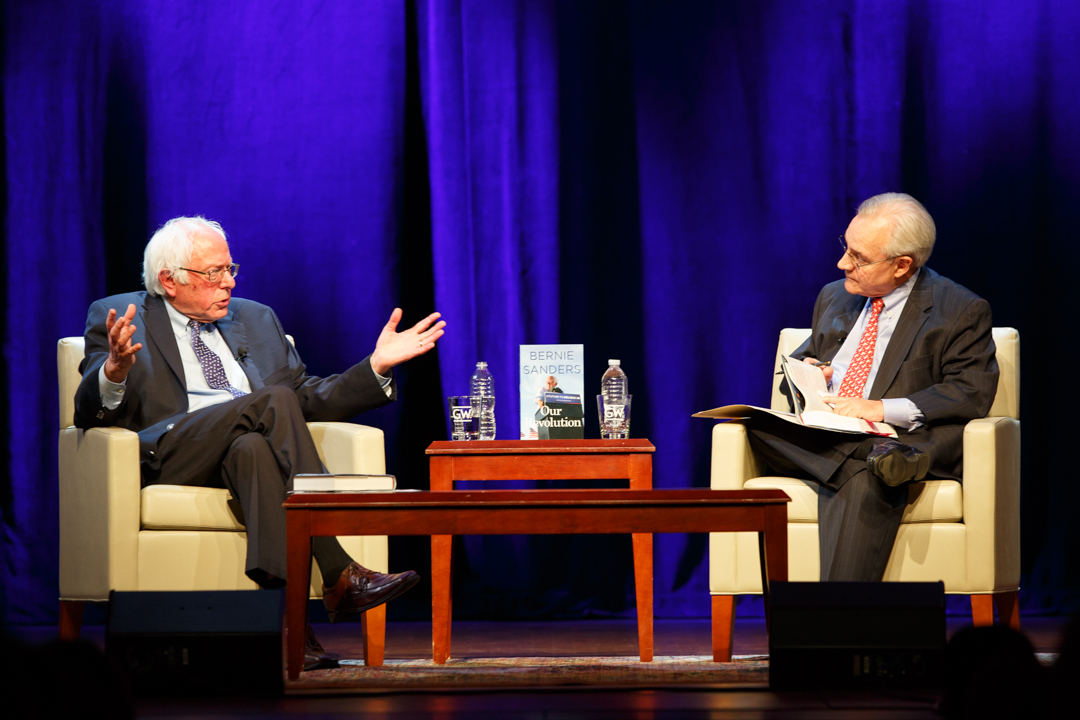 Sen. Sanders (left) speaks with Washington Post columnist E.J. Dionne Jr. during an event at GW to promote his new memoir "Our Revolution: A Future to Believe In." (William Atkins/ GW Today)
Sen. Sanders said after a difficult election cycle it's clear that Americans are looking for change.
People want to raise the minimum wage, lower childcare costs, eliminate the wage gap and fix a broken criminal justice system. Mr. Trump might have won the election, but Ms. Clinton captured the popular vote, Sen. Sanders reminded the crowd.
"The American people are on our side, don't ever forget that," he said.
Washington Post columnist E.J. Dionne Jr. led the conversation with Sen. Sanders, and at the end of the night asked him about his future political plans.
"I think that after what appeared to be a never-ending campaign, the last thing Americans are worried about who is going to run in 2020," Sen. Sanders said.