By James Irwin
Downloading a smartphone security app and signing up to receive campus crime alerts are among several steps George Washington University students can take to enhance safety as the fall semester begins, according to Senior Associate Vice President for Safety and Security Darrell Darnell and GW Police Department Chief RaShall Brackney.
In interviews conducted on the eve of the fall semester, Mr. Darnell and Ms. Brackney provided a few tips for both returning and first-year students as they get settled on campus.
"The thing we want to emphasize constantly is student awareness," said Ms. Brackney, entering her first academic year as GWPD chief. "Oftentimes we are absorbed in our everyday activities—you'll see students walking and texting, their phones are out in their hands. That makes them vulnerable to crime, especially theft. We want them to have constant awareness of their surroundings."
She and Mr. Darnell outlined a few other steps students can take:
Know your campus resources
The Office of Safety and Security website offers several resources for members of the GW community, Mr. Darnell said. Additionally, the GWPD website offers quick links to the university crime log and TIPS Line.
"That's where you can find pretty much everything you need to know about how to get emergency notifications, how to sign up for self-defense classes and about our GW PAL app," he said.
Download the GW Personal Alarm Locator
GW PAL is a safety and security mobile app that allows users to send rapid, location-specific alerts to the campus police dispatcher. It acts as a mobile silent alarm and communicates directly with GWPD.
The app, introduced last fall, is available for free download on both iOS and Android devices. Around 4,200 people have downloaded it, Mr. Darnell said. On-campus alerts sent from the app go directly to the GWPD dispatcher. Off-campus alerts go to 911.
"We've found it to be very useful," Mr. Darnell said. "The beauty of it is it's an emergency blue light that's on you all the time. And because it's GPS activated, we can know your exact location, if you are walking around campus. If you are in a building, we know the building you are in. It makes it easier for the police to get to you."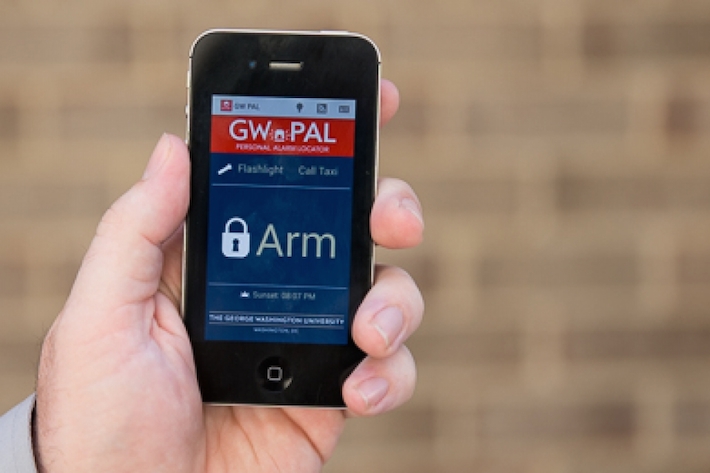 GW Personal Alarm Locator was developed by faculty, staff and students in the Office of Safety and Security, the Division of Information Technology and the School of Engineering and Applied Science.
---
Take advantage of 4-RIDE
Both Mr. Darnell and Ms. Brackney suggested 4-RIDE as a safe alternative to walking alone, especially at night. Students can schedule rides with the escort car service through the MyGW portal. From there, they can designate a time and location on the Foggy Bottom Campus for pickup.
"You can schedule your ride and they will send you a text message when your ride is on the way," Ms. Brackney said. "We've not quite reached Uber stage, but this has the capacity to schedule a ride and notify you in real-time."
Register for text alerts
GW provides crime alerts and campus advisories to all community members with a university email address. But students, staff and faculty can also have those alerts sent to them via text message by signing up through GWeb, Mr. Darnell said.
"It's an alert system we use if there is something going on around campus that we feel is a continuing threat—or if we want to provide tips for the community to protect themselves or provide us with information," he said. "Everyone is automatically enrolled through the email system, but in addition, about 20,000 people have signed up to receive text alerts as well."
Adjust your habits
This is especially true for freshmen students who aren't accustomed to being in an urban environment, Mr. Darnell said. In addition to the tips above, he and Ms. Brackney suggest taking additional steps to improve personal security.
A little change can go a long way, Ms. Brackney said.
"Again, it goes back to being mindful of your surroundings," she said. "Lock your doors, zip up your backpacks, don't leave your items sitting out in public and walk away from them. You might have to change some of your patterns and habits."