by Ruth Steinhardt
Yvonne Orji might be about to break her neck, and it will be partly GW Magazine's fault. The star of HBO's "Insecure" is using a photographer's shoulder as leverage to clamber up a low, slippery wall in the Baltimore Convention Center, determined to get the raked angle of an alcove as a photo backdrop.
"I have a tendency to art-direct," says Ms. Orji, BA '05, MPH '08. After an outdoor photoshoot proved to be too cold, she spotted this large trapezoidal niche in the convention center's spacious upper hall—"That'd look cool!"—and now, after animatedly brainstorming angles and poses, she's ready to go for it.
Ms. Orji is in Baltimore for a conference by the National Association for Campus Activities, a slightly circus-like affair connecting performers with college activity coordinators who might want to book them. Before this interview, she delivered a funny, casual talk to a cavernous hall of enthusiastic college students. Then she spent an hour meeting and taking pictures with fans, hugging, laughing and maintaining the same warm older-sisterly ease throughout. She doesn't seem tired.
An observer asks nervously: Is she sure she doesn't want at least to take her shoes off? It's a fair question. A less-proficient wearer could sprain an ankle just taking a step in the three-inch sequined pumps she's rocking. Proposing to scramble up a wall in them, even a low wall, seems like asking for trouble.
"Nope!" Ms. Orji says cheerfully. She drafts a couple of supporters, braces herself and pushes off. At the top of her precarious rise she appears suspended, for an instant, in a cinematic freeze-frame: tipped forward, arms outstretched for balance, knees bent, like a leggy Chaplin in heels.
---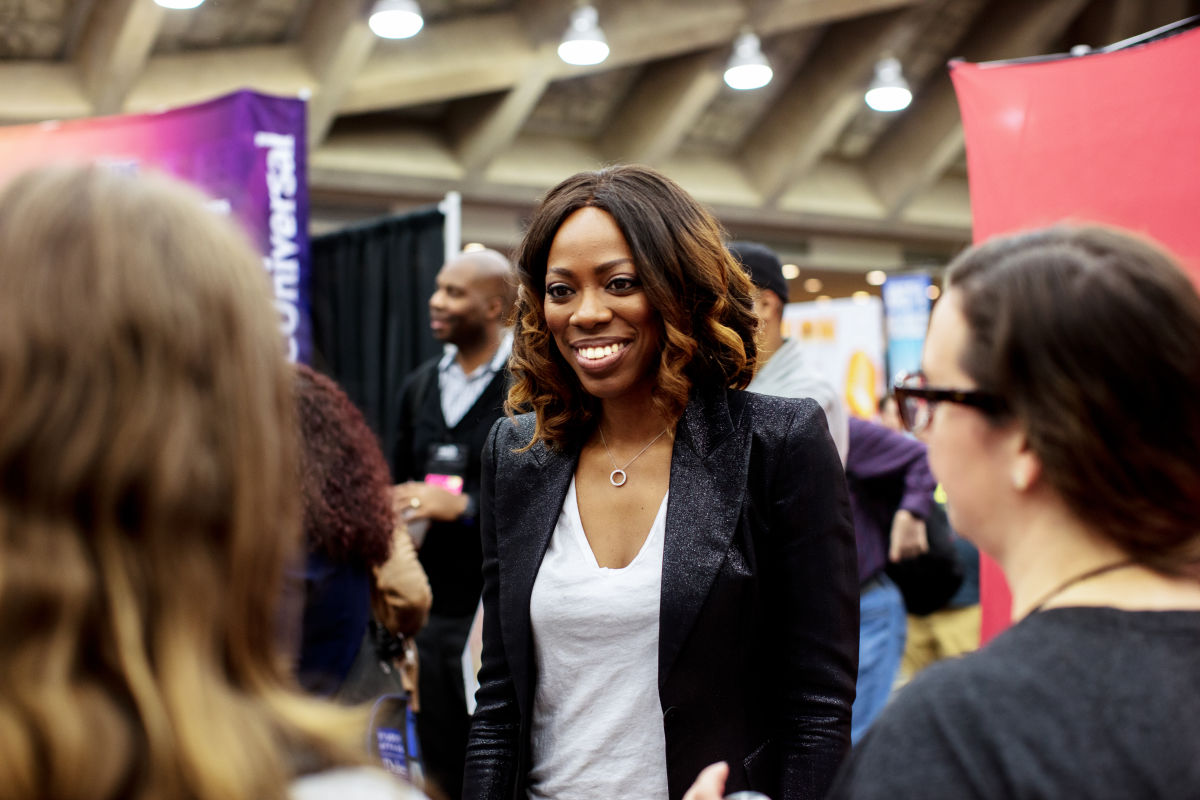 Ms. Orji at the Baltimore Convention Center in March (William Atkins/GW Magazine)
---
At this moment, Yvonne Orji is on the verge in more than one sense. This convention is taking place on a Monday: On Thursday, she'll attend the NAACP Image Awards after being nominated for outstanding supporting actress in a comedy series. The previous week, she filmed a guest spot on the hit network comedy-drama "Jane the Virgin." In between, she gave a TEDx talk in Wilmington, Del., and attended the NBA All-Star Game in New Orleans. There she recorded a podcast, "Ball Girl Magic," and, she says, Golden State Warriors star Kevin Durant approached her to say he's a fan of "Insecure." (Durant is not the only high-profile viewer, apparently: Ms. Orji posted an Instagram photo of Barack Obama from the White House Christmas Party last year, reporting that he told her and other Insecure cast members that he watched the show, "loved what [they] were doing," and "H[E]LD OUR HANDS" (capital letters Ms. Orji's). A few weeks from now, she'll begin work on the second season of "Insecure."
"It's surreal," says Ms. Orji, 33. "If I seem chill about it, it's because I'm grateful and I'm in awe. I believed in this, I prayed for it, I wanted it, but it's crazy that I'm actually here." 
Her determination to climb the wall, heels and all, is not a bad metaphor for Ms. Orji's career, in which she's followed her principles but not always the expected path. After graduating from GW, she turned her back on a medical career to pursue comedy. Now she is the second lead on a hit television show, with an NAACP Image Award nomination and an online comedy pilot of her own under her belt. 
And how did she get here? Not without taking a few leaps of faith.
---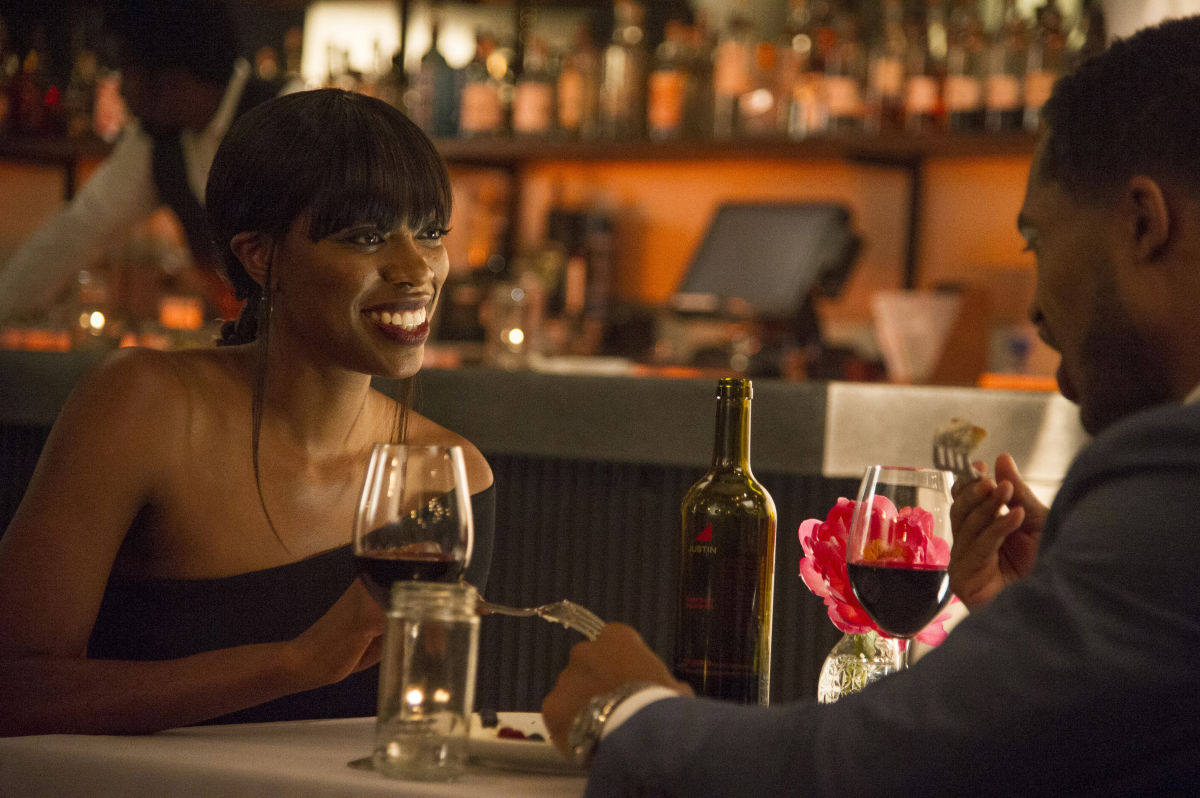 Yvonne Orji in an episode of HBO's Insecure (Courtesy HBO)
---
"Insecure," which centers on the lives of young black professionals in Los Angeles, is a bona fide hit. It garnered 100 percent positive reviews in its first season, according to media review aggregation site Rotten Tomatoes. Adapted from creator Issa Rae's web series, "Misadventures of an Awkward Black Girl," "Insecure" arrives at a moment when a number of highly acclaimed and beloved television shows—including network hits "Jane the Virgin,""Black-ish" and "Fresh Off the Boat," and cable series "Broad City" and "Atlanta"—are exploring stories outside the dominant (white, male) paradigm.
For Ms. Orji, there's never been a more important time to showcase diverse voices.
"The current climate around immigration and race is instilling this unnecessary fear," Ms. Orji says. "Media has the power to reinforce and change cultures and minds; that's what art is supposed to do. You find yourself in and identify with art, regardless of what it looks like. I kind of bristle when people talk about 'target audiences.' I understand from a marketing point of view you have to segment your audience. But I know how many black people watch 'Seinfeld.'"
On "Insecure," Ms. Orji plays Molly, a smart, stylish, driven corporate lawyer whose romantic travails seem inversely proportionate to her professional success. The best friend of Ms. Rae's eponymous lead character Issa, Molly could, in a less deft show, read as a romantic comedy sidekick cliché: the ambitious career girl who can't hold down a man. 
"In some ways she is that '90s rom-com role, the best friend who's perpetually single," Variety television critic Sonia Saraiya says of Molly. "But she's also a really well-rounded character. She's complex. She has issues of her own she's trying to deal with."
"Yvonne brings a lot of humor to Molly, and as a character she has that, but she's also dealing with some stuff that's very dark and very painful," says Prentice Penny, executive producer of "Insecure." "She doesn't have ill intentions when she makes these mistakes, but she can't get out of her own way."
Of the show's primary characters, Molly may struggle with the most extreme conflicts between her public and private selves, between her desires and the expectations she's internalized. She breaks up with a man she likes because he works at a rental car agency and never went to college; she frightens off another by assuming a commitment after three casual dates. Dating, for Molly, is a second job, though the laser-focused intensity that seems to have brought her corporate success doesn't serve her well when it comes to relationships.
Nor is her professional life uncomplicated. "She's like the Will Smith of corporate," Issa narrates in the pilot episode. "White people lo-o-ove Molly; black people also lo-o-ove Molly." But that love comes with conditions. In her predominantly white office, Molly has to constantly code-switch, adapting her behavior and her cultural markers to the expectations of her white peers. With her best friend, Molly can be her funny, candid, judgmental self, criticizing or affirming Issa's decisions, lamenting her own, wearing an old t-shirt and gorging on junk food. But at her firm, where she is the only prominent black presence, she has to be perfectly tailored, flawlessly groomed, and endure her coworkers' microaggressions with the nonthreatening smile of a happy android.
"I came away from the first season thinking 'This is a breakout star,'" Ms. Saraiya says of Ms. Orji's performance. "Part of what I love about her portrayal of Molly is the way she takes on code-switching, which can feel like a very private and even a shameful process—to admit to the world that you have to adopt different personas in order not to feel oppressed all the time. So to see an actor take that on is impressive."
In an early episode, Molly tries to tactfully intervene with a gregarious young associate who refuses to downplay her blackness to suit the firm's buttoned-down atmosphere. "If you want to be successful here, you gotta know when to switch it up a little bit," Molly tells her. The associate, understandably, takes offense: "I didn't 'switch it up' when I was named editor of the law review." 
As Molly predicts, however, her white bosses don't think the associate is "adjusting to the culture." Soon, she's been fired—although not before the higher-ups ask Molly to ask her to tone it down. Molly declines with the necessary adroitness, but privately resents that she is expected to be the "black translator."
Ms. Orji's large, vivid features have the eloquence of a silent film ingenue's. In that scene, as she listens to her white boss's awkward request, her smile barely slips, but her eyes communicate the dismay and exasperation she feels on her own behalf, the concern she feels on the associate's, and the resignation—even, perhaps, the complacency—of someone who's been proved right.
"She had to seem like she was doing nothing," Mr. Penny says. "Any reaction at all would be overselling it. The audience is with her; she doesn't need to be visibly upset, because the audience is upset for her. So that was one of those scenes where we were in the room, watching on the monitors, and we felt like we really got that specific thing we wanted."
---
For much of her life, Yvonne Orji had a more predictable career path in mind than acting: "I was absolutely 100 percent going to be a doctor."
Ms. Orji's parents emigrated from Nigeria to settle in Maryland when she was 6. Like many immigrant parents, she says, they had high—and traditional—expectations of their daughter. Throughout her adolescence, Ms. Orji was content to share those aspirations, getting high grades and never questioning her eventual medical career. "I was the good girl," she says.
But not long after arriving at GW, she began to get clues that becoming a physician might not be in the cards.
"Everything about organic chemistry, along with the fact that I don't like blood or incisions, let me know I probably wouldn't be good at being a doctor," Ms. Orji says.
Still, she wasn't ready to buck both her parents' expectations and her own long-standing intentions. She gritted her teeth and stayed the course, graduating with a major in sociology and a double minor in biology and public health. She switched from medical school to a public health graduate program as a compromise, and it was as a graduate student at GW that she made the decision that would shape her future: a jokey entry in the Miss Nigeria in America Pageant. 
Ms. Orji had never done a pageant before. When, weeks before the competition, she received an entry form that asked, among other things, for her "talent," she was stumped: "I don't have a talent! I just bought a dress! I thought this was supposed to be easy!"
One thing Ms. Orji did know how to do was talk. Since her childhood, she says, she'd talked to herself in the mirror, playing different parts, asking herself questions and answering them. She liked telling stories. And she found it easy—if not compulsive—to make people laugh. 
A devout born-again Christian, Orji prayed about it. "And all I heard was 'Comedy,'" she says.
She wrote a five-minute set based on her own immigrant-family experience. The writing part was easy: Ms. Orji liked to write, even opting into an optional 50-page paper as an undergraduate so she could graduate with honors. But the performing part was new, and Ms. Orji says she was "terrified" as she stepped onto the stage. 
"I honestly did not want to do comedy," she says. "I was immensely afraid of it, because I was afraid of rejection."
Her fears didn't manifest: The material was a hit. The thrill of the performance lingered in the back of Ms. Orji's mind, and a few months later she entered the D.C.'s Funniest College Students competition. She won the GW round and went on to do a set at the DC Improv comedy club. Each time, the pull of the stage got a little stronger and Ms. Orji's nerves a little less raw.
"The more and more I walked the stage and came out and did it, the easier it was," she says.
Still, Ms. Orji wasn't quite prepared to buck 20 years of expectations. She dutifully completed her master's, even traveling to post-conflict Liberia to work on HIV and teen pregnancy prevention for six months.
"It was literally the ultimate stalling mechanism," she says. "Like, sure, I'll go to a war-torn country! Just don't make me tell my parents I don't want to be a doctor."
When her contract in Liberia expired, she flew home. It was 2009, and the recession made job-hunting difficult. But for Ms. Orji, the stagnant job market was a gift: If she couldn't get hired in public health, she had carte blanche to try something new. She told her parents she wanted to move to New York City and try making stand-up comedy her career.
They accepted her decision, but were worried. So was Ms. Orji. "I didn't know if it was a thing I could live off, but I knew it was something I was good at, and I knew it scared the crap out of me," she said. "So I thought it was important to let that manifest a little."
The next few years were tenuous, taken up with what Ms. Orji calls "the hustle." In New York, she wrote, networked and took every chance to perform. She spent a few months as an artist in residence at the University of Richmond, teaching acting to undergraduate students. When she got an opportunity to intern with the writing staff of "Love That Girl!", a TV One series starring Tatyana Ali, she moved to Los Angeles. There, she wrote, directed and produced the online pilot of "First Gen," a semi-autobiographical sitcom about a Nigerian-American girl who gives up medical school to become a comic. And, with "First Gen" as an icebreaker, she struck up a friendship on Twitter with a writer and actress named Issa Rae.
---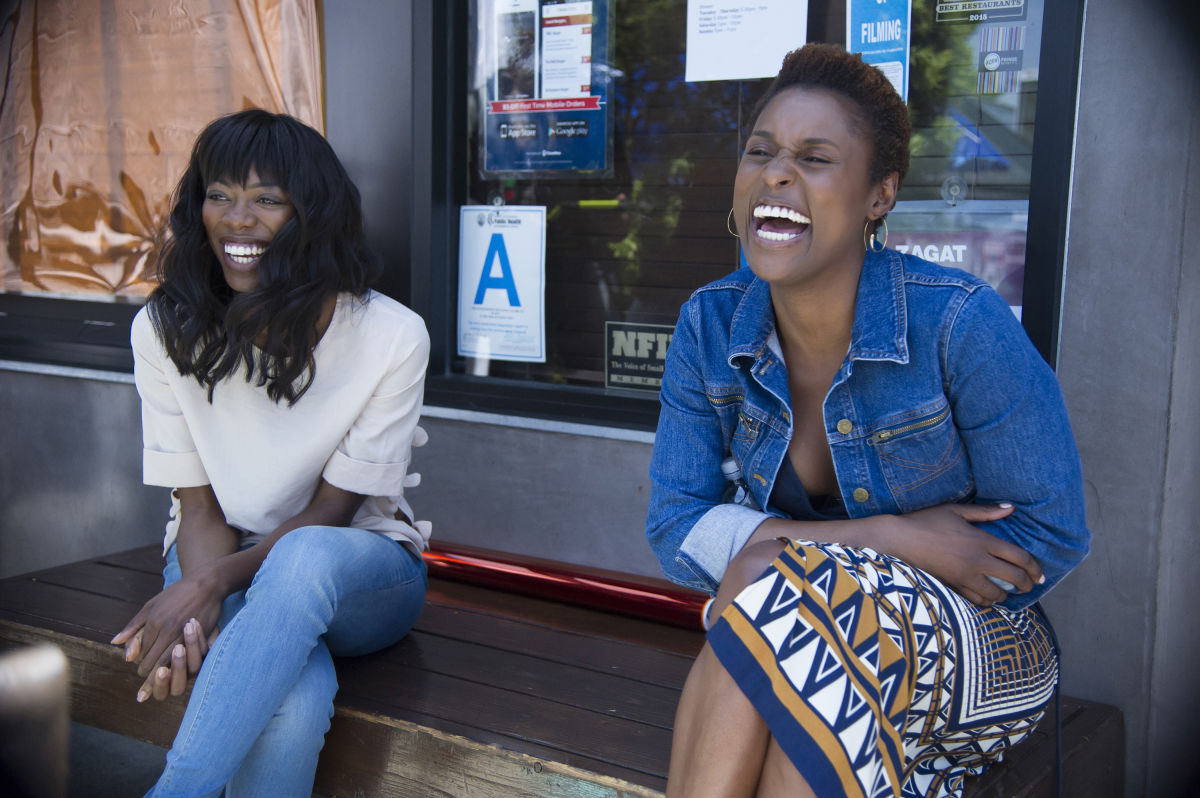 Yvonne Orji (left) and her Insecure co-star Issa Rae (Courtesy HBO)
---
"Chemistry is one of those things that's weird to quantify: Issa and Yvonne just click," says Prentice Penny, "Insecure"'s showrunner. "They understand how to give each other space to be funny, and when to pivot to the straight man role. It's almost instinctive."
Their characters' relationship is essential to Insecure's appeal. Issa and Molly have a loving, complicated, lived-in rapport that combines friendship's intimate shorthand with the no-nonsense frankness of sisters—and with the quickfire rhythm of two good comedians bouncing off each other.
"There's an intimacy and a humor they bring to that friendship that isn't like much else on TV, and for the viewer it feels like a privilege to be included in that," says Sonia Saraiya, the Variety TV critic. "The arc of the show is about Issa and Molly, not about them and some guy. It speaks a lot to the importance of female friendships, and especially to the importance of female friendships in this very specific world of black women who are college-educated."
Ms. Rae and Ms. Orji, too, bonded over their shared position in the entertainment industry. "We had this mutual bond as black girls in L.A. trying to be content creators," Ms. Orji says. And when "Insecure" was picked up by HBO, Ms. Rae called her directly. 
"She said, 'You'll still have to audition, but I think you'd be cool for this part,'" Ms. Orji remembers. "I was just grateful to her for thinking of me." 
In fact, Ms. Orji admits, hiring her would be a risk. Despite her years of hustling in the world of comedy and the viral success of "First Gen," which had attracted Oscar-nominated actor (and fellow Nigerian) David Oyelowo as a producer, she had just two named acting credits on her résumé. 
"I hadn't even done my Dick Wolf," she says, referring to the producer of the popular "Law & Order" franchise, on which many actors appear at the beginning of their careers as crooks, witnesses and murder victims.
Even with Ms. Rae's backing, the audition process was grueling. "I think we brought her back four times," Mr. Penny recalls. "And every single time she'd get better and make more interesting choices. I thought, if she's doing this in an audition, with basically no direction, how great is she going to be when she has a chance to play with it?"
Months after that first call from Ms. Rae, Ms. Orji finally got the news. She had the part.
"One thing I really appreciate about HBO, and about Issa, is that they want to provide opportunity," she says. "There were a lot of firsts on this show: It was Issa's first time being greenlit, it was my first major role, it was [director] Melina [Matsoukas]'s first time doing television. We all had the ability, but we might not have been given the opportunity to advance." 
Ms. Orji's comedy background was part of the reason she was cast as Molly. "The writers wanted somebody who understood comic timing," she says. But it had its flip side. Accustomed to using the whole stage as a comic, she had to adapt to television acting.
"That's natural for stand-up performers," says Mr. Penny. "When you're onstage, it's very physical. You're playing to the back row, to the entire room. In television, the camera is right there. If you arch an eyebrow, it seems gigantic."
As a stage performer, Ms. Orji is particularly "big—big eyes, big hands," she says. "The first few weeks of shooting was about the writers dialing me back and reeling me in. We had to find a balance."
In fact, she came to enjoy the process and the new skills it has afforded her. "Comedy's low-hanging fruit for me, so I wanted to be able to tap into drama," she says. "I always love those moments when I get to channel different levels and emotions."
But she still enjoys the chance to flex her comic muscles. In one of the pilot's funniest beats, after a climactic argument with Issa, Molly tries to storm out of her best friend's car—and is thwarted by the automatic lock. Ms. Orji improvised the moment, an opportunity she says she rarely gets on the meticulously scripted show.
"I thought, what would be the most epic fail for Molly at this very heightened moment?" she says. "Oh, getting stuck in the car. And it made it to the pilot!"
---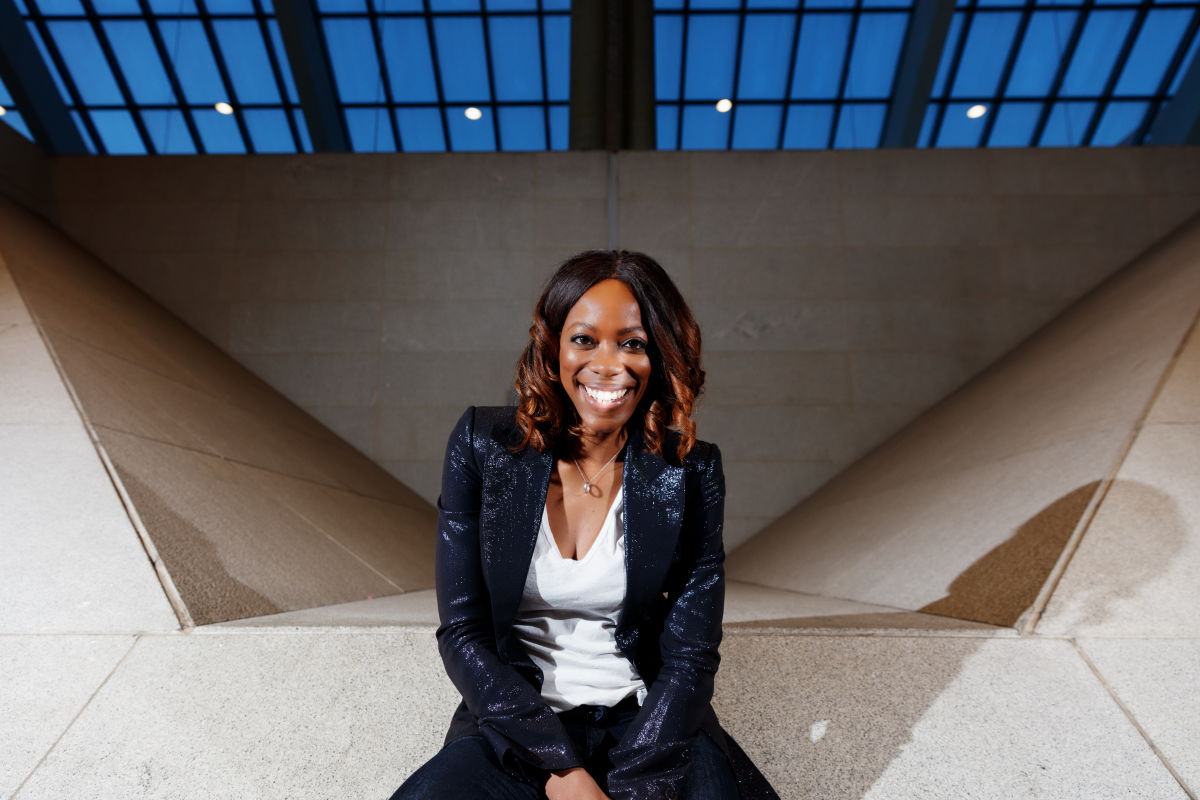 (William Atkins/GW Magazine)
---
On the edge of the alcove in the Baltimore Convention Center, it looks like another epic fail could be imminent. Hovering mid-lunge, perilous heels a-twinkle, Ms. Orji is poised either to crash or to triumph. She pushes off, wobbles, springs forward—
—and makes it. Without having compromised her choice of footwear.
"When the big stuff you envisioned for yourself starts manifesting, you're almost like, 'Is this really happening?'" Ms. Orji says of this moment in her career: her show renewed, her first awards season under her belt, strangers recognizing her at the grocery store. "It's like when you get a report card: 'Oh my god, I didn't fail?'
"When you're in the struggle, all you can think of is rising above it, what's on the other side," she says. "When you start walking on the other side of it, it's hard to believe you're walking in what you prayed for. Everybody doesn't get to experience this moment. It blows my mind."
Safely established on the wall in Baltimore, ready to shoot her magazine cover, Ms. Orji dusts off her blazer, shakes out her hair, flashes a grin. 
"No problem," she says.
(This story was originally published in GW Magazine.)