Armed conflict and displacement intensifies violence perpetrated against women and girls in South Sudan, according to a report released by the George Washington University Global Women's Institute Wednesday.
Up to 65 percent of women interviewed in some locations reported experiencing either sexual or physical violence in their lifetime by an intimate partner or non-partner. That rate is double the global average and among the highest levels of violence against women and girls in the world.
These violent experiences are deeply impacted by past and ongoing violence in the region, said Mary Ellsberg, founding director of GWI. Women often have nowhere to turn for help, fearing stigma and reprisal, she said.
"Women and girls are overwhelmingly at greatest risk of physical, sexual and emotional injury within their homes, primarily at the hands of family members and intimate partners," she said.
The study, "No Safe Place: A Lifetime of Violence for Conflict-Affected Women and Girls in South Sudan," was conducted across five sites in partnership with the International Rescue Committee. GWI began a five-year research project on the subject in 2014. The new research, which included interviews with more than 2,200 women, is the first large-scale project with data about the prevalence of violence against women and girls in South Sudan.
Abuse within the home committed by husbands or partners was the most common form of violence reported. More than half of the women who ever had an intimate partner reported domestic violence, whether physical or sexual. In Rumbek, a rural town more than 200 miles from the capital of Juba, 73 percent of women reported intimate partner violence.
For many women, intimate partner violence starts early in a marriage and continues over time, Dr. Ellsberg said. Women are often beaten when they make mistakes and divorce is not a viable option.
Up to one-third of the women interviewed reported sexual violence by a non-partner, with many incidents related to a raid, displacement or abduction. Conflict serves to exacerbate an already widespread problem, which is shrouded in a veil of silence, according to the report.
Women and girls who live in Juba Protection of Civilian (PoC) sites, which are located on United Nations bases, are the most vulnerable to this type of assault. Almost a quarter of women who experienced this violence reported that they experienced multiple incidents. One woman living in the Bentiu PoC site reported when women go out at night, men wait for them with weapons and surround them, according to the report.
Negative attitudes about gender equality, including the acceptance of violence against women, were found in all sites of the study. Long-standing discriminatory practices, such as forced and/or early marriage, polygamy and bride price—the custom of paying the bride's family, often in the form of cows, to marry a girl—have created an environment where violence against women and girls is common and accepted.
Because of conflict in the region, many men have lost their cows. Men will rape or abduct women to take as wives because they cannot afford to pay for one. Many families will also marry off daughters at ages 14 or 15 in exchange for cows to regain the wealth lost during conflict.
"In this way, the war is increasing the vulnerability, particularly of young girls, to a lifetime of violence," Dr. Ellsberg said.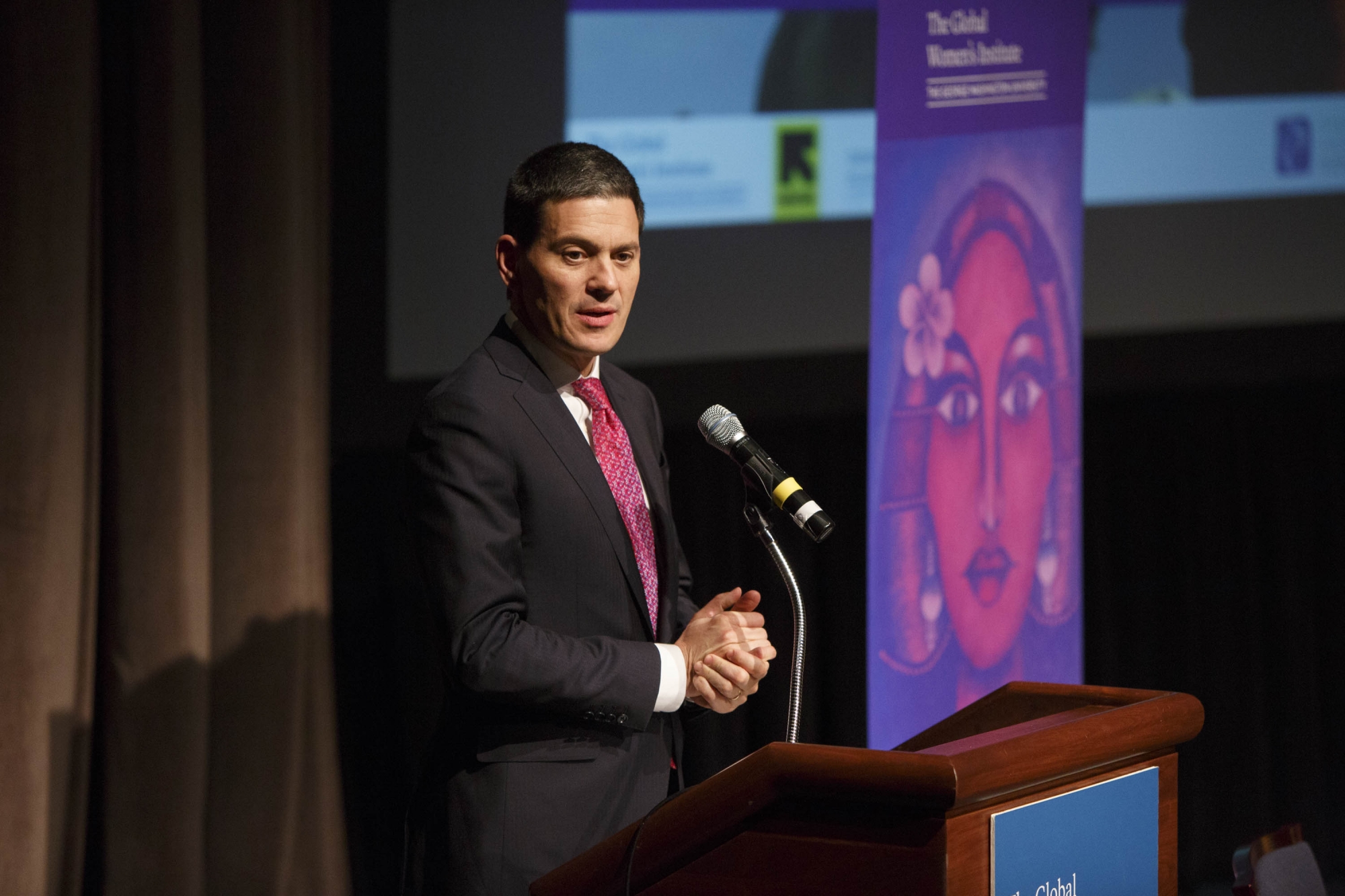 The Right Honorable David Miliband, president and CEO of the IRC, speaks about the research findings in the GWI report on violence against women and girls. (Logan Werlinger/ GW Today)
---
Women reported increased frequency of assaults by partners in times of conflict due to the instability of displacement and the economic insecurity it causes. About half of the women who had experienced violence did not tell anyone or seek medical or psychological help, owing to a combination of cultural stigma and extremely limited access to services, the report said.
A breakdown in the rule of law has meant that violence is committed with impunity and often without consequence for the perpetrators. The culture of shame, around rape in particular, is so severe that many women fear reporting the crime could lead to further repercussions, such as being forced to marry their rapist.
GW President Thomas LeBlanc said since its inception GWI has bridged research, education and action to advance gender equality and reduce violence and discrimination against women and girls in ways that are impactful around the world.
"The findings of this study paint the picture of the pervasive violence South Sudanese women and girls face throughout their lives," he said. "Findings such as these demonstrate the importance of research as evidence collected from the study will be used to inform policy and programs both in South Sudan and globally."
More people are currently displaced by conflict around the world than any time since World War II, said the Right Honorable David Miliband, president and CEO of the IRC. The international community is struggling with the scale and long-term, urban nature of the displacement.
The international community should seek out partnerships and accountability to pursue effective evidence-based outcomes, he said.
"It's research like this that can help us modernize our systems, renew our working practices and develop the kind of services that are actually fit for the modern age," he said.
The report lays plain the urgent need for humanitarian efforts not only to provide direct services for victims but also, crucially, to address the root causes and drivers of domestic and community-level violence and ensure that prevention and empowerment efforts can address deeper long-standing attitudes that perpetuate existing cycles of abuse.
Dr. Ellsberg hopes the report will "contribute to amplifying the voices of women and girls in South Sudan" and that the international community responds quickly to their concerns, she said. She is expected to present the research findings in London and South Sudan.
The research unveiling was followed by an expert panel discussion including Jehan Mechak Deng, a former South Sudanese state minister for health and environment; Valentino Achak Deng, a refugee who emigrated to the United States in 2001 and founder of the Valentino Achak Deng Foundation; Jodi Nelson, senior vice president of policy and program at the IRC; and Susan Page, who was appointed the first U.S. ambassador to South Sudan in 2011.