By Thomas Kohout
An eager audience of medical students, faculty members, family and friends filled the aisles at Lisner Auditorium for the 23rd Annual George Washington University School of Medicine and Health Sciences (SMHS) White Coat and Honor Code Ceremony.
The ceremony, traditionally held for first-year medical students at the start of their medical education, was delayed nearly two years due to COVID-19 restrictions. Despite the wait, the event served as a memorable milestone for the medical doctor program Class of 2024. The celebration was held late last month.
"I know you have already donned white coats as students – given we are a bit late in this moment for you as our world has spun with COVID-19 – but this is the first time we mark that white coat donning as witnesses, as a solemn donning that recognizes your commitments to others, that welcomes you into our tribe – and I mean tribe in the most awesome and spiritual way," said Barbara Bass, vice president of health affairs, dean of SMHS and CEO of the GW Medical Faculty Associates, as she welcomed the students and their families and friends.
According to the Gold Foundation, the White Coat Ceremony was established as a national tradition in 1993 by Arnold P. Gold. The history of the white coat, however, dates to the late 19th century. In the intervening century, the garment has come to symbolize professionalism, trust, compassion and skill.
"When you put on that white coat — that widely recognized uniform of a physician — you are saying here and now, in front of all of us, that you are taking on that burden, that responsibility, and, yes, that privilege of being a physician," Bass said. "In return, medicine will reward you with amazing joy, knowledge, wisdom, human connection and service to others of exceptional magnitude and personal impact. Medicine as a career is worth every minute you will live it."
---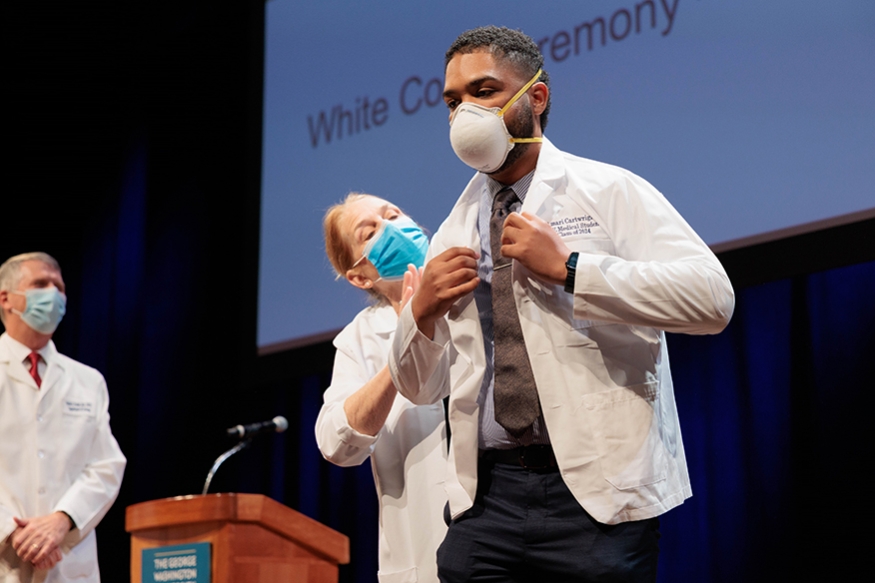 SMHS Dean Barbara Bass helps a member of the Class of 2024 with his white coat. (William Atkins/GW Today)
---
Hal Frazier II, associate dean for graduate medical education and professor of urology at SMHS, presented the faculty keynote address. Frazier, who also serves as chair of the Board of Trustees for GW Hospital and is among the founders of the urologic robotic surgery program, shared the five simple rules he learned during a medical rotation under Jack Kirk in a small rural community in New Hampshire.
"He had the most profound effect on me as a professional," Frazier recalled. "He loved what he did, and he genuinely cared about his patients, no matter what their status in life. It showed on his face and [in] his attitude. He had an attitude of gratitude."
Kirk offered Frazier the lessons that he carries with him to this day:
Treat all patients as if they are members of your own family.
Tell patients the truth, no matter how frightening.
If somebody does it better than you, send your patient to them.
Learn to say "I don't know."
Learn to say "I'm sorry" and mean it.
"I believe with all my heart that the secret to living is giving," Frazier concluded. "This profession allows you the opportunity to give every day. It's a wonderful gift."