By B.L. Wilson
Until three weeks ago, Kendall McCard, a 12–year-old student at Washington Middle School for Girls, never thought much about Oxon Run, the stream running through her Southeast Washington community or its impact on the water she drank.
"I can't imagine people used to swim in Oxon Run. Now, it is dirty and polluted and just messed up, and no one wants to swim in it any more. That's why we call it Toxin Run," she said. "It's toxic, disgusting!"
Kendall and 8 other middle schoolmates now understand the affect of pollution after mucking about in the stream's litter filled waters as part of SummerTrek, a service-learning program conducted by ArtReach, part of the Honey W Nashman Center for Civic Engagement and Public Service, and the George Washington University Biology Department.
Kennedy Oboma and Leyah Ellis, like Kendall, can speak with a certain authority about watersheds, bodies of water that travel over ground to other bodies of water, picking up pollutants along the way from the trash carelessly discarded by humans.
"We had our boots and gloves on so we could clean the water. When we got down to the creek the water was green," Leyah said. "I was grossed out."
Ultimately, they came up with their own poster and a prevention campaign slogan, "Be the Generation That Ends Pollution."
SummerTrek was designed as an outdoor living classroom to promote awareness of storm water management through cleanup projects, art workshops and environmental education. It is funded by a grant from the D.C. Department of Energy and the Environment.
Tara Scully, a teaching assistant professor in the GW Biology Department, said they also wanted the girls to be able to communicate science by interacting with scientists, seeing how they talk and observing the types of science research done at GW.
They did just that on a visit to Science and Engineering Hall. The girls questioned several researchers including Keylie Gibson, a Ph.D. candidate in computational biology, on a broad array of topics from rhinoceros feces and breast milk to the bacterial communities that develop in decomposing bodies.
Ms. Gibson explained that GW researchers are studying whether sweeteners are contributing to the deaths of captive rhinoceros populations and the effect of a mother's intake of sugar on babies by extracting the DNA from fecal matter and breast milk.
---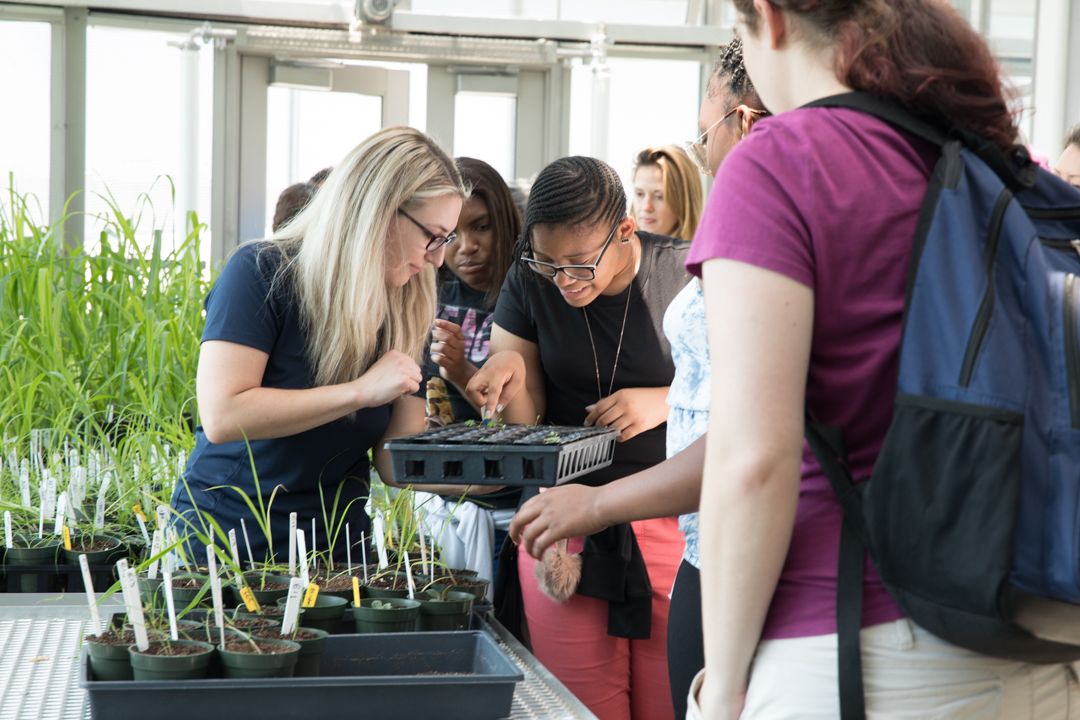 GW Harlan Greenhouse manager Rachel Klein examines seedlings with D.C. middle school students Alexis Clemons (c) and Sandra Matthews. (William Atkins/GW Today)
---
"So if you're healthy, then the baby's healthy, and if you're not healthy, then the baby's probably not healthy," Leyah surmised.
"Correct," Ms. Gibson responded, explaining that in the laboratories researchers don't work with humans but with microbiomes, sequencing the DNA to tell what microbes are in the body.
Kennedy wondered if the same occurred with cows.
"Yep," Ms. Gibson said. "Cows will eat grass, hay or corn. Whatever they intake is the net effect of how nutritious their milk is for the baby." The same goes for [human] mothers, she explained, "If she intakes a lot of fast food and sugar, that's going to affect what the baby gets."
Prof. Scully was struck by how closely they paid attention during the lab visits. "There was not a moment they were bored. They were really listening and interacting with the scientists," she said.
The girls visited the GW Wilbur V. Harlan Greenhouse where Rachel Klein, the manager, showed them plants being grown that eventually will be transferred to the Oxon Run site to absorb groundwater runoff.
About 30 GW students from the Biology Department and the Graduate School of Education and Human Development served as volunteers with SummerTrek. They helped in the classroom, and with environmental clean ups and tours.
Margot Valentine, a graduate student in education accompanied the girls on trips to the Aquatic Research Center and to Earth Conservation Corps, which is involved in cleaning up the Anacostia River.
"For me, the biggest thing that was special about this program was getting to spend time with these students every day and getting to know them on a personal level," she said. "Each one was engaged by one thing or another."
Melissa Green, the director of ArtReach at THEARC in Southeast Washington, D.C., collaborated with Biology and GW's Honey Nashman Center for Civic Engagement to develop this SummerTrek. She said Washington Middle School for Girls found it to be one of the most successful programs girls have been involved in.
"It was exciting to see children especially from an urban setting, getting outside and becoming involved with the environment," she said. She offered an open invitation to other GW students and faculty who want to become involved in ArtReach to "jump in." You can follow ArtReach on Facebook.