By B.L. Wilson
The George Washington University School of Medicine and Health Sciences (SMHS) and the Alexandria City Public Schools held a ceremonial ribbon cutting Friday for a partnership, the Governor's Health Sciences Academy at T.C. Williams High School, that will help to address a growing demand for highly qualified health care workers.
Virginia Gov. Ralph Northam (D), GW President Thomas LeBlanc and SMHS Dean Jeffrey Akman joined Gregory C. Hutchings Jr., the superintendent of Alexandria City Public Schools, and Peter Balas, principal at T.C. Williams High School, and more than 100 students on stage at the school for the ceremonial opening of the Governor's Health Sciences Academy.
The T.C. Williams Jazz Band entertained as the audience filed in, followed by a presentation of flags by the Junior ROTC and the singing of the national anthem.
Training got underway this past summer with a bridge program held at GW's Graduate Education Center in Alexandria, Va., to prepare students for college-level courses.
The students are the first cohort of ninth graders to have the opportunity to earn college credit for courses offered by SMHS, industry certifications in health care and expanded access to training and higher education at GW, the Northern Virginia Community College and other institutions in the area.
The academy provides free tuition to the cohort of students, 70 percent of whom are female. The cohort is diverse. The students speak more than 15 languages and many are the first in their families to pursue higher education degrees and careers in health care.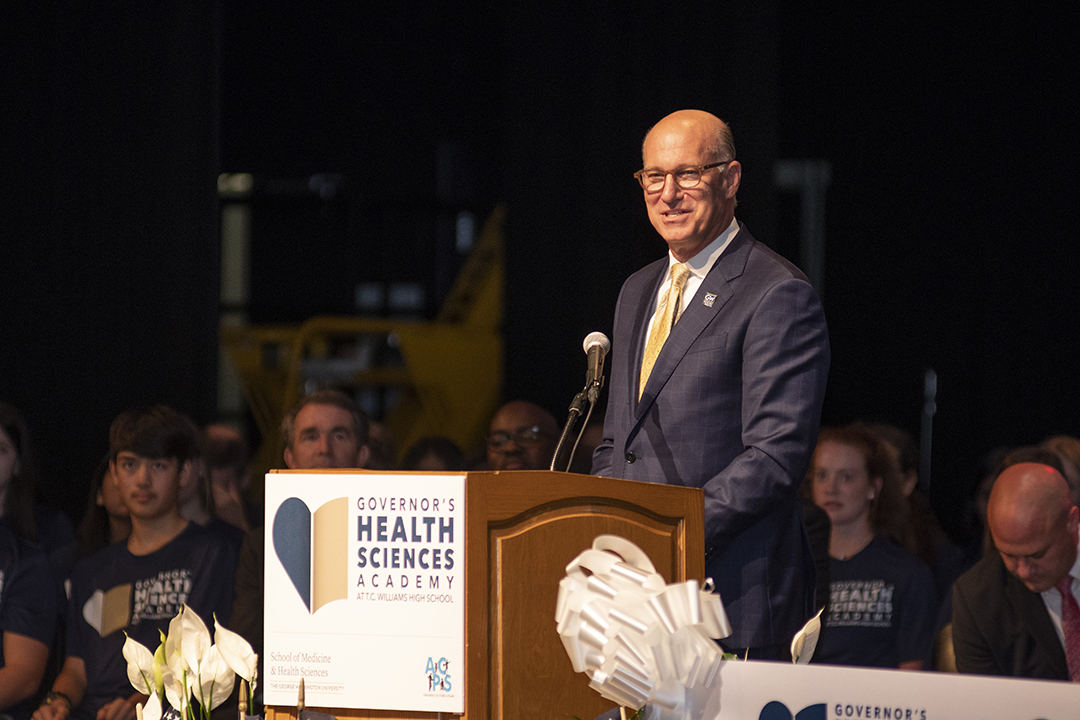 SMHS Dean Jeffrey Akman said the academy will play a key role in building a diverse health care workforce that embraces the challenges of achieving health equity. (Photo courtesy of SMHS)
---
The program has special meaning for Dr. Northam, who has practiced as a physician for more than 30 years, including as an army doctor and a pediatric neurologist. He spoke with students from the academy before addressing a T.C. Williams assembly that included parents, teachers, GW faculty and staff, area business and community leaders, and state and local officials.
Dr. Northam highlighted conversations with students who shared interest in careers in anesthesia, cardiac care and women's health. "Now get this," he said. "One wants to be a pediatrician, but after I talked to her for just a little bit she's going to be a pediatric neurologist."
He highlighted the importance of teamwork in health care, sharing the critical roles of professionals such as doctors, nurses, physician assistants, medical and laboratory technicians and others. "We are all in this together," he said, speaking about how health care is delivered.  
He explained that education and workforce development are priorities of his administration, using the term STEAM-H, instead of STEM, to highlight science, technology, engineering and math—arts and health care.
"Our job is to teach and train our youth for 21st century jobs. There will always be a need for trained health care workers," Dr. Northam said.
Dr. LeBlanc said that GW has been a dedicated partner for nearly 200 years in the region where T.C. Williams is located, an area known as "a hub for innovation, problem solving and addressing society's most complex issues," including the workforce challenge the academy has taken on.
The GW president announced that in addition to the resources provided by the Commonwealth of Virginia and Alexandria City Public Schools, GW has also received a grant of nearly $3.2 million from the Health Resources and Services Administration for diversifying the health care workforce in the region.
"This funding will provide scholarships and training stipends for students who might not otherwise be able to continue their education, as well as career counseling and fund a virtual anatomy simulator, which you will all have an opportunity to try out," he said.
The U.S. Bureau of Labor Statistics, cited by the governor, project a growth in health care jobs of 18 percent for the country through 2026, adding 2.3 million positions, which makes the role of the academy vitally important.
Dr. Akman, who also serves as the GW vice president for health affairs, said the academy will play a key "role in building a diverse health care workforce that embraces the challenges of achieving health equity-- the attainment of the highest level of health for all people."
Mr. Hutchings, the Alexandria City Public Schools superintendent and himself a graduate of T.C. Williams, said he hopes that the academy will be the first of many such activities and cooperations with institutions of higher learning and will serve as a model for the state.
Recently passed legislation expanding Medicaid focused on health equity goals in Virginia, according to Dr. Northam, increased access to health care for 400,000 people in the commonwealth.