U.S. Sen. Tammy Duckworth (D-Ill.) described Nov. 12, 2004, as her "alive day" during her George Washington University Commencement address Sunday on the National Mall.
"It was the day I almost died, but didn't," she said. "It was a good day for me."
Flying over Iraq, Sen. Duckworth's Black Hawk helicopter was hit by a rocket-propelled grenade. The explosion vaporized one of her legs, she said, and blew off the back of her right arm. The aircraft instrumental panel amputated her other leg.
"I was quite literally in pieces," Sen. Duckworth said.
Yet, her crew refused to leave her behind, she said, and helped to save her life.
"I knew from that moment on I would spend every single day of the rest of my life trying to honor the courage and sacrifice of my buddies who saved me," Sen. Duckworth told an estimated crowd of 25,000, including roughly 6,000 graduates, as the university celebrated the end of its 196th academic year.
The senator shared her personal story as part of her themes of embracing failure, taking advantage of opportunity and maintaining humility in which she referenced the words of President Theodore Roosevelt and rapper and songwriter Kendrick Lamar.
"Every time I got knocked down, I got back up. I dusted myself off, and I got back in the arena—when my face had literally been marred with dust and sweat and blood. And I am so glad that I did," she said.
[video:https://vimeo.com/218371268 width:560 height:315 align:center lightbox_title:tammy duckworth]
Resilience is increasingly important, said Sen. Duckworth, M.A. '92. Especially with today's challenges at home and abroad, the stakes are higher for students embarking on their post-university lives. She quoted President Roosevelt, who said, "There is no effort without error and shortcoming."
"It's really just an eloquent way of saying, don't be afraid of failure," she said. "Successful people didn't make it because they never failed. They made it because they never gave up."
She encouraged her soon-to-be fellow alumni to "step up."
"You can be our nation's next generation of leaders," she said. "Luckily, as GW grads, you already have a head start on many of your peers. Over and over the students of GW have proven to be some of the most civically engaged students in the nation, showing leadership in and out of the political arena."
But doing so, Sen. Duckworth said, requires trying, doing, putting yourself out there and—yes—sometimes failing.
"Don't be afraid of failure," she said. "Be afraid of never tasting it."
And she urged graduates to remember the "good fortune and luck" they had that enabled them to experience the opportunities and take advantage of the resources at GW. 
"Some of you have been lucky enough to afford tuition here without help, but even if you worked three jobs ... there are people out there who aren't as lucky," she said. "I guess what I am saying is—to reference Kendrick Lamar—be humble."
Sen. Duckworth urged students not to lose sight of what lays ahead, what remains to be accomplished.
"Don't be a timid soul that knows neither victory nor defeat," she said. "It is time to get in the arena."
Congratulatory Remarks
Remarks from university leaders preceded Sen. Duckworth's Commencement address.
Provost Forrest Maltzman welcomed graduates, highlighting the "one-of-a-kind" opportunity to celebrate Commencement on the National Mall. GW is the only university that holds its graduation ceremony on the Mall.
Dr. Maltzman recognized the achievements of GW's graduates and those who supported them—family, friends and fellow alumni alike—and said Sunday's setting at the foot of the Washington Monument, which was dedicated to the nation's first president and GW's namesake, was a "fitting tribute to your achievement."
Introducing George Washington President Steven Knapp, Dr. Maltzman thanked Dr. Knapp, whose tenure as president ends July 31 after 10 years of service to the university. He noted how the university has advanced under his leadership.
"I know that what he is proudest of is the approximately 50,000 students who have graduated from this university during his tenure and who are each making their own contributions to the world," Dr. Maltzman said.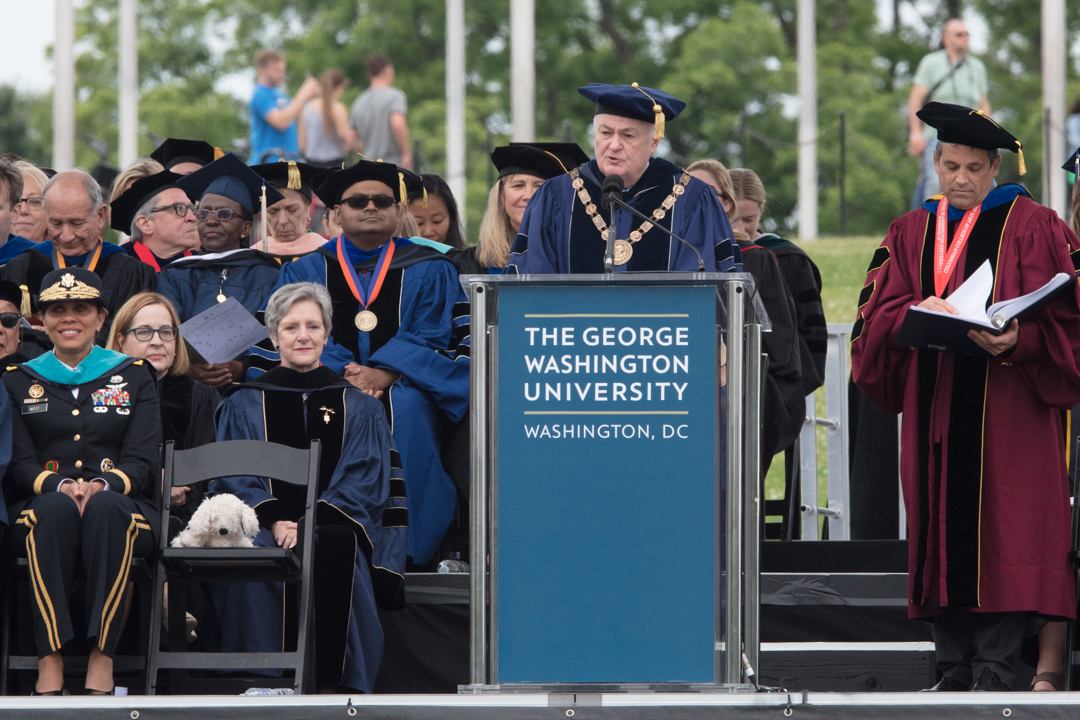 George Washington President Steven Knapp charged graduates to keep alive their spirit, energy, imagination, commitment to service and curiosity. (William Atkins/GW Today)
---
Dr. Knapp continued "an important Commencement tradition" by thanking the parents, families and friends of the graduates.
Board of Trustees Chair Nelson Carbonell, B.S. '85, said his GW education and friends have stayed with him and "continue to enrich life."
His charge to graduates: "Take what you have learned and the pride and respect you have gained for your alma mater into the world as citizen leaders. Remember, who you are has been shaped by your experiences here at the George Washington University."
Mr. Carbonell also took a moment to recognize Dr. Knapp—not only for the institution's growth under his leadership but also for his direct involvement in students' success, from move-in day to Commencement.
"President Knapp wants all of you to succeed in your future endeavors," Mr. Carbonell said.
Special Recognition
Angela Sako, B.A. '15, M.P.P. '17, was selected as this year's student speaker.
Her remarks Sunday were framed around life's "welcomes"—the "welcomes" that many receive to uncertainty, challenges, new friends or a new university.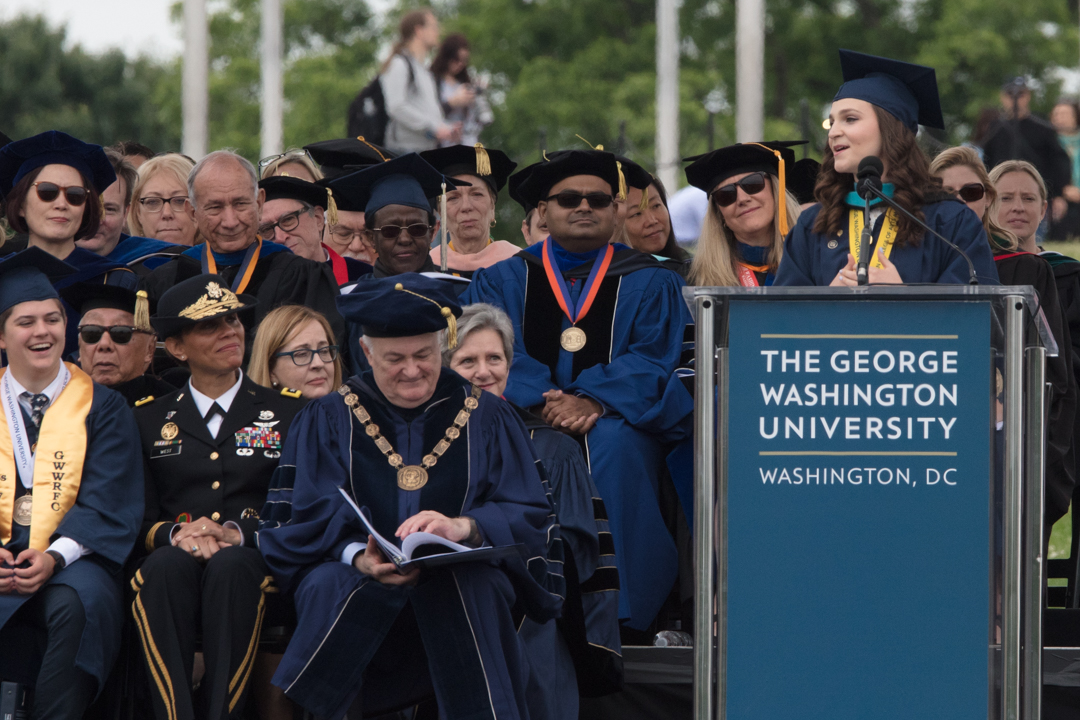 Angela Sako delivers her speech Sunday. Ms. Sako's theme was "welcoming" the challenges and opportunities that lay ahead. (William Atkins/GW Today)
---
Ms. Sako was just 14 years old, a recently arrived immigrant from Albania by way of Italy who spoke little English, when her father died unexpectedly. She said she felt "so low" she wondered "if I could ever be lifted."
But with support from family and friends, she said she transformed grief into resilience. She eventually was welcomed to GW with a letter of acceptance and a Stephen Joel Trachtenberg Scholarship.
She encouraged her fellow graduates to welcome the years ahead.
"Our journey ahead might hand us some bricks, but let us remember that if we welcome these challenges, and we encourage each other to open a window, a wide door will follow," Ms. Sako said.
[video:https://vimeo.com/218371920 width:560 height:315 align:center lightbox_title:angela sako]
Dr. Maltzman also recognized this year's recipients of the GW Awards, presented to students, faculty and staff who have made extraordinary contributions to the GW community. Richard Livingstone, B.A. '12, M.P.A. '17; C. Thomas Long, Ph.D. '05, assistant professor of history and coordinator of undergraduate history advising; and Bridget Smith, B.A. '17, were recognized with the awards Sunday.
Three other students—Howard Charles Goodison II, B.A. '17; Antonia Keutzer, B.S. '17; and Thomas Elms, B.A. '17—assisted Dr. Knapp in conferring honorary degrees Sunday to Sen. Duckworth, Lt. Gen. Nadja Y. West, M.D. '88, and The Washington Post Executive Editor Martin Baron.
Dr. Knapp highlighted the recipients' many achievements and officially awarded each with an honorary degree of doctor of public service.
In his remarks, Mr. Baron talked about the importance of a free press as journalists face growing threats both around the world and in the United States. "The president has said that he is at war with the media," he said. "We are not at war. We are at work.
"We are doing jobs inspired by the First Amendment, which was drafted by our nation's founders with this fundamental idea: that the press—and all citizens—should hold government to account."
Dr. West, the highest-ranking African-American woman in the history of the U.S. Army, said she was "truly honored, humbled and grateful" to receive the honorary degree, citing "the strong foundation that the George Washington School of Medicine and Health Sciences provided in the art of being a compassionate healer."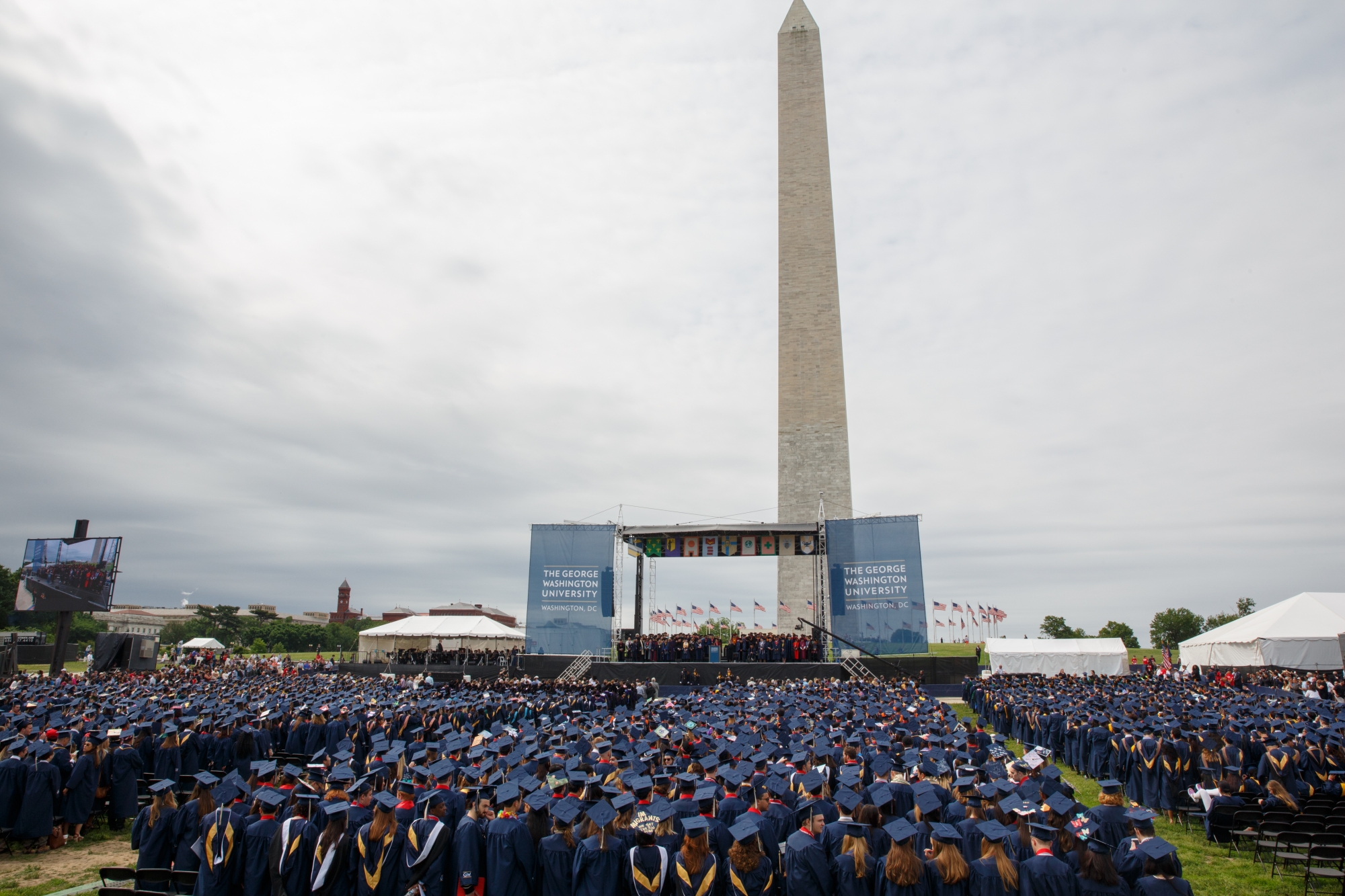 Roughly 6,000 graduated from GW on Sunday. GW is the only university that holds its graduation ceremony on the Mall. (William Atkins/GW Today)
---
Main Event
Later, finally, GW's most important degree recipients of the day got their turns.
The graduates joined a "lifelong and worldwide community" of GW alumni, now numbering more than 280,000, Dr. Knapp said.
Dr. Knapp charged them to keep alive their spirit, energy, imagination, commitment to service and curiosity.
"You are our future," Dr. Knapp said. "We depend on you to repair what earlier generations have broken, to build what we have left un-built, to learn what we have not yet learned, to heal what we have so far left unhealed.
"And as you go forth to do these things, always know that, at the George Washington University, you have a home in the heart of this nation's capital."