By James Irwin
U.S. Sen. Cory A. Booker (D-N.J.) brought enthusiasm and power to the podium for his George Washington University Commencement address.
But first, he offered thanks.
"I have to thank this community of incredible folks for inviting me here. Thank you for letting me be a part of this," he said. "I would be remiss if I didn't thank the entire community, and that includes the people who clean floors and toilets, the people who manicured lawns and kept the university beautiful.
"This is a day that all of GW should celebrate, and all of those who made it possible should be thanked."
On a bright and unseasonably chilly morning following weeks of rain in the nation's capital, Sen. Booker and members of the GW community gathered Sunday to celebrate the end of the university's 195th academic year. Facing a sun-splashed National Mall and with an estimated 25,000 people in attendance, Sen. Booker channeled life lessons from his parents, personal triumphs and tragedies in a speech that urged graduates to fight for a better, less cynical future by taking control of their own lives.
"[My father] would say you can't control the world, but you can control your reactions," Sen. Booker said. "Don't give in to cynicism. It is a toxic spiritual state. You've got to be one that, wherever you are, like a flower, you've got to blossom where you're planted. You cannot eliminate darkness. You cannot banish it by cursing darkness. The only way to get rid of darkness is light and to be the light yourself."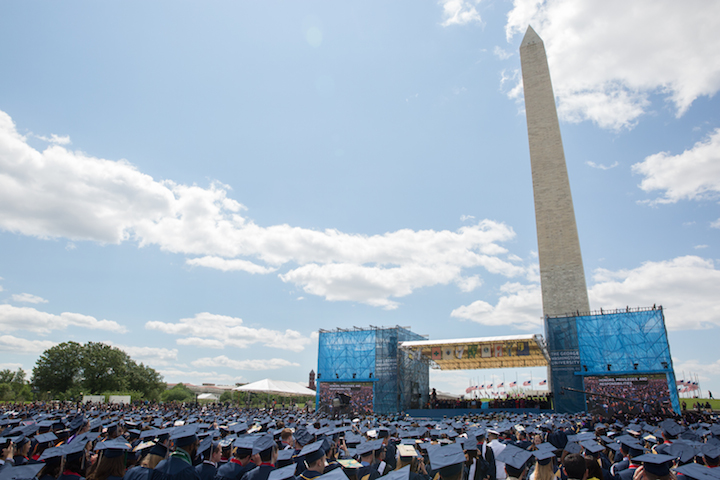 An estimated 25,000 people—including 6,400-plus graduates—attended Commencement on the National Mall. (Logan Werlinger/GW Today)
---
'We need to change our world'
High winds on the National Mall caused the university to trim portions of the ceremony Sunday. It did not seem to affect Sen. Booker, who delivered an emphatic speech filled with anecdotes, advice, jokes and confessions.
He spoke of his parents having their first date at the Jefferson Memorial—"my dad got lucky to meet my mom, and my mom had the charity to allow him to marry her"—and delivered droll one-liners that sparked laughter in the crowd.
"My mom has a saying: Behind every successful child is an astonished parent," Sen. Booker said.
He implored those in attendance to heed the wisdom of their parents and to raise the level of respect and civility in America, starting with their own daily actions.
"I'm tired of this call in our country for this idea of tolerance—that is not the aspiration," Sen. Booker said. "We have a nation right now that seems to think the greatest and highest achievement is for us to be a tolerant nation, but I say no. We're not called to be a tolerant nation. We're called to be a nation of love. What we need to do is understand that we have to love each other, that we have to see each other have worth and dignity and value."
His words were moving, especially when he presented his advice against his own flaws and mistakes. In a particularly emotional moment, he told a story about Hassan Washington, a teenager who reminded Sen. Booker of his father.
Mr. Washington often hung around Sen. Booker's Brick Towers apartment building during his days on the Newark City Council. Sen. Booker grew fond of him and his friends, taking them out to dinner and to the movies. But in 2006, he became too busy to spend much time with them. He was running for mayor and had to focus on his campaign. After he won, he was "racing around," trying to make the city a better place.
About a month after Sen. Booker took office, Mr. Washington was shot and killed a few blocks from Brick Towers.
"Hassan Washington, from my building," Sen. Booker said Sunday. "From my lobby, four floors below me. It was Hassan."
It was a tragic and life-altering moment for Sen. Booker. He shared it Sunday to demonstrate how good-intentioned people are often in such a hurry to change the world, they forget to change their world first.
"God had put this kid right in front of me every day," he said. "I failed Hassan. All of us crowded right into that funeral home. We were all there for his death, but where were we for his life?"
He challenged graduating students to persevere and to be present.
"Stay faithful," Sen. Booker said. "Stay faithful because you have come this far by faith—faith in each other, faith in yourselves, faith in our country. And understand that you may not be called to change the whole world, but to one person, you could make a world of difference."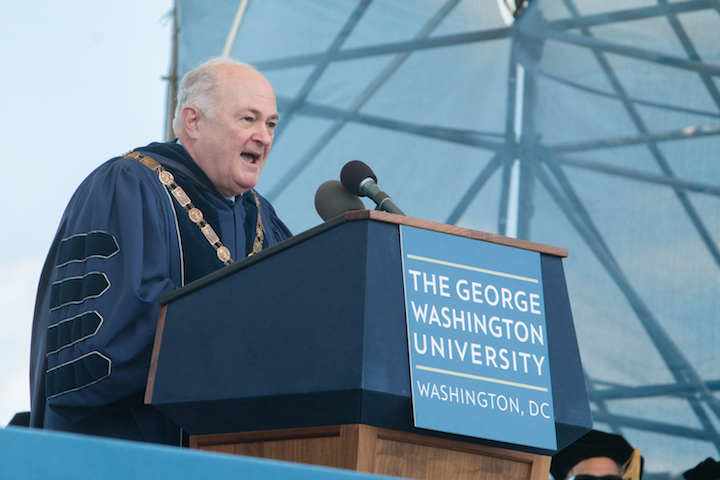 George Washington President Steven Knapp addresses the graduates. (Rick Reinhard/For GW Today)
---
A unique setting
Congratulatory remarks from university leaders preceded Sen. Booker's Commencement address.
Interim Provost Forrest Maltzman welcomed graduates Sunday, highlighting the "one-of-a-kind" opportunity to celebrate Commencement on the National Mall. GW is the only university that holds its graduation ceremony on the Mall.
"To gather here in the shadow of the monument dedicated to the nation's first president and our university's namesake is a fitting tribute to your achievement in completing your degrees," Dr. Maltzman said.
George Washington President Steven Knapp continued "an important Commencement tradition" by thanking the parents, families and friends of the graduates. Board of Trustees Chair Nelson A. Carbonell, B.S. '85, recognized other members of the board in attendance and noted the ongoing success of the university's Making History Campaign, which has raised more than $855 million to date.
Mr. Carbonell drew on his own experiences in charging graduates to maintain their strong connection to their alma mater.
"GW prepared me well for the opportunities and challenges that I faced throughout my life," he said. "I will forever be grateful and loyal to this university. Remember, graduates, who you are has been shaped by your experiences here."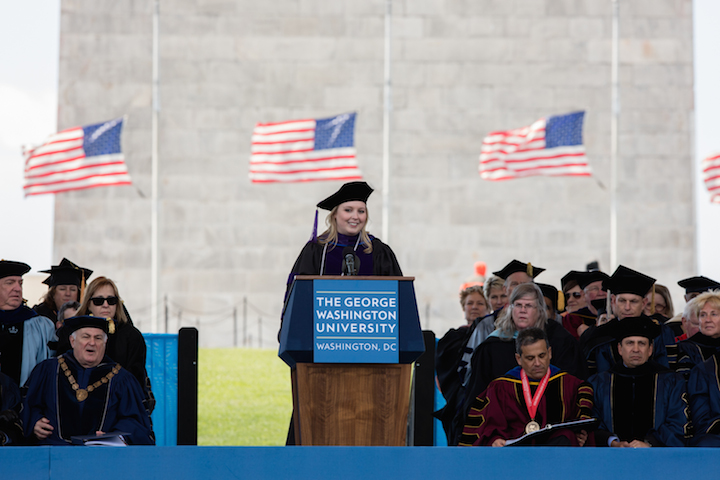 Julia Haigney urged fellow graduates to push beyond their comfort zones. (William Atkins/GW Today)
---
Starting a new adventure
GW continued many longtime Commencement traditions despite Sunday's abbreviated ceremony.
Student speaker Julia Haigney, B.A. '11, J.D. '16, channeled her diverse GW experiences into a speech that encouraged graduates to push beyond their comfort zone. She was selected from nine undergraduate and graduate student finalists last month after penning a speech recounting how GW taught her to try "green eggs and ham," a reference to the popular Dr. Seuss book that encourages children to try new things.
"For me, perhaps like many of you, this has been a time of tremendous growth," Ms. Haigney said. "As you move forward in the world, I ask that you find your own green eggs and ham—and continue to try them. Pioneer in a field, take a risk or start a new adventure."
Dr. Maltzman recognized this year's recipients of the GW Awards, presented to students, faculty and staff who have made extraordinary contributions to the GW community. University Registrar and Associate Provost Elizabeth Amundson, B.A. '86, M.A. '01; Christopher Evans, B.A. '16; Timothy Rabolt, B.B.A. '15; and Professor of Computer Science Rahul Simha were recognized with the awards Sunday.
"The students, staff and faculty who receive the GW Award have each, in his or her own way, shaped our university, making it the outstanding institution it is today," Dr. Maltzman said. "It gives me great pleasure to announce this year's honorees."
Three other students—graduating seniors Marguerite Wedeman, B.A. '16, Eric Darnell, B.A. '16, and Conor Coyne, B.S. '16—assisted Dr. Knapp in conferring honorary degrees Sunday to Sen. Booker, Baroness and Parliamentarian Joanna Shields OBE, M.B.A. '87, and philanthropist and Southern Engineering Corporation President Albert Harrison Small.
After he conferred their degrees, Dr. Knapp paused and offered a final charge to the graduates.
"Go out, be the light, remain faithful and change our world," he said. "Congratulations to you all."
The university-wide ceremony was one of more than a dozen events—including individual school celebrations, a doctoral hooding ceremony, senior class toast, athletics graduation event, Phi Beta Kappa induction and Interfaith Baccalaureate—held during GW's Commencement week, May 9-15.
Sen. Booker takes a selfie with a graduate Sunday. (Logan Werlinger/GW Today)
---