By John DiConsiglio
When Ievgen Lavrukhin, M.A. '18, Ph.D. '20, thinks about his native Ukraine, he remembers his years studying physics at Karazin Kharkiv National University. That's where he met his wife, fellow physics student Oksana Chubenko, Ph.D. '19, and where he spent his days strolling through parks after class, joining fellow students at microbreweries and restaurants in Kharkiv and attending science lectures at the dozens of universities and schools throughout the city.
"It's a very big, very vibrant, very nice city," said Lavrukhin, now a postdoctoral fellow at the University of Michigan. "It was a super awesome place to be a student."
Today, the images Lavrukhin and his wife see of Kharkiv no longer resemble the bustling student hub where they fell in love. Since Russia launched its siege of Ukraine earlier this year, the nation's second largest city has been bombarded by missiles and artillery strikes. Many of the nearly 3 million people in the eastern province have fled or scattered to shelters. The city center is all but obliterated, and the university buildings where Lavrukhin and Chubenko studied are largely ruins. One friend posted a social media photo of Lavrukhin's old physics lab with the roof caved in.
"The campus basically doesn't exist anymore," Lavrukhin said.
With family members still trapped in the line of Russian fire, Lavrukhin and Chubenko are among the many members of the George Washington University community who are worrying about loved ones in Ukraine while supporting humanitarian aid efforts at home and abroad.
Physics Professor Andrei Afanasev, who grew up in Kharkiv, anxiously awaited word from his mother and sister during the early weeks of the war as they huddled in a city bomb shelter. "They, unfortunately, became experts on the sound of bombs dropping close by," he said. They've since escaped across the western border and are now in Lithuania.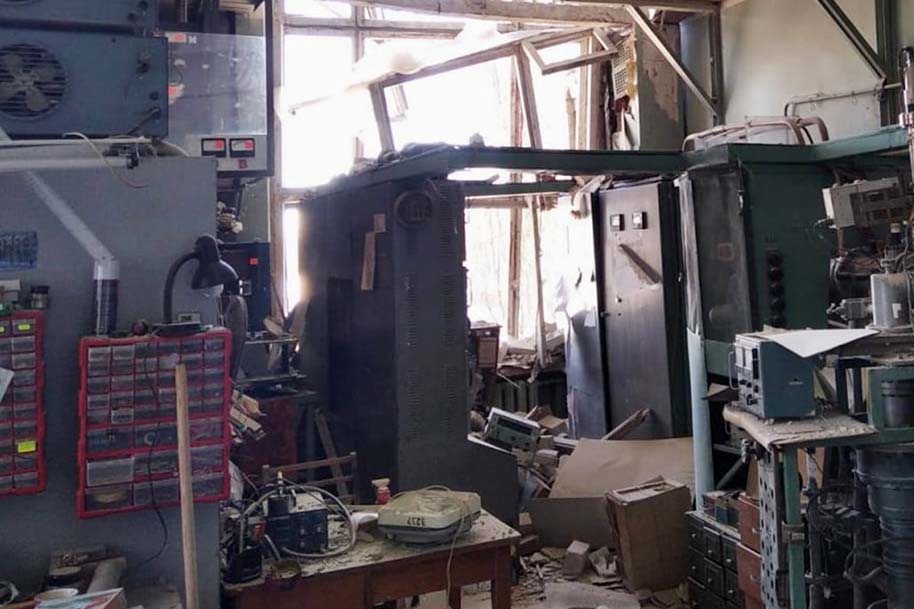 Ievgen Lavrukhin's physics lab at Karazin Kharkiv National University after Russian attacks. (Photo courtesy Ievgen Lavrukhin)
Assistant Professor of Sociology and International Affairs Michelle Kelso, who often visited Ukraine while researching Holocaust remembrances, traveled to neighboring Romania over spring break to join relief efforts. She has helped reunite friends and colleagues among the more than 4 million refugees fleeing Ukraine. "Seeing so many people—so many friends—under duress, our hearts were breaking," she said. "We had to do something."
And physics Ph.D. student Erin Seroka, who lived with her family in Kyiv from ages 6 to 15 and attended school just miles from the scenes of atrocities in Bucha, has spearheaded fundraising campaigns at GW for the beleaguered region. With the help of fellow GW students and faculty members, Seroka has partnered with the nonprofit Nova Ukraine to provide donation opportunities for bringing first aid, food, medication, transportation and basic needs to the Ukrainian people.
"I am grateful to see how the international community has supported Ukraine, and I want to do my part," Seroka said.
Heartbreak and Hope
Like many in the GW community, Afanasev's connections to Ukraine straddle both personal and professional lines. Along with other members of the Columbian College of Arts & Sciences (CCAS) Physics Department, Afanasev has long collaborated with colleagues in Ukraine, including a 2019 U.S. Department of Energy initiative to develop a joint nuclear education graduate curriculum.
The project stalled, first because of the COVID-19 pandemic and now because of the war. Afanasev still holds out hope of hosting Ukrainian students and researchers at GW in the future. Indeed, even as rumors of a Russian invasion swirled earlier this year, Afanasev planned to attend a summer conference in Kyiv. "I was devastated, shocked" by the invasion, he said. "I truly didn't believe it would happen—until it did."
He continues to hear dire news from his colleagues in Kharkiv, including one fellow scholar who evacuated his apartment after an unexploded missile lodged in his ceiling.
Kelso, the director of the CCAS Human Services & Social Justice program, began her research trips to Ukraine in 2018 along with her husband, who is from Romania. She was instantly captivated by Odessa, the southern city along the Black Sea that she called a "mecca" of culture, art and history. "I fell in love with Odessa, I fell in love with Ukraine," she said. "The energy was so exciting that I immediately wanted to buy an apartment there for our retirement years."
Shortly after the war broke out, Kelso launched a Facebook campaign that raised more than $10,000 in donations, including funds for a hospital in Odessa. Meanwhile, she and her husband traveled to Romania, where they've housed eight refugee families in Bucharest apartments and office spaces that they own along with her husband's family.  The families include included a mother and two young daughters forced to quickly flee heavy fighting near the eastern Sumy region.
"They literally had no time to pack. They just took whatever they could grab and go," Kelso recounted. Kelso took the family shopping for clothes with donated funds. But the daughters, both aspiring musicians, left behind their prized possessions—a cello and a traditional-stringed instrument called a bandura. A Romanian performing arts academy enrolled the girls in an afterschool program and lent the 13-year-old daughter a cello. "They haven't found a bandura yet, but they're trying to interest [the 9-year-old] girl in the violin," Kelso said. "It really does a take a village."
Michelle Kelso (second from left) traveled to Romania in mid-March to volunteer alongside Romanian and Ukrainian aid workers. (Photo courtesy Michelle Kelso)
For now, Chubenko's family are relatively secure with food and electricity in Sumy—although Lavrukhin said the thud of artillery fire is ever-present. Lavrukhin's mother and brother were recently evacuated from Slovyansk in the Donetsk region, just days before Russian rockets struck a crowded train station nearby and killed at least 50 people. His former classmates in Kharkiv have mostly fled the city's high-rise buildings for underground shelters. "No one sleeps at home because it's unsafe," Lavrukhin said. "They come out of the shelters for cooking and to pick up things they need—then go right back underground again."
Seroka's friends have largely evacuated the country, including a childhood babysitter who escaped with her seven children through Slovakia to a two-room apartment in the Czech Republic. Her husband stayed behind in Ukraine. He continues to strap on a bulletproof vest and drive through battle sites, transporting aid supplies east and returning to the western border with refugees.
"It's hard to see the country where you grew up on fire," Seroka said. "I believe very strongly that Ukraine will survive this. But there are so many unknowns right now. No one knows what Ukraine will look like after this war."