By B.L. Wilson
The 22nd annual George Washington University Women's Leadership Conference invited archivists and museum curators to share stories about the artifacts, events and experiences in the lives of two remarkable women who contributed to the educational legacy of the Mount Vernon campus, the founder of the Mount Vernon Seminary and College, Elizabeth J. Somers, and Marjorie Merriweather Post, philanthropist, art collector and businesswoman.
The Mount Vernon campus hosted a panel discussion on the two women Thursday titled, "The Renaissance Women of Washington." Mary Buckley, director of the GW Women's Leadership Program and associate professor of dance, said both women were the embodiment of someone who is "defined as well educated, has wide interests and who has talent and knowledge in many different fields of study."  
The hybrid program with alumnae participating virtually and students and panelists seated in Post Hall also was an occasion to award the Elizabeth J. Somers Award to alumna Allison Cohen, B.A. '88, who serves on the Mount Vernon Advisory Board, and Women's Leadership Program alumna and Elliott School of International Affairs graduate Samah Mcgona Sisay, B.A. '15, who is a New York City attorney specializing in international human rights, immigration policy and challenging abusive police practices. 
"[Both alumnae] tell the story of a women-centered community," said Buckley, "and the value of what it means to connect, to share with each other and to support each other." 
GW Archivist Brigette Kamsler began the discussion by providing an overview of the historical legacy of Somers, sharing stories from "Dear Daughters: A History of Mount Vernon Seminary and College," written by Nina Mikhalevsky, former director of the Women's Leadership Program.  
Somers, Kamsler said, attended the Western Female Institute in Ohio where she graduated in 1855 and whose mother was committed to her education. Somers' life was dedicated to teaching women, which she continued to do after she married and moved to Washington with her husband, a successful lawyer.
Kamsler said officials in the city sought her out to educate their daughters, and Somers developed a "rigorous academic training" of math and English that led to the founding of a boarding school and eventually, in 1878, the Mount Vernon Seminary and College that became a part of GW in 1999.
"The real connection between the original school and what Elizabeth Somers was thinking and teaching is through the Women's Leadership program, promoting excellence and academic education and leadership," Kamsler said. "Elizabeth throughout her life did the same thing."
---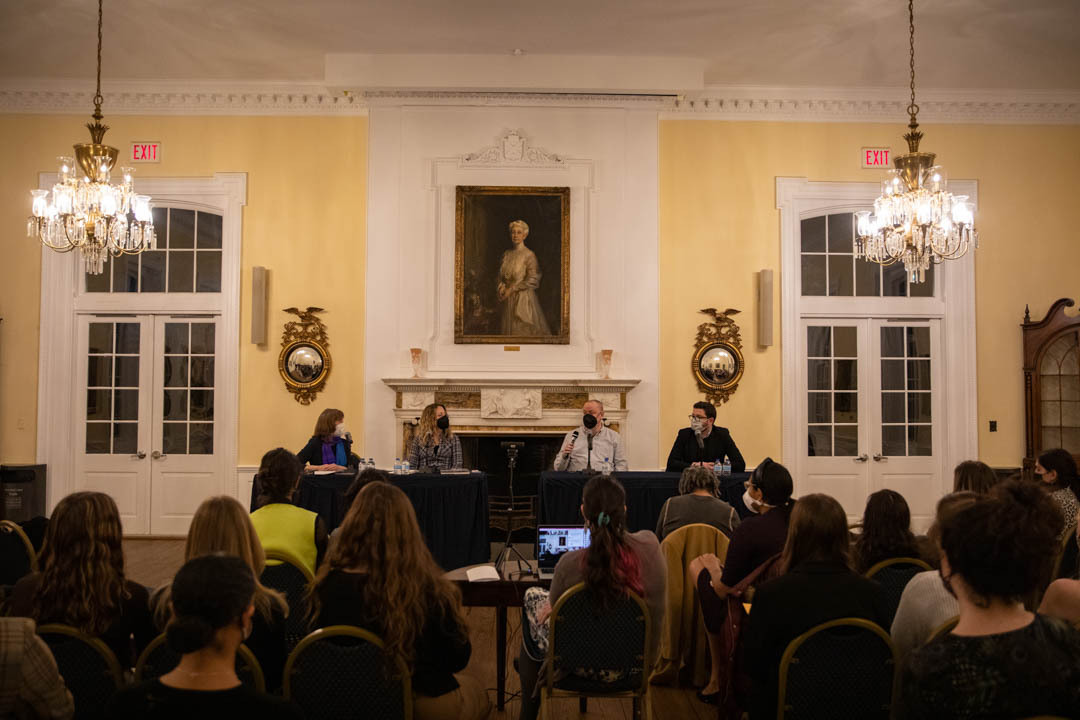 Panel from left: Mary Buckley, Brigette Kamsler, Jason Speck, Wilfried Zeisler. (William Atkins/GW Today)
---
Kamsler was joined by panelists, Jason Speck, who described Majorie Merriwether Post's modest beginnings that changed in the late 1890s when her father revolutionized American breakfasts by creating Post Grape Nuts cereal and Post Toasties. When Post's father committed suicide, she was 27 and ready to run the company.
"Her father had been bringing her to business meetings from the time she was a young girl," Speck said. "He did not treat her differently because she was his daughter and not his son. He expected her to know the things he knew."
She used the wealth accumulated to do good, to fund soup kitchens in New York City during the Great Depression and to build hospitals in France during World War I. She was heavily involved in philanthropy in Washington, D.C., supporting the National Symphony Orchestra, the Washington Ballet and the Mount Vernon College.
Hillwood Museum Chief Curator Wilfried Zeisler then discussed Post's vision as a collector who built the Hillwood Mansion in Washington, D.C., to house a unique collection of 18th-century French and Russian art that is known internationally.
"Very early on," he said, "the goal of her collection, she understood, was that her history, her past and her taste was something she wanted…future generations to see what a woman like her could achieve during her lifetime."
The Somers' collection is not very large, Kamsler said, and so her legacy must be the schools she started to prepare women to be wives and mothers in the world in which they lived. Post's archives were at times in danger of being destroyed by her family, according to Speck, until a biographer had portions moved from Hillwood to the Bentley Library at the University of Michigan.
In preparing for the discussion, Speck said, he stumbled upon something new about Post from a 1960s oral history with former Mount Vernon President Peter Pelham. Speck said that Pelham thought that for "this to truly be a women's college, everyone had to be admitted but this was not something that everyone thought at the time.
"When Pelham discussed it with Marjorie, she was a hundred percent on board and talked to reluctant alumni."
Beyond that, he said there was not much written documentation to learn about Post's ideas on race, class or much of anything, not from a memoir or diary that were mainly about social events.
"It's very hard to find her voice," said Zeisler, pointing to the portrait behind the students. "Who is the woman behind this fur, these necklaces and the dress?" Speck and Zeisler are part of a team from Hillwood who are working on a book project about the collections that will shed light on Marjorie Merriweather Post's work in business, art and philanthropy, looking beyond the gilt-edged portrait.