Career services at the George Washington University are getting a major boost thanks to Board of Trustees member Mark R. Shenkman, M.B.A. '67, and his wife, Rosalind.
The couple is donating $5 million to support the GW Career Services Enhancement Initiative and the F. David Fowler Career Center at the School of Business. In recognition of these gifts, the GW Board of Trustees voted Friday to permanently name the Ivory Tower residence hall Shenkman Hall.
"Many of our students already seek knowledge through internships and experiential education," Mr. Shenkman said. "By providing more resources to redefine and expand career development, we are providing additional opportunities for students and alumni as they pursue their career aspirations." 
The university created the Career Services Enhancement Initiative in 2012 as an effort to strengthen the overall career culture at GW for students, alumni and employers. The initiative aims to empower students and alumni to translate their academic and co-curricular experiences at the university into a lifetime of productive and engaged citizenship.
"This magnificent gift from Mark and Rosalind Shenkman is one more sign of Mark's unwavering commitment to his alma mater," President Steven Knapp said. "Whether through his wise and dedicated service on the Board of Trustees, his role in the creation of our new Veterans Memorial Park or his generous support for the aspirations of our students, Mark is playing a key role in leading this university into its third century."
Additional funding will enable the Fowler Career Center at the School of Business to provide services and resources to students, alumni, faculty and staff for strategic career planning and lifelong experiential learning.
"Trustee Shenkman has led many innovations in the financial services industry, and we are proud that his business career began at GWSB," School of Business Interim Dean Chris Kayes said. "His support of the Fowler Career Center is an investment in future generations of business leaders. His gift ensures that GWSB will continue to lead the way in career services and retain its place among the top 20 career centers in terms of starting salaries for undergraduates."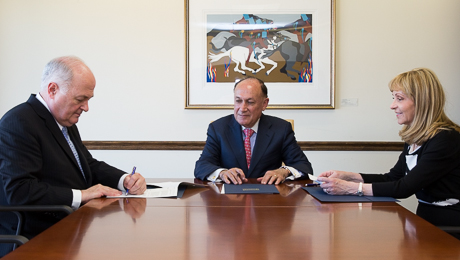 GW President Steven Knapp, left, signs the gift agreement with Mark and Rosalind Shenkman on Friday.
---
The gift continues a long tradition of Mr. Shenkman giving back to his graduate school alma mater. Since 1982, the founder, president, chief executive officer and chief investment officer of Shenkman Capital Management, Inc., has made gifts both individually and through his company. Previous gifts have supported the School of Business Annual Fund, School of Business Dean's Fund, School of Business Financial Markets Research Institute, GW Cancer Institute Gala, Hillel Fund, and the President's Fund for Excellence.
"We are grateful to Trustee Shenkman for this generous gift and the opportunity to further expand and enhance resources for all GW students and alumni through the Center for Career Services and Career Services Council," said Rachel Brown, assistant provost for University Career Services. "Working with colleagues across the university, we will create even more strategic opportunities to help students and alumni translate their academic and co-curricular experiences into a lifetime of productive and engaged citizenship."
Since 2002, Mr. Shenkman has named a classroom in Duquès Hall and supported the Phillips Undergraduate Student Investment Fund. Most recently, in 2013, he established the Shenkman Seminar Series at the Graduate School of Political Management and funded the move and expansion of Veterans Memorial Park to its new location on Kogan Plaza.
In addition to serving on the GW Board of Trustees, Mr. Shenkman is a member of the GWSB Advisory Board and a former member of the GWSB Board of Visitors.