By James Irwin
The renaming of a campus residence hall and a concert featuring the top-selling music duo of all time are among the highlights of Alumni Weekend 2014 at the George Washington University this weekend.
Thousands of graduates are expected to return to campus Sept. 18 to 21 for one of the signature programs hosted by the Office of Alumni Relations and George Washington Alumni Association, which will feature more than 60 events, ranging from reunion celebrations and academic gatherings to networking receptions and tours of campus.
Board of Trustees member Mark R. Shenkman, M.B.A. '67, and his wife, Rosalind, who made a $5 million gift during the summer to support the GW Career Services Enhancement Initiative and the F. David Fowler Career Center, will have Ivory Tower renamed in their honor Friday afternoon. Hours later and across the street, 2014 Rock and Roll Hall of Fame inductees Daryl Hall and John Oates will perform live at the Charles E. Smith Center at the annual alumni weekend concert.
"We've gotten a ton of great feedback from alumni about the show—alumni from the class of 2009 all the way back to 1964," said Stephanie Medwid, associate director of classes and reunions in the Office of Alumni Relations. "People are excited to watch them play."
Alumni Weekend, long part of Colonials Weekend, was established as a standalone program in 2007 with about 750 graduates attending. Nearly 2,000 Colonials have registered this year.
Events begin Thursday night with the annual Alumni Achievement Awards, where six GW graduates will be recognized for notable achievements in their professional and personal lives. Established in 1937, the awards are the highest form of recognition given annually by the university and alumni association to a GW graduate.
"The excitement is palpable," said Josh Hiscock, senior director of alumni benefits and services. "We're proud of this class of recipients and eager to share their stories with the GW community."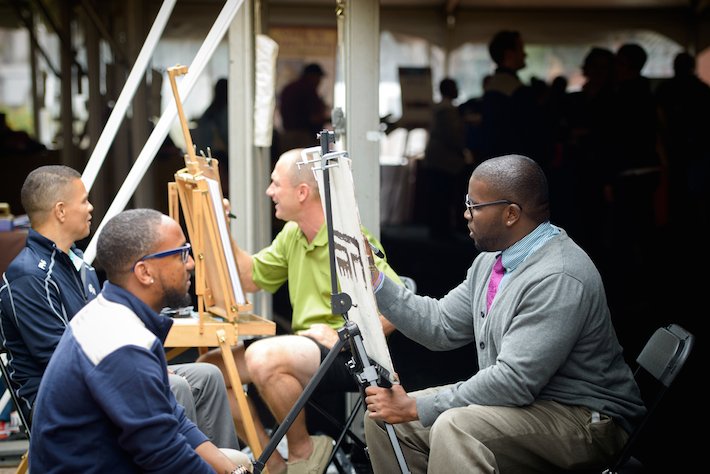 Caricature artists sketch portraits of GW alumni during Alumni Weekend 2013.
---
Other weekend highlights include a Saturday afternoon "Taste of GW" event on the University Yard, where restaurants and catering businesses owned by GW alumni will provide food and drink samples, and the participation of all 2014 reunion classes in a fundraising challenge. An anonymous reunion donor will give $25,000 to GW in honor of the reunion class that beats its donor goal by the highest percentage.
"I think this is a really terrific opportunity for the milestone class years to make an impact on the university in a measurable way," said Julie Silverbrook, B.A. '09, who chairs her class reunion committee. "The reunion challenge encourages alumni not only to come back and connect with GW, but also to make an impact on the GW community as it continues to grow and change."
The giving challenge runs through Sept. 20.
"It's a pretty close race," Ms. Medwid said. "The challenge has enabled us to break a lot of reunion giving records already. Classes have given at a higher percentage than ever before, and we still have a few days to go."
Alumni can register for Alumni Weekend events in person at the Marvin Center Grand Ballroom on Friday and Saturday, though some events also offer on-site registration at the actual event. Ms. Silverbrook, who also serves on the GW Alumni Association Board of Directors, has been encouraging classmates to return to campus.
"I'm attending almost everything," she said. "I think one of the exciting things about Alumni Weekend is you can meet alumni who you didn't previously know because they graduated before or after you. It's an opportunity to reconnect with friends and make new connections."